3 bloggers can get a little strange.
Meghan's husband can attest to this.
Lucie AND Meghan are in town (and Meghan's husband who shall not be named or pictured).  We've been touring San Diego and causing general shenanigans.
Afternoon beers, anyone?
We've also been cooking.  All of us in the kitchen is a strange but good heaven.
(Vegas reminded me where the fire extinguisher was.) 
Yesterday we decided to make lunch at home.  I had tortillas leftover from our Cinco de Mayo feast and a bunch of eggs and veggies.
Breakfast tacos for lunch!  I'm counting it as strange but good.  Because eggs on tacos.  For lunch.  That could be odd to some… especially since bacon spread was involved.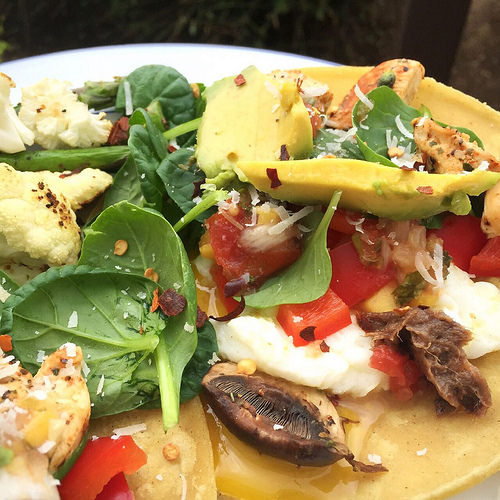 Our toppings included: mango salsa, #yolkporn, avocado, red bell peppers, asparagus, cauliflower, spinach, mushrooms, and bacon spread.
One of my favorite things about living in San Diego is the abundance of local ingredients.  90% of our taco fillings (and our tortillas) came from somewhere in the SD area.
Picking this up to eat it wasn't an option.  We ate our over-stuffed tacos with forks like classy folk.
I'm going to be so sad when they go!
---
How have you enjoyed making co-workers, friends, or family stare with strange but good creations this week? The link up rules can be found here or by clicking on "Strange But Good" in the menu bar above. In short, I want to see what concoctions have earned you weird looks from co-workers, family and friends! Post your Strange But Good creations, grab the logo below for your blog, and link up here.
Remember to use #strangebutgood in any Tweets and Instagrams of your creations. 🙂



***
Vegas ran away to Vegas.  Lucie and I leave today to hunt her down/do some birthday partying!
Are you able to find many locally-sourced ingredients?
What's your favorite taco ingredient?