Bicycling seems to be the next big thing.
Bloggers are into it, cyclists are rampant on Atlanta streets, and my friends all seem to have taken up the sport.
Naturally, I had to try it.
My friend Summer agreed to lend me a bike (along with a helmet and padded shorts) and take me out for a trial run ride.  I was really nervous because my Achilles was killing me and I'm running a 5K this morning… followed by a softball tournament and then my high school reunion.
Definitely don't want to be too injured/sore to run/play/party!  But I broke out the KT tape and away we went!
Pedaling Cycling is much harder than I expected.  Summer did say this was a hilly course, but whoa.  Thank god I'm not new to exercising – I refused to walk the bike up a hill!
What I should have been more nervous about was the storm!  We made it 11 miles and realized we were about to get hit.
That last 4 miles we were going as fast as we could into the wind.  I literally almost got blown over!  Lightening, tree debris hitting us in the head and littering the path, crazy temperature changes… I was running on nothing but adrenaline at the end.
Recap:
15 hilly miles
1.5 hours
Near death experience
Celebration beer and a sandwich
I'd totally do it again.
_______________________________________________________________________________________
After a long week I like to "treat" myself with a fun breakfast.  Nothing says fun like cupcakes!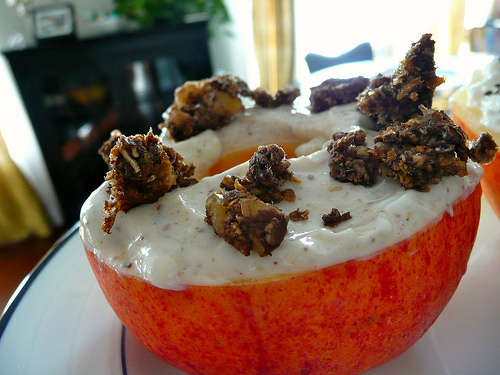 These are so easy to make – simply core an apple and top with your choice of deliciousness.  Choosing your icing topping is the best part.
I iced mine 2 ways:
Mixture of Greek yogurt, almond butter, and chia seeds, topped with chocolate cookie crumbles
Vanilla whipped cottage cheese (see recipe below), with chia seed sprinkles
Yes, I picked the cookie off and ate it first like an impatient 5 year old.
Fun fact: My mom used to call me Tinkerbell… hence the mug. 🙂
Both were fantastic, but I think the whipped cottage cheese was my favorite.  It was almost cheesecake-like!
The vanilla and apple sweetness was perfect with the tangy cheese and lemon combo.
 ________________________________________________________________________________________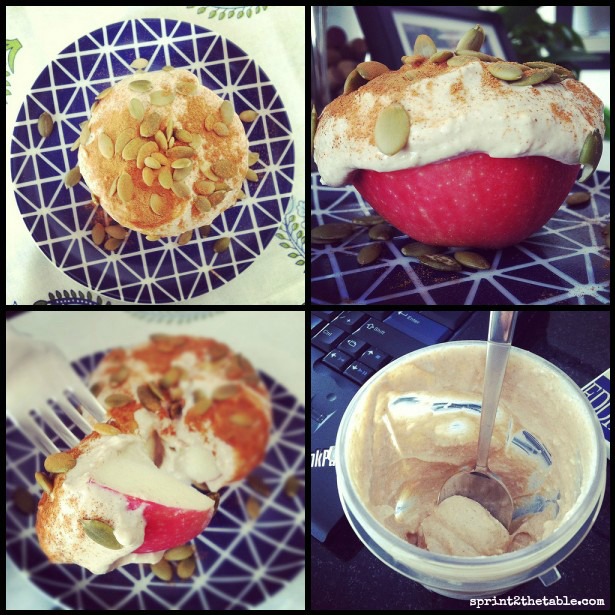 Vanilla Whipped Cottage Cheese
1/2 C cottage cheese
1 tsp vanilla extract
1/8 tsp lemon zest
1/4 packet of Stevia
1/2 T chia seeds
In a blender (I used the Magic Bullet short container) combine all ingredients.  
Blend until the cottage cheese becomes smooth (you may need to stop and scrape down the sides).
Enjoy as a snack or as icing on your favorite treat!
***
This may be TMI… but my butt is SORE.  And now I must go run.  Wish me luck!
What is your favorite "treat" breakfast?
Do you bike?  Any tips for a novice?!