Weekends are for wandering.
But don't get lost.
I did lose a car key… but I had a spare!  I have no idea where it is.  This is not at all relevant to this wandering post.. My weekend started out strong with an attempt at homemade bread on Friday morning.  I had bookmarked Sarena's gluten-free bread recipe when she shared it on Lindsay's blog weeks ago.  I have a fear of making yeast bread, but I'd had bread made by Sarena before and couldn't wait to try it for myself.
The flavor was great, but I think the chef was to blame for the too-dense texture.  Sarena's recipe says to use a mixer.  I used my hands.  Next time I'll try whipping the eggs first to get some air in!  Or I may crash my mom's house to use her mixer. 😉
Friday afternoon bro-day workout (chest and biceps) in an almost-empty gym.
In my new favorite shirt.  Tee hee.
Back to work to wrap things up and get to happy hour!  I got to try a new spot, Ration and Dram, that I liked a lot.  The service was great and I had a delicious glass of cab!
Side note: I'm really loving the LINECamera app for editing!
We decided to get dinner at one of my favorite spots.  Only they changed chefs and it's not so good anymore.  I'm really sad… this was like my Cheers at one point.  At least the service is still top-notch.
It was hard not to laugh when we saw that they apparently hired Jackson Pollack's murderous brother to plate the food… the only other choice was to cry.
Breakfasts were really good this weekend.  I made a savory version of my cauliflower pancakes, adding cumin, garlic, and cayenne.  
Inspired by Friday's #strangebutgood recipe, they were topped with peach salsa.  And #yolkporn.   It worked really well.  The pancakes were maybe even better than the sweet version.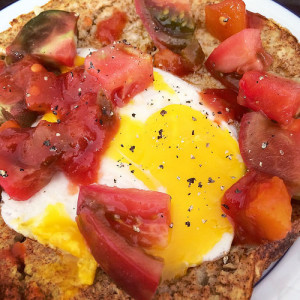 Sunday morning's breakfast was really good too.  When you bake a loaf of bread that isn't quite right, the best thing to do is make French Toast!  I make a "clean" version with just egg whites, vanilla, stevia, cinnamon, and almond milk.
My toppings were local raspberries and a protein sauce.  The sauce was just 1/2 scoop Growing Naturals vanilla rice protein, 2 tsp sugar-free syrup, 1/4 tsp butter extract, 1/4 tsp maple extract, and almond milk. 
***
Overall, a marvelous weekend.  I can't believe this week is the 4th already!
Have you ever tried making your own yeast bread?
Does the plating of food affect how it tastes for you?  The meal wasn't as appetizing after the Pollack murder scene.