Please excuse my soap box.
If you live in the South (a.k.a.: the land of Chick-fil-a), then you have probably heard the Chick-fil-a COO made a statement that Chick-fil-a supports anti-gay causes.  This isn't a political blog, but I was outraged that I felt the need to speak up.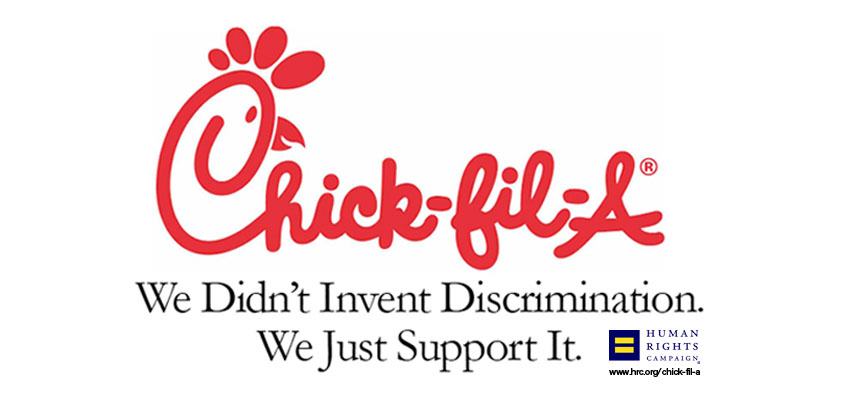 One of the great things about this country is our freedom of speech.  However… it's hard for me to believe that in 2012 any company would waste their breath with such discriminatory sentiments.  Grow up, Chick-fil-a.
Yes, they have a right to do whatever they please with their influence and their money.  So do I.  That's why I signed HRC's pledge to let Chick-fil-a know that I don't support discrimination.  And I can live without your waffle fries dipped in Polynesian sauce.
 *steps off box*
________________________________________________________________________________________
Now for some positive reporting!  It's FRIDAY!!!  In honor of my favorite day, here are some of my favorite recent "finds."
Products, recipes, and blogs I've been loving lately:
1. New Flavors
Cake Batter.  Sizzlin' Bacon.  Double Chocolate.  Caramel.
My favorite is the Cake Batter.  The others were ok, but the Bacon was a little disappointing.  It's basically like liquid smoke.
These were ordered online thru Capella… the Heather @ Kiss My Broccoli hipped me to the fact that they are even cheaper here.
2. Peach Protein Powder
The guys at my local nutrition store gave me a sample packet of this Peach Sensation protein powder made my Allmax Nutrition.  I wasn't familiar with the company before, but I will be now!  This stuff was really good.  The ingredients are pretty clean, and it's low in sodium and carbs, and contains no sugar.
I blended it with cinnamon, ginger, and a little water to make a spiced peach protein smoothie.
3. Runny Eggs, Protein Bagels, and Roasted Cauliflower
Ok, that's 3 things… but they are all so good!  I got permission from my trainer to have an egg yolk!  this is big news because I am obsessed with runny eggs.  It goes perfectly atop my other new obsession – P28 Protein Bagels.  Just 1/2 a bagel has 14g of protein.  Egg + Bagel = 20g protein
I also am on a cauliflower bender.  Today's was cheesy chocolate.  I kid you not.  1/2 tsp cocoa powder, 1 T nutritional yeast, 1 T rice vinegar, 2 drops lemon stevia.  Roast.  Devour.
4. Surprises in the Mail
I came home last night to a package from the far away land of Canada.
Meg @ A Dash of Meg sent me a bag of her favorite ginger-flavored David's Tea!  If you don't know Meg, you should.  This is literally the sweetest girl I've ever "met."  And we have discovered we're food twins.  And this tea smells like heaven.
5. Green Spiced Protein Pancakes
I have made some pretty bad pancakes in my day.  This was not one of those days.
When I saw this green pancake recipe by Sara @ Stories and Sweet Potatoes (isn't that the best blog name?), I knew I had to give them a whirl.  My tweaks were:
Add nutmeg 
Subbed 2 T of coconut flour for quinoa flour
Left out yogurt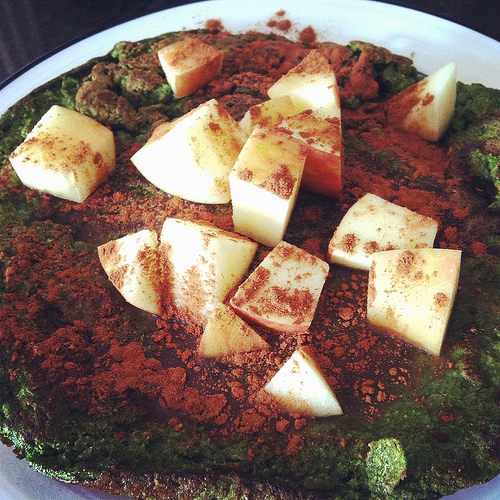 I made the batter the night before and let it rest in the fridge overnight.  In the morning I dumped it in a well-greased (PAM) pan and made one tasty, gigantic pancake.  Note: Don't skimp on the spices – go big in order to give the monster some flavor.  
Topped with cinnamon, apple, and sugar-free maple syrup.
Bonus: Cold Soup
Ok, this is a little self-promoting, but I really have been loving cold soup in the hot weather.  So much so that when rockstar athlete and foodie Lauren @ Oatmeal After Spinning asked me to write a guest post for her, I decided that would be the soup topic du jour.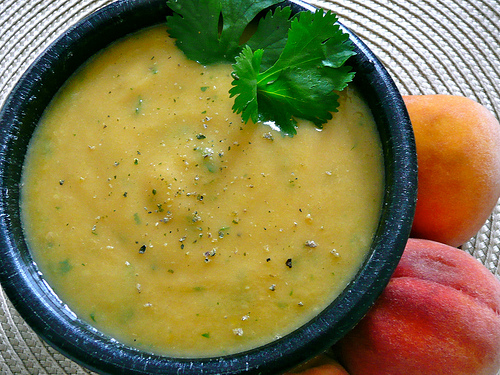 Click here to check out my Peach-Cucumber Chilled Soup guest post, and say hi the the vacationing Lauren!
***
Quote from Trainer Abdul yesterday during a particularly fun set of leg presses:
Don't cheat yourself, treat yourself.
What is your favorite "find" as of late?
Is there a quote or saying that gets you through "just one more" in workout or situation?