Nothing says I love you like presents.
Or cash.  That's what I always ask  Santa for.
I don't have a present for everyone but I do have a fun giveaway!  Remember these Bose SIE2i headphones I fell in love with?  They are incredible… pricey, but worth every cent.  My top 3 highlights:
Sizing options: I have little ears and these buds fit like a glove without popping out or sliding about
Cord length: Short enough, but comes with an extension if you need it
Sound quality: It's insane – I have a song on  my workout playlist that starts with the singer counting off ("1… 2… 3…").  It was so clear in my ears that I thought the dude next to me was counting.  LOL!
I know not everyone can spend their disposable income on headphones.  Soooo… I asked the Reebok team if we could partner to do a giveaway!
Check out the Rafflecoptor at the bottom of this post to enter!  Giveaway closes Sunday night!
________________________________________________________________________________________
My WIAW meals will be a little more normal this week.  Post-competition, I no longer need to try to turn asparagus into dessert.  I even had a solid breakfast, lunch and dinner!  The 7 meals will return, but this week is time for a BREAK!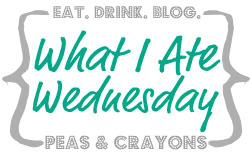 Check out my semi-normal eats below, and then click here to head over to Jenn @ Peas and Crayons to get to see what delicious spring foods everyone else is enjoying!
_______________________________________________________________________________________
Breakfast:
Some things will never change.  I legit love starting my day with a cocktail (apple cider vinegar, water, Glutamine, and Fitmixer Aminos).
Then breakfast.  You may have seen this comfort meal on Instagram.  Toast with peanut butter and honey.  It was a childhood staple:
The bread I used was from Food For Life.  they sent me 2 loaves of the new Ezekiel bread to try right before my competition… I had to wait THIS LONG to try it!  That is one of the great things about Ezekiel – the bread is stored in the freezer so I didn't have to worry about it going bad.  The new Ezekiel 4:9 Sprouts Flax was delicious.
I am one of those people who actually prefers sprouted bread – it's so much more flavorful, and I love the hearty texture!  Here are some of the healthy highlights of this particular loaf:
The sprouted flax seeds throughout make for a nice crunch
Thanks to said flax, this is an excellent source of Omega 3 and 6 essential fatty acids ("good" fats)
There are 6 grains, legumes and seeds that makes this a complete protein containing all 9 essential amino acids (similar to milk and eggs)
It's super-clean – 100% flourless and free of conditioners, additives, artificial flavors, colors and preservatives. It is even made with filtered water!
A single slice contains 90mg of Omega 3, 5g of protein, 4g of dietary fiber, and 18 amino acids from vegetable sources
Lunch:
Sea Bass is another food that will never get old.  The buttery fish is rich and not at all fishy.  I topped it with lemon juice, olive oil, rosemary, garlic, and pepper, then baked it at 350 convection for 18 mins.

While I still love my protein, I've also been on a green kick.  I ate my sea bass a top an arugula and spinach salad.  It also included parsnip rice and… asparagus!  I ate it voluntarily.  Since I had a little more variety in my diet the sight of it doesn't make me want to hurt this time around.  And I had half a bundle left over – I hate to waste food.  For my dressing, I mixed together chipotle hummus ACV, and cumin.
I saved my squash for dessert!  This Sweet Dumpling was roasted with coconut oil, cinnamon, ginger, cayenne, and butterscotch extract.  Topped with a peanut sauce made from peanut flour, Greek yogurt, cinnamon, almond extract, and stevia.
Snack:
I had to do some cooking for the girls dinner I attended, so cookie batter became my snack.  Raw eggs, be damned.  #sorryimnotsorry
Then I had some delicious jerky – Beef Sirloin with Apples and Cherries.  I'd totally forgotten about this, as I had to quit eating it dure to sodium.  If you eat meat, but don't like jerky… Simply Snackin' is the jerky for you.  Not at all like the crappy, dry gas station stuff!
Dinner:
Two of my friends from MBA school (the ones I accidentally went to Chile with) and I were overdue for a girls night.
Since Katherine just had her baby, we diced to meet at her house and dine in.  I made a crab salad, which we ate with cheese, fresh veggies and bread.  And wine.  Duh.
I didn't measure anything, but I had an 6 oz container of crab meat and stirred in the following, tasting and adjusting as I went:
Greek yogurt

Sriracha
Lime juice
Garlic powder
Onion powder
Cumin
Pepper
Celery
Celery leaves
Dessert:
Remember the batter above?  It was also tasty cooked!  This will be posted on Friday because it was 100% #strangebutgood. 🙂
_______________________________________________________________________________________
Ok, ok… the part you really care about.  Who wants kick-ass headphones???
In the event you don't win, click here to buy your very own pair!
***
I'm really loving kickboxing – I went again yesterday!  Too bad I can't wear my headphones there….
What is your favorite bread?  Do you like Ezekiel?
Have you tried roasted winter squash for dessert?  I think I'm addicted.  Blame Sarena.