Baking comes in all forms.
And in all sorts of strange methods.
You may argue, but I maintain that the microwave is a totally legit way of baking.  Especially when you're craving cake at 8am.  I have to work – instant gratification is the only option. 🙂
My favorite mug cake is my 150 Calorie Chocolate Protein Cake.  It really is like cake, and I normally have it as dessert for my last meal of the day.  While you could have it for breakfast, I wanted something strange fruity in the morning.
 The combination of blueberry and thyme has been in my head since I saw it in martini-form on a menu during my Napa Valley trip.  That's right – my breakfast was inspired by a cocktail.
This cake was good on its own… but breakfast calls for syrup.  I mixed some sugar-free syrup with cinnamon, thinned it slightly with almond milk, and poured it over my creation.  Like a non-pan cake!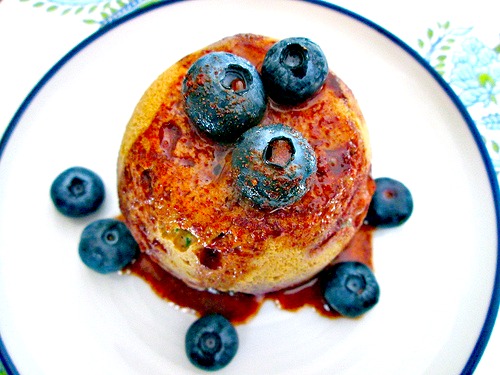 I loved the bright, slightly sweet thyme with the blueberries!  Berries have been incredible this season – they added a fun burst to this moist (sorry… there's no other word!) cake.
---

Blueberry Thyme Protein Cake
1 scoop (2T) vanilla protein powder

1/4 tsp baking powder
3 T egg whites
2 T almond milk
1 T sweet potato puree (or mashed banana)
1/2 tsp vanilla
5-6 drops liquid lemon Stevia
2 tsp fresh thyme
1/4 C blueberries
Optional topping: additional berries, cinnamon, syrup
Place dry ingredients in a small bowl and stir to combine.  Add remaining ingredients and mix until smooth.
Transfer to a large, greased (I use coconut oil) coffee mug and microwave for 2 mins (may vary depending on your microwave).
Tip the cake out onto a plate and top as desired.  My cake was topped with additional berries and a mix of cinnamon and sugar-free syrup 
Makes 1 cake.
---
How have you enjoyed making co-workers, friends, or family stare with strange but good creations this week?
The link up rules can be found here or by clicking on "Strange But Good" in the menu bar above. In short, I want to see what concoctions have earned you weird looks from co-workers, family and friends!
Post your Strange But Good creations, grab the logo below for your blog, and link up here.
Remember to use #strangebutgood in any Tweets and Instagrams of your creations. 🙂
***
I later made this for a snack too.  Breakfast, post-lunch dessert… whatever… 😉
Do you have a go-to microwave cake?
Have you combined herbs and fruit?  I love rosemary and berries too!