Happy 4th of July!
I wasn't going to post today, but how could I miss my favorite day of the week – Jenn's What I Ate Wednesday.
Last week I talked a lot about the nutrition plan I'm on to achieve my new fitness goal (competing in a figure competition).  I'm still packing in the protein and keeping it (mostly) vegetarian.  I'm struggling to find a wider variety of protein sources.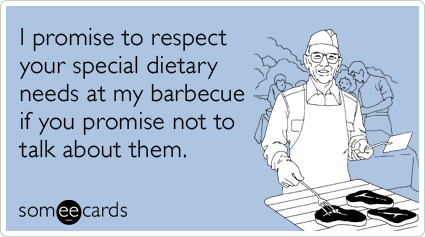 One thing I noticed last week was that my skin is breaking out from the increase in dairy.  Greek yogurt and cottage cheese had become protein-staples.  I'm aiming to just cut back a bit this week, limiting it to 1-2 servings of dairy per day, to see if that helps.
Jenn's What I Ate Wednesday theme for July is of "Food, Fun, and Fitness."  Girl reads my mind with these themes!
Check out my protein-filled fuel below; then click here to the WIAW round-up on Jenn @ Peas and Crayons to see everyone else's fitness treats!
---
Meal 1:
Last week I talked about how I'm now eating 7 meals a day.  Meal 1 occurred yesterday at 8am.  Knowing I had an appointment with my trainer later, I focused on getting as much energy as possible from my morning eats.
Workout energy can be quite tasty!
This is a Blueberry Protein Tart.  I ate it for breakfast, but it would make one helluva dessert too!
The inspiration for this creation was 
Tessa's own creation
.  I am not allowed the peanut butter she added, and I needed to reduce the size because when you eat
7 meals a day
they need to be a tad smaller
 (yet still protein rich – that's a whole other challenge)
.
Despite the omission of
peanut butter
, my crust was fantastically
chewy
and
fudgey
.  And the "
cream filling
" was just perfect.  If you haven't invested in
peanut flour
, you should do so ASAP.  I'm not kidding.
Recipe at the bottom of this post.
Meal 2:
This was my pre-workout meal.  In effort to limit the dairy, I made a massive tomato and egg white scramble with basil and a drizzle of balsamic.  I'm also allowed 1 T of sunflower seeds, which I sprinkled on top of the mix.
Meal 3:
This meal is like lunch.  Since it was also my post-workout meal, a protein smoothie was in order.  I have to eat immediately after my workout to build muscle, so portability is key.  I also packed cereal for some carbs to top my smoothie and a water mixed with Amino Energy to drink during and after the workout for energy and recovery.
This is one of my new favorite smoothies.  Carrot Cake.  I've tried it before, but I think this particular combo is the winner.  A couple more trials and I'll post the recipe.
It did get the thumbs up from both trainers who sampled it.
Meal 4:
This is like an afternoon snack.  That means I can have a protein source (25g) and a 3/4 C serving of veggies.  Hmmmm… a protein-packed nori roll?  Is that possible?
Yes, yes it is.  I mixed a scoop of protein powder and ~1 tsp of wasabi with water to form a paste.
I slathered my nori rolls with it and filled them with sprouts, beets, raw asparagus, and raw cauliflower.  Not too shabby for a snack on the fly!
Meal 5:
Usually I have some sort of dinner in mind, but today I was drawing a blank on where my dinner protein would come from.  My protein ended up being partially in the form of beans, and some of the secret was in the sauce.
Note: I know several will comment that I should eat more to beans, quinoa, and lentils for vegetarian/vegan protein sources.  The problem with that is that they count as carbs.  I am limited to 3/4 C of carbs at meals 1, 3, and 5.  3/4 a cup of beans is about 12g of protein.  That leaves 8-13g protein I'd still need for that meal!
For this protein-rich salad, I combined 1/2 cup of fava beans and cannellini beans with 3 oz Greek yogurt, lemon juice, nutritional yeast, and lavar flakes.  Then I tossed it all with beets, sprouts, green pepper, and onion.  Topped with 1/4 C edamame, basil, more nooch, and red pepper flakes.
Sort of like a bean-based chicken salad.  Sort of.
Meal 6:
By this time of day I am sick of eating.  That's something I never thought I'd say!  Meal 6 was a quick scramble of soy-based ground "beef," egg whites, and zucchini topped with nooch and radish.
Meal 7:
Last meal.  This – I am told – is my "dessert."  I've pulled some good ones, but tonight I was just proud of myself for getting in the 7th meal.  Typically I'm too stuffed by meal 6 to get anything else in mah belly.
1/2 banana covered in Greek yogurt and frozen with bowl of peanut butter protein pudding (protein powder, peanut flour, almond milk, vanilla extract, and cinnamon).
---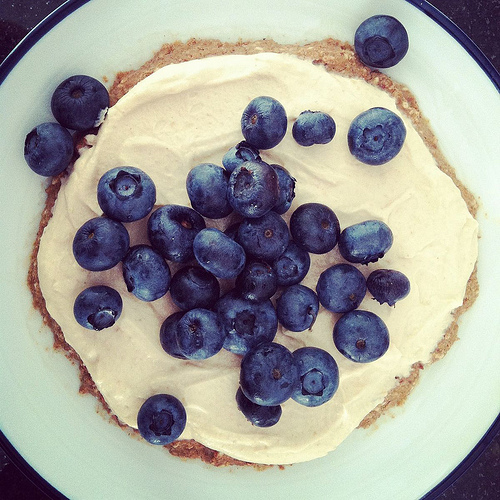 Blueberry Protein Tart
For the Crust:
1/4 C cereal
1 tsp cinnamon
1 T vanilla protein powder
1 tsp chia seeds
2 T unsweetened vanilla almond milk (or liquid of choice)
5-6 drops vanilla liquid stevia (or your favorite sweetener)
For the Cream:
3 oz (1/2 container) Greek yogurt
1 T peanut flour
5-6 drops vanilla liquid stevia
For the Crust:
Place your favorite cereal in a blender and mix until it's dust.  Pour into a small bowl and stir in cinnamon, protein powder, and chia seeds.  Stir in stevia and milk.  (Note: You may have to adjust liquid amounts depending on the powder and cereal you use.)  It should form a sticky ball.  
Spread the crust mixture evenly across a small plate (~1/4 in thick).  Refrigerate over night, or at least 20 mins.
For the Cream:
In a small bowl combine yogurt, peanut flour (you could sub more protein powder here), and stevia.  
Spread evenly atop your crust.
Top with the fruit of your choice and enjoy!
Makes 1 serving.
Approximate nutritionals (without toppings; can vary widely depending on cereal, powder, and yogurt used): 219 calories, 6.9g fat, 22.4g carbohydrates, 6.8g fiber, 4.3g sugar, 23.6g protein
***
In case you're curious, I managed 154.5 g of protein with these eats. BAM.
How do you refuel post-workout?
What is your favorite 4th of July dish?