Naming recipes is hard.
Better-Than-S'mores Brownies = easy to name.  
Salad with lots of stuff = harder.  Unless I just call it "Salad with Lots of Stuff."  Hmmmm… the zucchini and the vinaigrette made this one hard.  That's just too much for one title!
This is my first time working with bulgur.  I really liked it – maybe even better than quinoa.  It seems to have a bit more bite and a nuttier taste, both characteristics I find attractive (though not as attractive as being independently wealthy with a house on the Mediterranean coast).
So why is bulgur a good gain choice?
Minimal processing allow it to retain protein and minerals
Good source of protein, B vitamins, folate, iron, magnesium, and phosphorus
High insoluble fiber content (more than oats, buckwheat, or corn!)
Low glycemic index helps to stabilize insulin levels
Can be prepared raw (by soaking) or cooked in just 15 mins.
The ingredients may have been too much for one
title
, they were
NOT
too much for one
recipe
!
The crisp zucchini gives this salad a satisfying "crunch" and chili vinaigrette provides a gentle (really) punch at the end of each bite.
Out of zucchini?  Squash or cucumber would also work nicely.
Don't keep ancho chili powder?  Try paprika or regular chili powder.
No bulgur? *gasp*  Use wild rice, quinoa, or another favorite grain.
This may seem like an odd combo, but trust me.  (Why do I feel  like I type that sentence a lot?!)  
---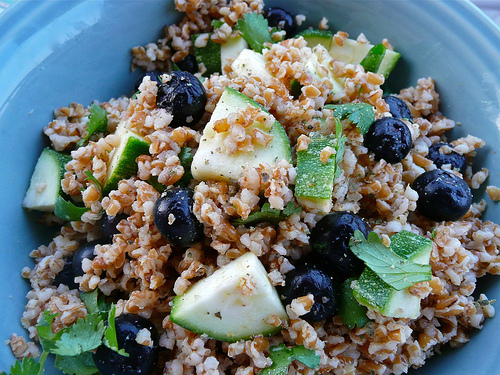 Blueberry Cilantro Bulgur Salad
1 C bulgur (uncooked)
2 T EVOO
2 T rice wine vinegar
1 T nutritional yeast
1/2 tsp ancho chili powder
1/2 tsp coriander
1/4 tsp cayenne pepper
1/3 C fresh cilantro, roughly chopped
S+P, to taste
1 C blueberries
1 medium zucchini, diced
Lime slices
Prepare bulgur according to package instructions.
In a small bowl, whisk together the oil, vinegar, nutritional yeast, and spices.  Adjust, adding salt and pepper to taste.  
Toss the cooked bulgar in the vinaigrette.  Fold in the cilantro, blueberries, and zucchini.  Garnish with lime.
Serve hot or cold.
Makes 2 main dishes or 4 sides (approximately 4 cups).
***
I'm participating again in Spicie Foodie's Your Best Recipe this month.  Link over to her site to join up, or check back on July 31st for a round up!
Do you struggle with recipe naming?
How about with recipe making? 🙂