Water makes me pee.
As it should.
I drink a TON of water.  In addition to it being a standard part of any competitor's diets, I live in the South and it's August.  Cold water is like gold.  There are many benefits of drinking a lot of water – I did a post on it.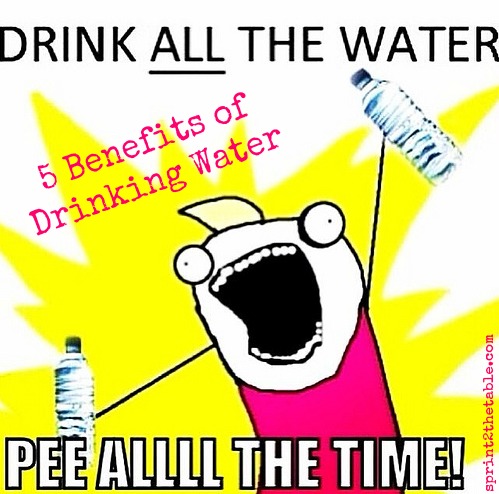 Someone commented on last Wednesday's post asking how many times I got to the bathroom with all the water I drink.  I'm sure she was kidding… but I took the opportunity to count.
Yesterday I peed 15 times.
________________________________________________________________________________________
This WIAW I did a mostly healthy day… but rounded it out with a food book club dinner.  It's all about balance, right?  😉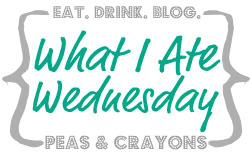 Read on for my eats, and then check out Jenn's blog for everyone else's delicious creations!
________________________________________________________________________________________
Breakfast:
My morning cocktail was followed by a piece of toast that I forgot to picture.  I was on a mission to do something unusual: go to the gym in the morning.  I made it there by 8:20a.  I'm NOT a morning person, so this was a big deal for me.
When I was done with my workout, I was starving and burning hot.  I ran limped home to make a giant protein shake.  This deliciousness was a rare non-green shake!  I mixed up my favorite vanilla protein powder, blueberries, cottage cheese to make a thick Blueberry Cheesecake-style recovery shake.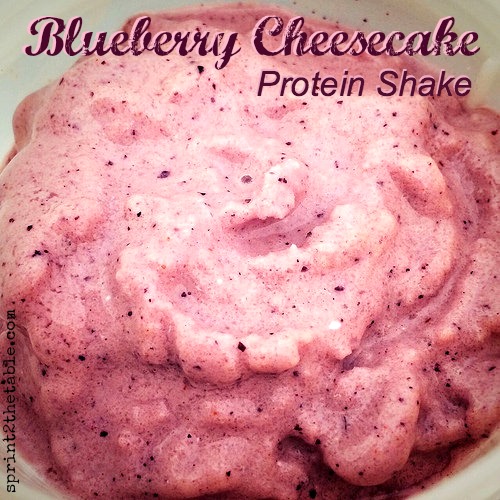 Blueberry Cheesecake Protein Shake
Handful blueberries (~1/2 C) 
2 T cottage cheese
1 scoop vanilla protein powder (I used Growing Naturals)
1/2 C unsweetened vanilla almond milk
1/2 tsp cinnamon
1/2 tsp almond extract
3-4 drops vanilla stevia
Ice, to taste
1/4 tsp Guar Gum (optional, for thickening)
Mix everything together in a high-speed blender until smooth.  Eat with a spoon!
Note: If you don't have almond extract, you may add butter extract or omit altogether.
Lunch:
I made a tasty Chicken Zucchini Noodle Salad. I mixed in some tomatillo salsa, cherry tomatoes, and hatch chili peppers and added a twist of lemon.
Mid-Afternoon Snack:
Sea bass, roasted veggies, and a white sweet 'tater.  I turned my sweet potato into even more of a dessert with NuNaturals' cocoa syrup and cinnamon
Dinner:
I'd been looking forward to this for weeks!  One of my best friends started a food book club.  The idea is that we read a food-related book and then meet up at a related restaurant to discuss.  The inaugural book was Provence 1970.  In the winter of 1970 all of my culinary heroes threw down in the South of France.  Can you imagine cooking and eating with James Beard, M.F.K. Fisher, Julia Child, Richard Olney, Simone Beck, and Judith Jones?!
Our restaurant destination was Floataway Cafe.  I'd tried it before, years ago… I wasn't impressed then, but I was excited to give it another shot.  Atlanta has a lot to offer food-wise.  Unfortunately, I still can't recommend this one.  The food looked lovely, and I love that much of their food is locally sourced.  However, this still isn't worth the price tag for me.
We started with burrata with tomato jam, a tomato and melon salad, and an arugula salad.  All were ok… but nothing "wow."  It all had far too much oil.  For my main, I had the grilled pork and added a local egg.  The pork just wasn't great.  It was a bit tough and the flavors weren't anything to write home about.  Another at our table ordered a pasta dish that she actually had to send back.  There was a gnocchi that I would have sent back; they were too dense and flavorless.  The meatballs another in our party ordered were pretty good, but a heavy on the fennel.
I love dessert.  We ordered a sampler platter of a warm toffee cake, flourless chocolate cake, and a caramel pudding.  The toffee cake was the best.  The other were just ok.  We all left agreeing that we could have made the dishes at home and done a better job.  Disappointing, but now we know.  At least the wine was good!
***
I think my sea bass was the best meal of the day!
How much water do you drink in a day?  
Have you been disappointed by meals you could have done better at home?