I must confess something.
Don't worry, this isn't another TMI post.
I haven't had a perfect Junk-Free January.  Being sick and doing some crazy endurance work has derailed me.  However, I did lay off the booze and I really don't regret the times I ate deliciousness like this:
I listened to my body and my body wanted calories.  Trashy calories.  Post-stomach flu and post-crazy racing I'd lost a couple of LBs.  They have been found. 🙂
This could also have something to do with a killer Chest and Bicep workout with my trainer on Monday.  We did supersets,  alternating between chest and bis, to get done in an hour.  I benched pressed about 8 lbs more than my body weight and then preacher curled a little more than half my body weight.  And now I can't lift a glass of water.
________________________________________________________________________________________
I'm back on track for this WIAW.  Still hungry ALL the time, but I'm keeping it clean and fueling my body with good stuff.  It's crazy how your body still demands replenishment days after a big event!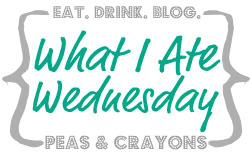 Check out my 7 meals below, and then click here to head over to Jenn @ Peas and Crayons to get to see how others dined this week!
________________________________________________________________________________________
Meal 1:
After my morning cocktail (mix of Apple Cider Vinegar, Glutamine, and Fitmixer Aminos), I broiled a grapefruit according to this method with coconut butter, cinnamon, and cardamom.  That was "dessert" after I demolished an herbs de provence egg white omelette.
Meal 2:
A rare thing happened – I went to the gym in the morning.  Never fear – hell didn't freeze over.  I'm still not a morning person – this trip wasn't exactly early.  It was a killer leg day though!
I packed a protein-rich treat to refuel in the car before an appointment:
This was delicious chocolate pudding made with 1/2 C Greek yogurt, 1/2 scoop chocolate protein powder, almond milk, and cinnamon.
The topping was a crumbled Sweet Potato Baked Oatmeal, straight from my freezer.  I'm so obsessed with these.
Meal 3:
Lunch was an old favorite: Salmon Pizza with Sweet Potato "Sauce."  I used tortilla crust and topped it with spinach, artichokes, and onions.
Meal 4:
I developed an addiction to Whole Foods' Naked (read: no salt) roasted chicken.  Not a cheap habit, but worth my sanity as I hate touching raw chicken.  Every Sunday I buy one and pull off all the white meat to eat throughout the week.  Today I ate it chicken salad-style, but with a hummus mix rather than mayo.
Hummus Chicken Salad
Shredded chicken
Broccoli slaw
Red peppers, chopped
Hummus
Apple Cider Vinegar
Cumin and red pepper flakes, to taste
I didn't measure, but the hummus and ACV is about a 1:1 ratio.
Meal 5:
I could hardly wait for dinner.  I've been eyeing Kristina's Cholar Dal recipe for a couple of weeks and this frigid day seemed the be the perfect time to try it out.
It was AMAZING!  I licked my plate clean.  I ate it alongside some pan-seared tempeh and roasted brussels, broccoli, and mushrooms.
There is something in my head that will not allow me to simply follow a recipe.  Here are my modifications:
Added 1/2 red pepper
Used 1/4 C tomato paste rather than fresh tomatoes
Added 1/4 tsp fenugreek and 1/2 tsp coriander
Increased cayenne to 3/4 tsp
Didn't use the salt, butter, and dried chilis
Meal 6:
Please don't get bored with me.  I love carrots.  And peanut butter.  And eggs.  PB & Ceggs.  Again.
Meal 7:
Casein is good to have at night for muscle recovery.  unfortunately, I can't stand the texture.  No matter – I really like having dairy before bed.  Maybe a carry over from a youth filled with nighttime ice cream bowls?
This creation is going to be in heavy rotation.  I'm scraping the bottom of the bowl and trying to convince myself that I don't need another as I type this.  It's like blueberry cheesecake with hot brownie on top.
Need I say more?
______________________________________________________________________________________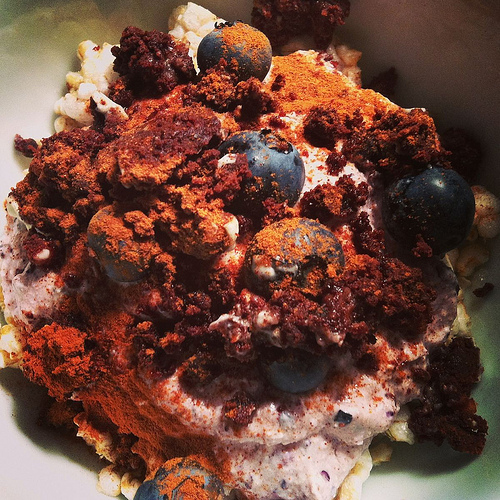 Blueberry Cheesecake Fluff
1/2 C cottage cheese
1/4 C blueberries
1/4 tsp butter extract
1/4 tsp coconut extract
1/2 tsp cinnamon
1/4 tsp ginger
Pinch of cardamom
6-7 drops liquid stevia
Water or milk
1 rice cake
Place everything except the rice cake in a blender with enough liquid to blend.  Blend until mostly smooth.
Pour over a rice cake.  Tops as desired – I warmed a Cookies 'n Cream Think Thin bar in the microwave and crumbled it on top with more fresh berries and cinnamon.
Devour.
Note: if you don't have butter and coconut extracts, simply sub vanilla and/or almond extract.
***
The protein count for the day: 183.2g.  Nailed that one!
Don't forget to join the Strange But Good link up this Friday!!! 🙂
What trashy calories does your body crave?  When do you give in?
What is your most recent fitness accomplishment/milestone?