Summer is meant for barbecue.
Mostly because it's too hot to use the stove.
Grilling outside means not having to heat up the kitchen, plus you get to enjoy the weather by cooking outside.  Unless you're in one of those crazy hot states (sorry Arizona).  The other bonus is the ease.  You can have a flavorful, healthy dinner with very little clean up.  Yet another reason to love these Blueberry BBQ Pork Skewers.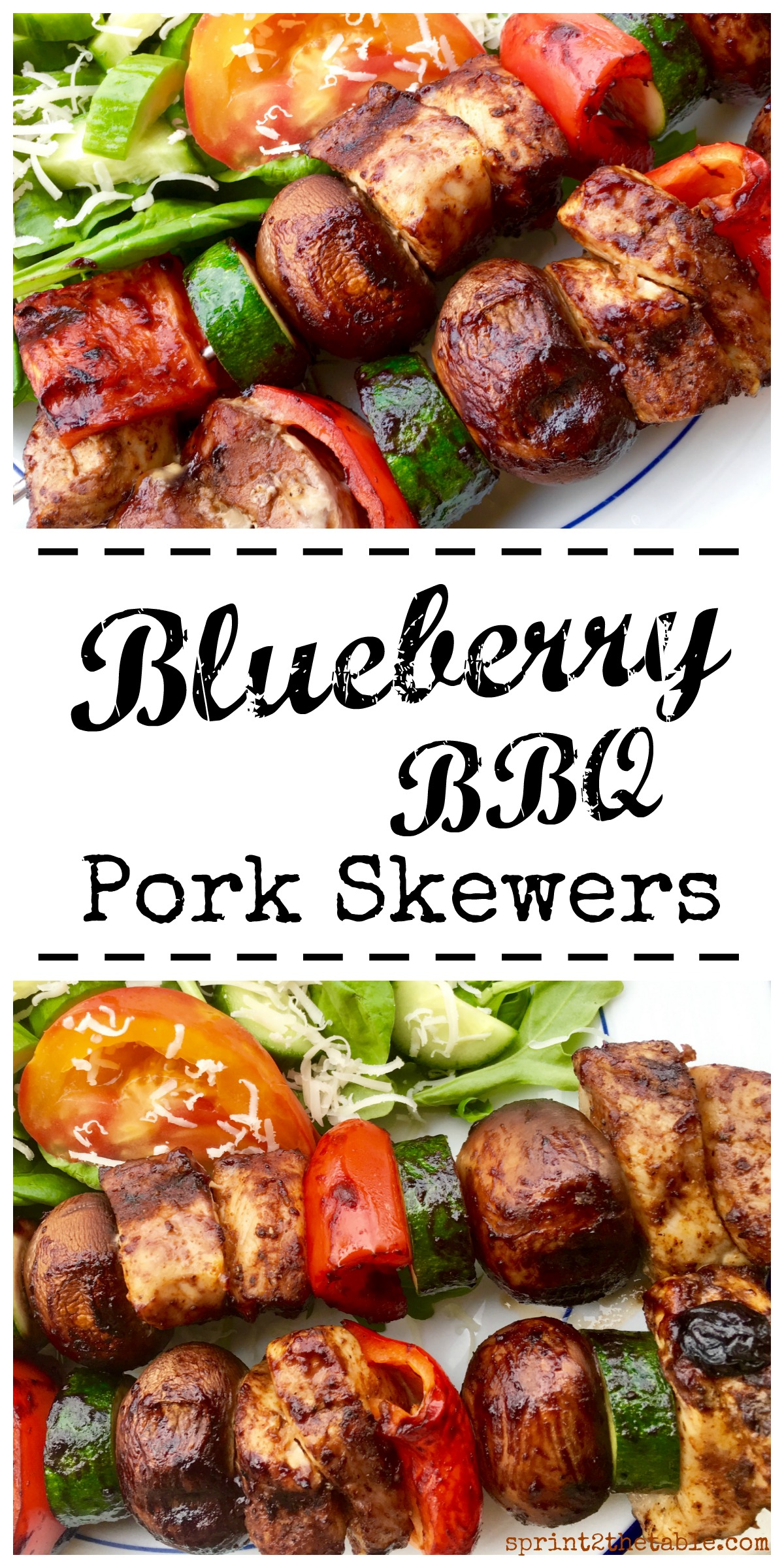 For this easy Blueberry BBQ Pork Skewer recipe, all you need is a one-pot homemade barbecue sauce and a quick session with the grill.  I often order pork dishes with fruit accents during our travels, but for some reason I've never cooked much pork at home.  Don't make my mistake.
Pork is one of the easiest meats to transform into a savory-n-sweet meal.  Even the pickiest of eaters (ahem… my sister) will be happy with it!  I mean… who doesn't like food on sticks, glazed with a delicious sauce?
I added my favorite veggies for more depth of flavor.  You can use whatever you have on hand – red onion would be fantastic too.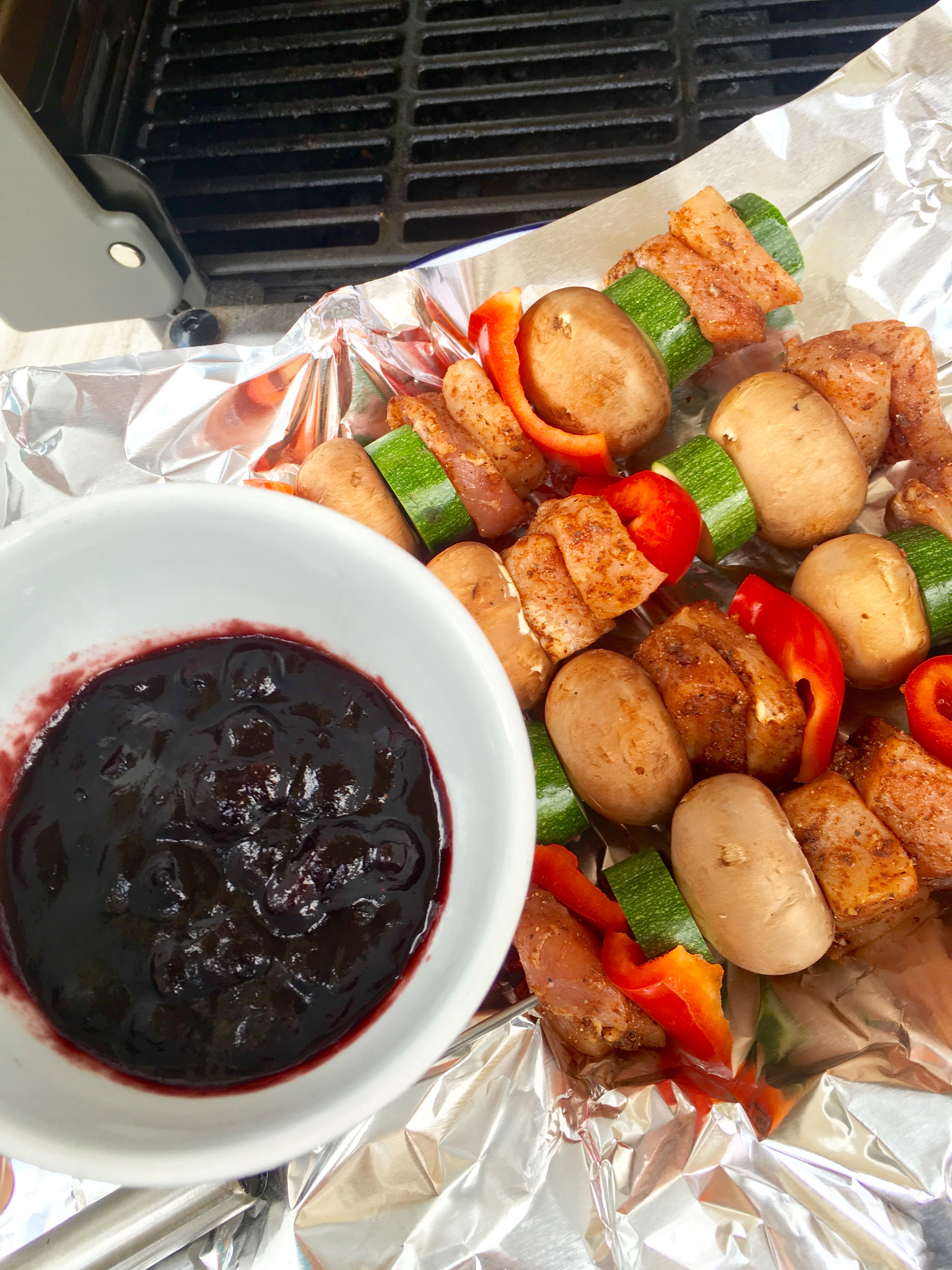 Don't forget to oil the grill before cooking them.  We use coconut oil spray prevent the meat from sticking; it also makes the clean up easier.
Pork cooks quickly; keep an eye on your meat and be careful not to let it dry out.  (TWSS)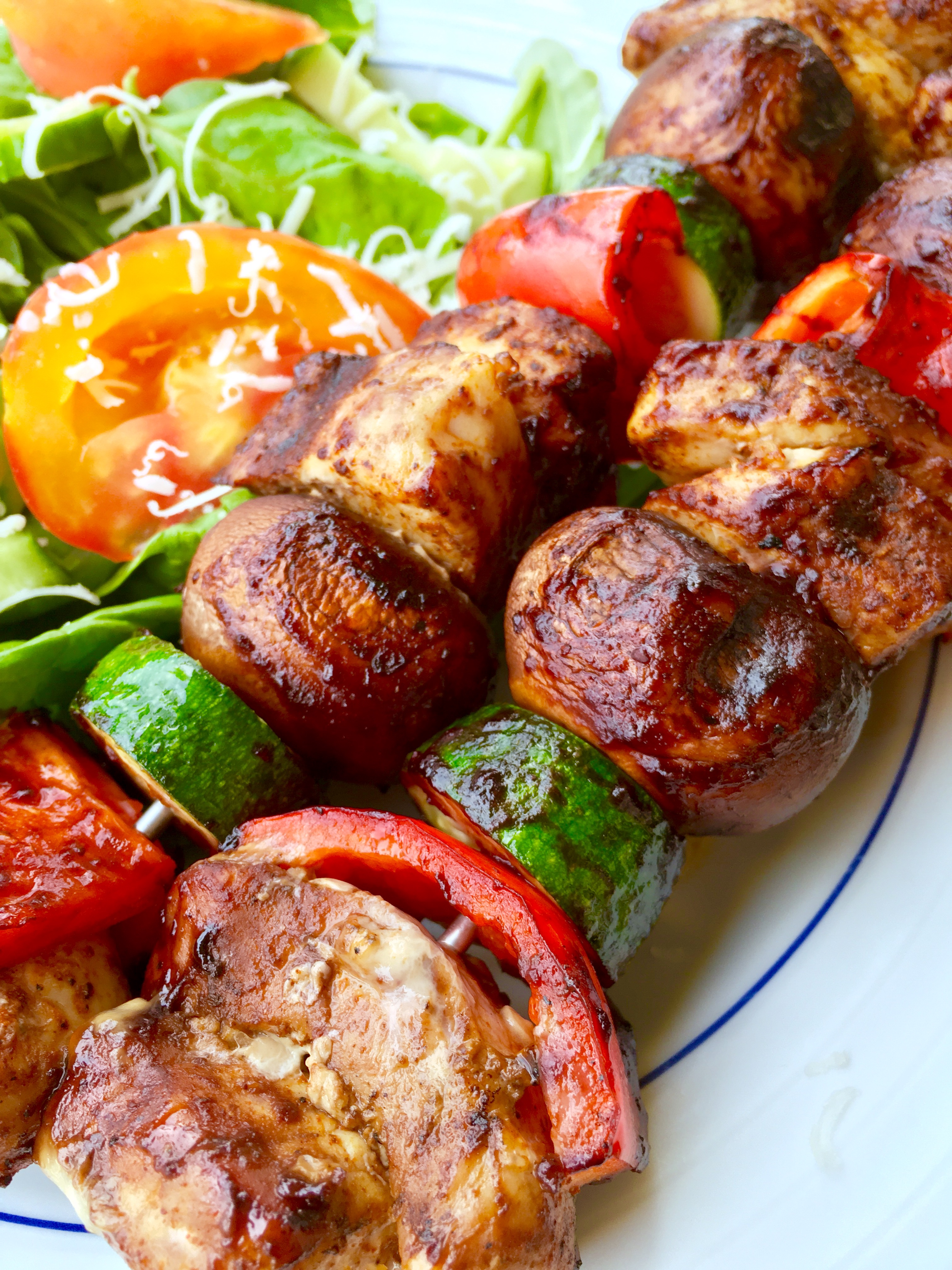 I like to serve these skewers with a light salad.  Ours was a simple mix of arugula, spinach, cucumbers, tomatoes, and grated Parmesan.  Coleslaw would be really good with this too.
FYI for my vegan friends – I used the left over BBQ sauce on sliced tempeh and it was fabulous!
---
Blueberry BBQ Pork Skewers 
1 lb pork tenderloin, cut into 1-2 inch cubes*
1 tsp paprika
1/4 tsp sea salt
1/4 tsp black pepper
1/4 tsp ground cinnamon
3 cloves garlic, minced
1 pint fresh blueberries
3 T Vitafiber (or honey)**
3 T apple cider vinegar
1 fresh jalapeño pepper, seeded and minced
2 T tomato paste
1 tsp Worcestershire sauce
8 Cremini mushrooms
1 red bell pepper, cut into 1 inch cubes
1 zucchini, cut into 1/2 inch slices
4 metal skewers***
In a large bowl, combine the paprika, garlic, salt, pepper, and cinnamon.  Add pork and toss to coat.  Cover and chill while you make the sauce.
To make the sauce:
Combine blueberries, sweetener, vinegar, jalapeño, tomato paste, and Worcestershire in a medium saucepan.
Bring to a boil over medium heat; reduce heat and simmer until thickened, about 30 minutes.  Remove from heat and set aside one cup.
To make the skewers:
Preheat grill to medium.
Thread the pork on 4 skewers, alternating with the veggies.  Place on grill and sear, turning to cook all sides (10 to 15 minutes, or about 150 degrees).  Brush with reserved the barbecue sauce about halfway through, until pork is glazed.
Serve with remaining barbecue sauce.
*Use you favorite protein here.  I've tried it with tempeh with good results.  Chicken would work too! 
**I used Vitafiber to cut down on the sugar; however, honey or agave would work well too.
***If using wooden skewers, soak in water for at least 30 minutes to prevent charring.
Makes 3-4 servings.
***

I'm really impressed my sister ate this… she barely eats any meat.
What's your favorite thing to grill?
Do you like sweet-savory proteins?