I'm trying to be better about repeating recipes.
Even though repetition pains me.
I'm slowly re-making some older recipes on the blog, but adding new twists to keep them interesting!  This recipe is based on a more savory bake – a Cottage Cheese and Egg Herb Bake I made back in June of 2011 (have I really been blogging that long?!).
Today's version is more strange, but still good.  This is a sweet egg bake!  I used blueberries and basil, along with a little lemon stevia and cinnamon to make this a dessert-like breakfast.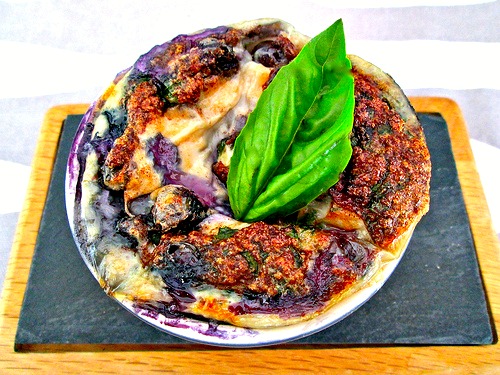 Making a bake for breakfast may seem ambitious during the morning rush, but look back at the original post for a Practical Guide to making a morning egg bake.  It's really not so bad!
What results is a fluffy, souffle-like breakfast filled with bursting berries and the almost sweet, clove-like basil.   Bursting with strange deliciousness.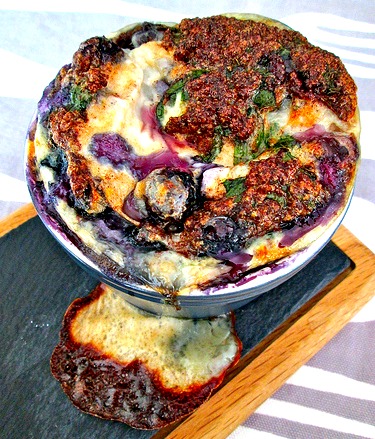 My pics are from a version that I completely over-stuffed (it's a chronic affliction).  This has become a good thing in my book… but I have adjusted the recipe so that won't happen to you. 😉
---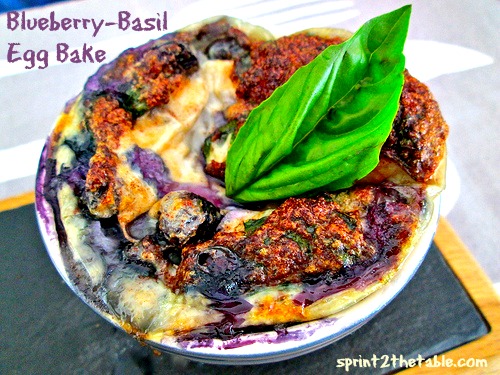 Blueberry-Basil Egg Bake
1/4 C cottage cheese
1/2 C egg whites
1/4 C blueberries
1/4 tsp vanilla
1/4 tsp cinnamon
1/4 tsp nutmeg
1/8 tsp cayenne
2-3 drops lemon liquid stevia (optional)
Preheat oven to 350 degrees.
Beat the eggs and cottage cheese together until well-combined and beginning to fluff.  Add remaining ingredients and beat again to combine.
Pour into a greased ramekin (I used coconut oil spray) and bake for 35-40 mins.
Notes:
You may need to broil for 1-2 mins at the end to finish off the top.  Be sure to watch closely so it doesn't get too browned
If you don't have lemon stevia and still want the flavor, use a bit of your preferred sweetener and a twist of lemon.
---
How have you enjoyed making co-workers, friends, or family stare with strange but good creations this week?
The link up rules can be found here or by clicking on "Strange But Good" in the menu bar above. In short, I want to see what concoctions have earned you weird looks from co-workers, family and friends!
Post your Strange But Good creations, grab the logo below for your blog, and link up here.
Remember to use #strangebutgood in any Tweets and Instagrams of your creations. 🙂
***
I'm at the Blend Retreat all weekend hanging with some of my best strange blogger friends.  Not that I'm bragging… LOL!  SO EXCITED!!!
Have you ever made sweet eggs?  How about PB & Jeggs?
What are you looking forward to this weekend?  Will I see you at Blend???