Vegas and I have lived together for a whole week!
I think she's getting used to my yogurt creations.
We don't have an oven yet (they're hooking it up today!), so we've been eating a lot of "easy" stuff.  There's been a whole lot of Whole Foods hot bar action, sandwiches, and yogurt bowls.  Vegas gave the thumbs up to her first carrot cake batter bowl, so I decided to expose her to new strange but good yogurt creations.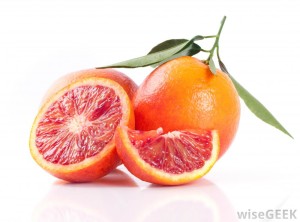 Blood oranges are among my favorite fruits.  They're only in season for a few months, so I'm taking full advantage.  I've been craving citrus a lot in general lately… I think it's the whole California sun thing.
Blood oranges get their red color comes from an antioxidant called anthocyanin.  Due to this, they contain greater amounts of antioxidants than other oranges.  They also have a unique flavor profile – they have a raspberry-like taste in addition to the citrus.  They can be sweet or a bit tart, depending on the variety.
The orange in this yogurt bowl was on the sweet side, perfectly complimenting the coconut flavors.  And it added to the whole California beach mood.
---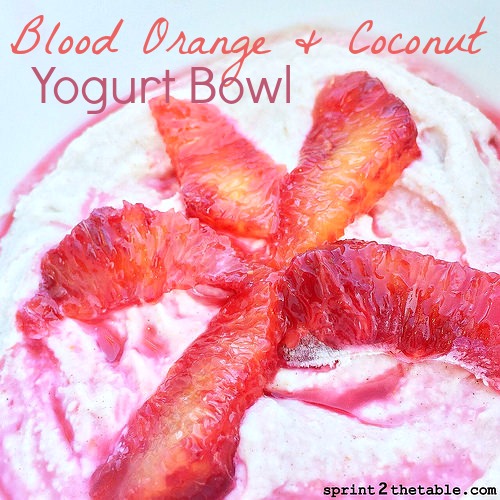 Blood Orange & Coconut Yogurt Bowl
1/2 C Greek yogurt
1/2 scoop vanilla protein powder (I use

Growing Naturals

)
1 T coconut flour
1/2 tsp cinnamon
1/2 tsp coconut extract
Unsweetened vanilla cashew milk (or other liquid), enough to thin to your preference
1/2 blood orange, sectioned
Mix everything but the blood orange in a small bowl.
Section orange and arrange slices artistically atop the yogurt mix (or just toss 'em on if you're not taking pics).
---
How have you enjoyed making co-workers, friends, or family stare with strange but good creations this week? The link up rules can be found here or by clicking on "Strange But Good" in the menu bar above. In short, I want to see what concoctions have earned you weird looks from co-workers, family and friends! Post your Strange But Good creations, grab the logo below for your blog, and link up here.
Remember to use #strangebutgood in any Tweets and Instagrams of your creations. 🙂



***
I just realized we don't have a microwave…
Have you ever had a blood orange?
What is your favorite no-cook meal?