Regular people don't think about food pairings all day.
This still baffles me.
When you find those friends who understand you, it's like the skies part and angels descended from heaven on golden beams.  Mmmm… angel food cake with caramel…
Last weekend Allie was coming back ATL to train, and Heather decided to come along for the ride.  I was MORE than excited to have weekend pancakes straight from the Pancake Queen herself (I swear that's not the only reason I invited her).
We lived it up!  After they arrived and I burned homemade pop-tarts in the oven, we headed to my favorite underground supper club, Push Start Kitchen.  If you are ever anywhere near Atlanta, try to get a seat at Zach and Christina's table (literally – the dinner's are in their home).  It will be a meal you'll never forget.
We started with masa sticks and tomato aioli, and a warming beverage of dark rum, lemon, simple syrup, and black tea.  Normally I'm not a masa fan.  It is often dry and flavorless   Of course, Zach is a champion masa-maker.  These were perfectly crisp on the outside while remaining moist inside.
Then we took seat at the table and were fed like royalty.  The first course – bacon-apple fritters – was my favorite.  Their richness was perfectly balanced by the pickled apple and licorice-y fennel.  I could eat this all-day every day.
Everything was incredible, but I have to take my hat off to Zach's baking skills.  The coffee tres leches was the best I've ever had.  It even tops the plain tres leches he makes.  Served with Evan Williams ice cream, candies macadamias, and chili-laced chocolate sauce… I was a bit weepy when it was gone.  I managed to keep it classy.  I blame the wine pairings.
With eating adventure #1 completed, I went to bed full… but had dreams of breakfast.  Pancakes.  Even though she was my guest, I asked Heather to make breakfast.  How could I not when she makes my tummy rumble every week with her giant stacks?
Snickerdoodle Pancakes.  With an array of topping options, from syrups to NuttZo.
Here's the recipe on Heather's blog.  I'd advise you to make a double batch.  They are THAT good.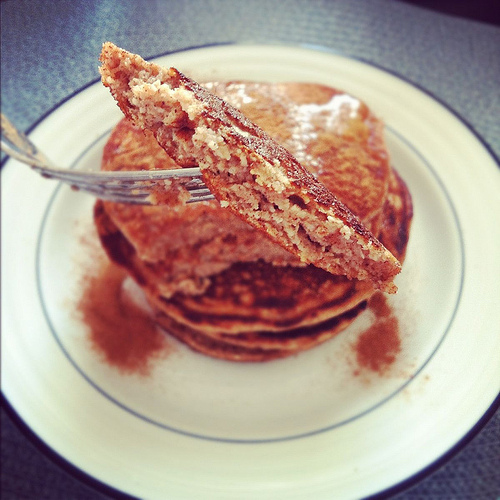 Having filled up on bacon and steak the night before, the obvious next move was to hit up Atlanta Veg Fest, a vegan festival.  We came, we saw, we sampled.  Basically, I ate vegan deli meat (Dough Bakery, you rock!),  chips, vegan cheese, and an amazing peanut butter ice cream for lunch: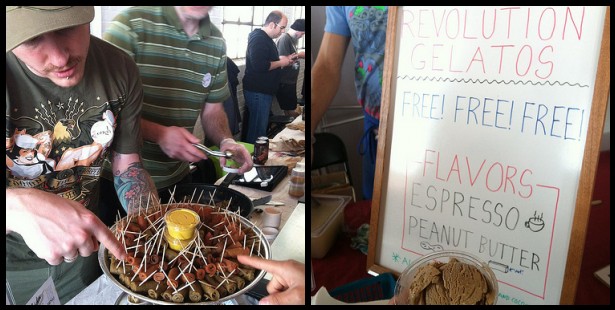 Are you full yet?  We walked it out all afternoon in one of my favorite neighborhoods followed by a trip to the legendary giant farmer's market.  By dinnertime I was hungry again!  Allie was feeling in a funk so she opted to rest up at my place while Heather and I hung out in at Barcelona Wine Bar.
Clockwise from the top left: Grilled okra in chorizo oil (I found a way to like okra!), Red Snapper and shrimp ceviche, caramelized brussel sprouts (bacon, shallots, and thyme… SO good) and grilled hangar steak with black truffle sauce (perfectly rare), and Idiazabal cheese with grapes and quince jam.
(There was also a complimentary flan involved, thanks to the bartender having a teensy crush on Heather.  You can read all about that in her review. 🙂 )
Once again happy and full, we returned to my place where we stayed up too late chatting and ogling desserts on Pinterest.  Typical bloggers… LOL!
You'd think we were done eating, but we had one more stop on the way out of town: Dulce Vegan.
It was a momentous occasion: Heather fell in love with Cholula sauce.  It was the perfect amount of heat added to their creamy butternut squash soup.  I must have the heat to balance the sweet… which is why I developed my Butternut-Apple Soup recipe.
We also split a TLT (tempeh, lettuce, and tomato) sandwich and a fennel-apple slaw.  The slaw wasn't my favorite, but the way they spiced up the tempeh on that sandwich hit the spot. 
We were so sad to say good-bye.  The whole weekend was a blast.  I even learned new tricks!  Heather taught me about whisking eggs to make pancakes fluffier, and about the glories of Pic Monkey (which I employed in Monday's post).  I wish we lived closer so we could do this every weekend!
BUT – speaking of every weekend – I'm doing it again this weekend!  I'm hopping a plane for Colorado to visit former Georgian Heather and her hubby.  They are graciously letting my crash their new place and tag a long for a Turkey Week ski trip.  And a 5K.  In the cold.  How did I get roped into this? 😉
The icing on the cake is that Lauren and her hubby will be there for some of the visit too!  It's going to be a mini Blend reunion!  (Lauren, why don't I have a pic of us?!)
***
Next week I have some amazing guest posts lined up… and there will be a break for Thanksgiving.  I hope everyone takes some time to unplug and appreciate the world out from behind the computer screen. 🙂
Do you ever get to hang out with bloggers in "real life?"
Do you have your Thanksgiving menu planned yet?  I have no idea what we'll be eating… but it better be warm after that 5K!