3 more days!!!
This week is creeping by… yet flying at the same time because I have SO much to do.
Not the least of which is formatting some rockin' guest posts.  Hopefully you guys will discover some new bloggers and gain so fantastic info from these guest spots.  All of these lades and gents offer something special and unique!
My lofty goal is to post every other day.  Wi-fi may be sketchy and we are going to be on the move quite a lot, so I'm being realistic at the same time.
One of my other lofty goals is to use everything in my kitchen this week.  My challenge to myself is to not buy even the smallest thing at the grocery store.  It's much harder than it looks!
The color of today's breakfast almost made the title this post "Food No One Will Steal From the Office Fridge."  The fact that it is too long a title is the only thing that held me back.
I used a new product – Sunrich's Sunflower Seed Milk.  Sounds exciting, right?
To be honest… it tastes a bit like Milk of Magnesia on its own.
Mixing it in smoothies and oats hides that taste.  I still wouldn't buy it again.
The "soup" does taste good!  Much better than the color would indicate.  🙂
I love cherries and with the creamy texture the banana adds it makes for a fantastic soup.  Why not just drink it like a smoothie?  Because eating it with a spoon for breakfast seemed like more fun!
_____________________________________________________________________________________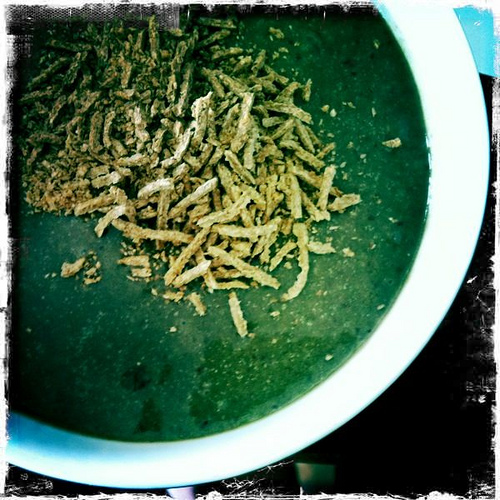 Black Cherry Breakfast Soup
1/2 C black cherries
1 scoop vanilla protein powder
1 C milk (or milk substitute)
1 C fresh spinach
1 T chia seeds
1 tsp vanilla
1/2 tsp cinnamon
1/2 large banana
5-6 drops NuNaturals Pure Liquid Vanilla Stevia
shake of guar gum (thickener)
Ice/water, to taste
Throw it all in your blender/Bullet/Vitamix and blend until smooth.  Pour into a bowl and top with your favorites – nut butter, granola, cereal, muffins… whatever you crave!
Enjoy!
***
Thank you to everyone for the sweet hair compliments – you guys made my day! 🙂
What's your favorite milk substitute?  Or do you prefer the real thing?
Do you try to use everything in your fridge before trips?