It wasn't just a fluke last week!  The Sleep Cycle app once again got me out of bed in time to exercise before work this morning.  Amazing.
The real test will be tomorrow.  I have a one-month membership to a local gym (thank you, Groupon).  A friend of mine swears by a certain 630am class… and I committed to meeting her there tomorrow.  At 630am.
*deep breath*
I can't remember the last time I woke up that early.
The icing on the cake is that I haven't tried spinning since high school.  I made it through one class, then vowed "never again" after it left my crotch feeling bruised.
TMI?!?
---
If last week was Indian week, then this week is faux-burger week.
Last night being burger-less became unbearable.
There is no way I can chew a real burger (plus I'm not so sure I want to go back to red meat), but a soft, black bean burger seemed do-able.  Off to the kitchen I went to create.
The result was awesome.  I couldn't stop at just the burger.  Inspired by the recent over-saturation onslaught of burger-creations in Atlanta, I added a fried egg and some tasty (mayo-free!), spicy pimento cheese.
I used the American Gra-frutti gluten-free pimento cheese I wrote about last week.  Again, I'm not gluten-free.  I just like good food.  This stuff is GOOD.
Whole Paycheck Foods had a tasting this weekend where I was able to try American Gra-frutti's "They'll Never Know" gluten-free chocolate chip cake.  It was awesome.  Not too sweet and, as promised, I would have never known there was anything different about it.
The burgers are vegan… the egg on top notsomuch.
---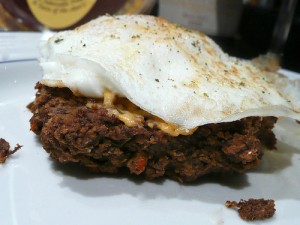 Vegan Black Bean Burgers
1 can black beans (rinsed and drained)
1 carrot
1/4 C fresh parsley
2 garlic cloves
1 T olive oil
1/2 tsp cumin
1/2 tsp coriander
1/2 tsp chili powder
1/4 tsp turmeric
1/4 C red onion, chopped
1/3 C whole wheat panko
S + P, to taste
Preheat oven to 375 degrees.

Combine first 5 ingredients in a food processor and blend until coarsely chopped.  Add spices, blending once more and adjusting to taste.  Incorporate the onion and panko at the end, blending just a moment (if you, like me, prefer a little texture).  Salt and pepper to taste.
Place on lined (or non-stick) baking sheet and cook for ~45 mins (or until firmed up), flipping 30 mins in.
Makes 4 burgers.
***
Do you enjoy trying "specialty" foods even though you may not have "special" food needs?  
What's the best new product you've discovered lately?