What I Ate…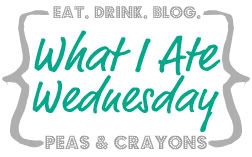 errrr... on Friday night of last week.  Details, details… but I promise a real recipe from Wednesday at the end!
I've been meaning to write a post about this Underground Supper I went to last Friday.  It is the best supper event I've attended to date!  And you guys know I do these a lot.
Atlanta native Zach Meloy started Push Start Kitchen with his wife, Christina.  They recently returned from a stint in Costa Rica where they ran a restaurant.
From now on I will be seeking out Costa Rican-Southern chefs because the fusion is a home run.
This supper club is their way to generate some buzz and money in hopes of pushing a restaurant start here in Atlanta.
So my foodie-partner-in-crime (Corinne) and I trekked out to The Goat Farm.
The Goat Farm is a kitschy little hippie-like colony that – in addition to literally being a goat farm – hosts a variety of events (this night included a dance performance and a food truck), is home to a few loft owners, and has it's own coffee shop/late night $2 beer stop.  I had NO idea places like this existed in Atlanta but I'm moving in.
We were to dine in a small room with 8 others among ancient ceiling pulley systems, discarded books, and cotton mill ruins.  Candles were lit, Dark and Stormy beverages flowed, and the night began to move.
Pictures were taken in front of an old pile of bricks by a local photographer.  A train rolled by.  We found a copy of The World According to Garp.  I ran into a girl I went to high school with (what are the odds?!).
All while enjoying a lovely canape – a small masa biscuit topped with cream cheese and red pepper jam:
After the first round of drinks and the canapes were consumed, we took our seats at a rustic (read: IKEA) dining table for the first course.  
First, the wine (served by Zach): a

light

rose, full of

strawberries

and refreshing on a muggy night.
I was of course busy ogling the already-plated food on the chef's table next to my right…
First course: crispy Serrano ham, tomato confit, avocado, smoked chile cornbread, with molasses vinaigrette and basil.
Now.  I don't like cornbread (bad Southerner!), but this stuff was delicious.  It was soft and smokey, not gritty and dry like the bread I often see.  The Serrano was perfectly crisped and added the right level of salt to compliment the plump tomatoes.
I could have eaten this all night and been content.  Alas, the meal must go on!
Second Course: Sous vide pork tenderloin, roasted plum mole, crispy grits, goat cheese, country ham powder, and greens
You read me correctly – PLUM mole.  Spiced chocolate plum sauce.  I nearly begged Chef for a jar of the stuff.
For those of you who haven't had meat prepared sous vide before, it is basically cooking meat at a low temperature in a plastic bag underwater.  This allows you to cook even the thickest cuts of meat evenly at a perfectly controlled temperature, resulting in (arguably) the most juicy meat perfection (sorry if I just made all the vegetarians gag!).
Back to the mole.  It was amazing with the pork not too sweet and a bit smokey.  All of this was complemented by the slightly salty flash-fried grit cakes and creamy goat cheese.  I gobbled up mine so fast Corinne asked if I wanted to finish hers.
.
The Finale: Rum scented "pan perdido," condensed milk ice cream, pickled cherries, and galleta maria
I didn't know what half of that meant until I googled at home later.  My initial description was "deconstructed dessert French toast."
It turns out I wasn't too far off!  Pan perdido is essentially bread pudding.  Chef Zach pan-fried it so it was especially french toast-like (nom nom).  Galleta marias are tea biscuit-like brown sugar cookies found throughout Latin America.  They almost crumbled to the touch and their vanilla and cinnamon flavorings only added to my french toast fantasy.  Served with homemade ice cream and pickled cherries… I can now die happy.
The way to my stomach's heart is dessert.  Someone must have let that cat out of the bag because we were presented with a sweet coconut candy rolled in almond meal:
The bird didn't want any, so I ate it all myself. 🙂
_____________________________________________________________________________________
As promised, I am posting something I actually made and ate this week for a change.
The Biscoff spread Miss Smart gifted me with has been burning a hole in my pantry.  This is an emergency situation, remedied only by having banana soft serve (which I think you all are familiar with) for breakfast.
Why soft serve?  To go with my Biscoff Sauce, of course!
Biscoff spread tastes like a creamed version on the brown sugar cookies served on Delta flights… but better.
Why better?  Let me break this down: Spread = Peanut Butter-like = Awesome.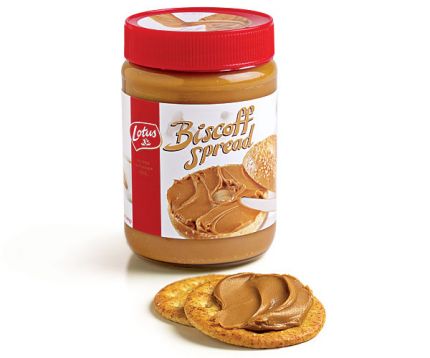 In fact, it says right on the jar that it should be used any where you'd normally use PB or chocolate spread.  Cookie spread!!! *swoon*
Can you call 2 ingredients a recipe?  Maybe not… but it's what I ate for breakfast on Wednesday (WIABW).
______________________________________________________________________________________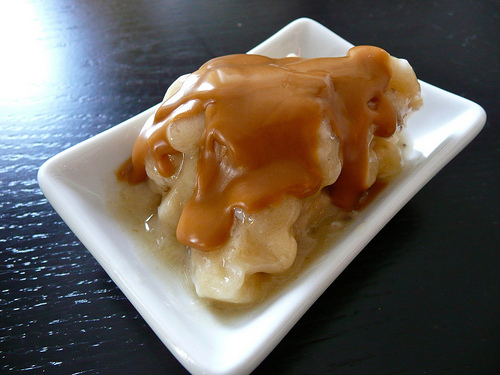 Banana Soft Serve
Freeze a banana.  Toss said banana in blender.  Blend until smooth (can add milk if you need to thin it out a bit to blend).
Biscoff Sauce
1 T Biscoff spread
1/8 tsp coconut oil
Place both ingredients in a small bowl.  
Microwave for ~10 seconds – just until melted (BE CAREFUL – it will burn).  Stir together.  
Try to top soft serve with sauce before you slurp it up

***
This jar doesn't have a prayer of lasting through the weekend.  It will be used for some epic oats.
What food product have you recently tried and loved?
Does anyone want to write a guest post for me next week?  Pretty please?!