Let's talk about balls.
Hee hee… yes, I'm 10 years old…
Delta is my home-away-from-home this week.  Lots of work travel.  It's only appropriate that I highlight my favorite Delta snack – Biscoff.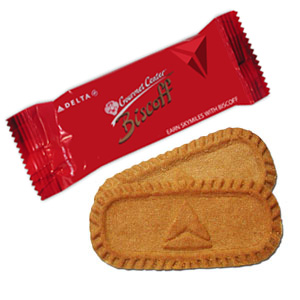 Ever since Miss Smart benevolently bequeathed unto me a scrumptious jar of my very own Biscoff spread, I've been fantasizing innovating new and decedent different ways to use it.
I'm officially on the sauce.  Soft serve sauce, that is. 🙂
Enter: Biscoff Cookie Dough Balls.
I've got a lovely bunch of coconut balls… here they are standing in a row…
No joke – these really are like eating a big, satisfying bite of Biscoff cookie dough.
This edible cookie dough is a bite-sized ball of brown-sugar and coconutty deliciousness.  At less than 60 calories, 2.5g of sugar, and 1 gram of protein, they aren't that bad for you!  I'm not claiming Biscoff to be a health food, but the other ingredients are. 🙂
A couple of these balls make a great pre-workout snack – easy to grab and go with a teensy sugar boost to pick you up.  They even have a whole gram of protein each!
These may be the best balls yet.  And I really, really loved S'more Balls.
______________________________________________________________________________________
Don't worry, you're getting the recipe…. AFTER you tell me if you've been doing push-ups!
I'm really proud of myself – I did them all but one day this week.  The day I skipped was one where I did the P90X Tricep workout, which is push-up-heavy.
I also tried out a new-ish ab exercise.  Hayley @ Oat Couture posted 4 and 6-minute versions of a plank sequence she does.  It reminded me that I've been slacking in the planking (click here for my plank advice).  It really is the single best thing you can do (aside from cardio) to improve your abs.  Click the links below to see Hayley's plank progression with her demo pics (she has perfect form!).
Workout Recap (8/1-8/7)
Monday – P90X Shoulder & Arms, Ab Ripper X, 84 push-ups
Tuesday – 4 mile run, 84 push-ups, Oat Couture's 6 Minute Plank Sequence
Wednesday – P90X Legs & Back, Ab Ripper X, 84 push-ups

Thursday – Oat Couture's 6 Minute Plank Sequence, 84 push-ups
Friday – 4 mile run, 84 push-ups
Saturday – P9p0X Triceps & Chest, Ab Ripper X
Sunday – 9 mile run, 84 push-ups
The running was a bit lacking this week because I was SO SORE from the P90X leg workout that I was struggling to do much (that's what I get for slacking on legs).
However, I did bang out 9 miles on Sunday (in 1:12:14!!!) AND I committed to running Atlanta's Thanksgiving Half Marathon with some friends. I can't wait!
_____________________________________________________________________________________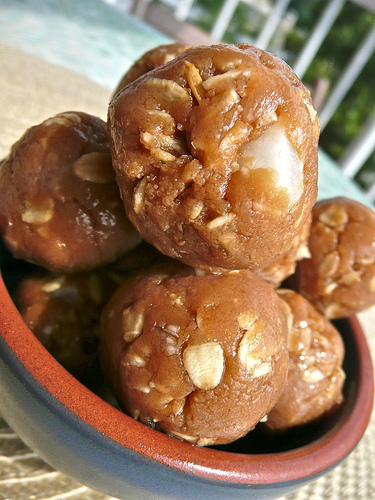 Biscoff Cookie Dough Balls
1/2 C Biscoff spread
1/4 C applesauce
1/2 tsp vanilla
3 T coconut flour
3 T white whole wheat flour
1/2 C rolled oats
2 T unsweetened shredded coconut (optional)
In a large bowl using an electric mixer, combine wet ingredients until smooth.
Slowly mix in flours, followed by the oats. Lastly, mix in shredded coconut.  
Scoop ~2 tsp of dough onto parchment-lined tray and roll to form balls. Freeze or refrigerate until dough firm.
Enjoy!
Makes ~20 balls
Notes: If you don't have access to Biscoff spread, substitute your favorite nut butter.  If you do that be sure to taste as you go – you may need to add maple syrup or other sweetener.  You may also sub in other flours – or use all coconut for gluten-free dough!
Approximate Nutritionals: 58 calories, 2.9 g fat, 6.8g carbs, 0.9g fiber, 2.5g sugar, 1g protein
***
Thank you for your input on the dessert for Feast Noir!  I think I'm going with the Peach Tart… but those brownies will happen SOON too!
What are your favorite balls?  (Keep it clean!)
Have you been doing push-ups?!