Halloween is really for adults.
It was fun when we were kids, but come on.
Being an adult on Halloween is the best.  You still get to dress up and eat candy, but now you get to do it with Witches Brew (otherwise known as apple cider sangria).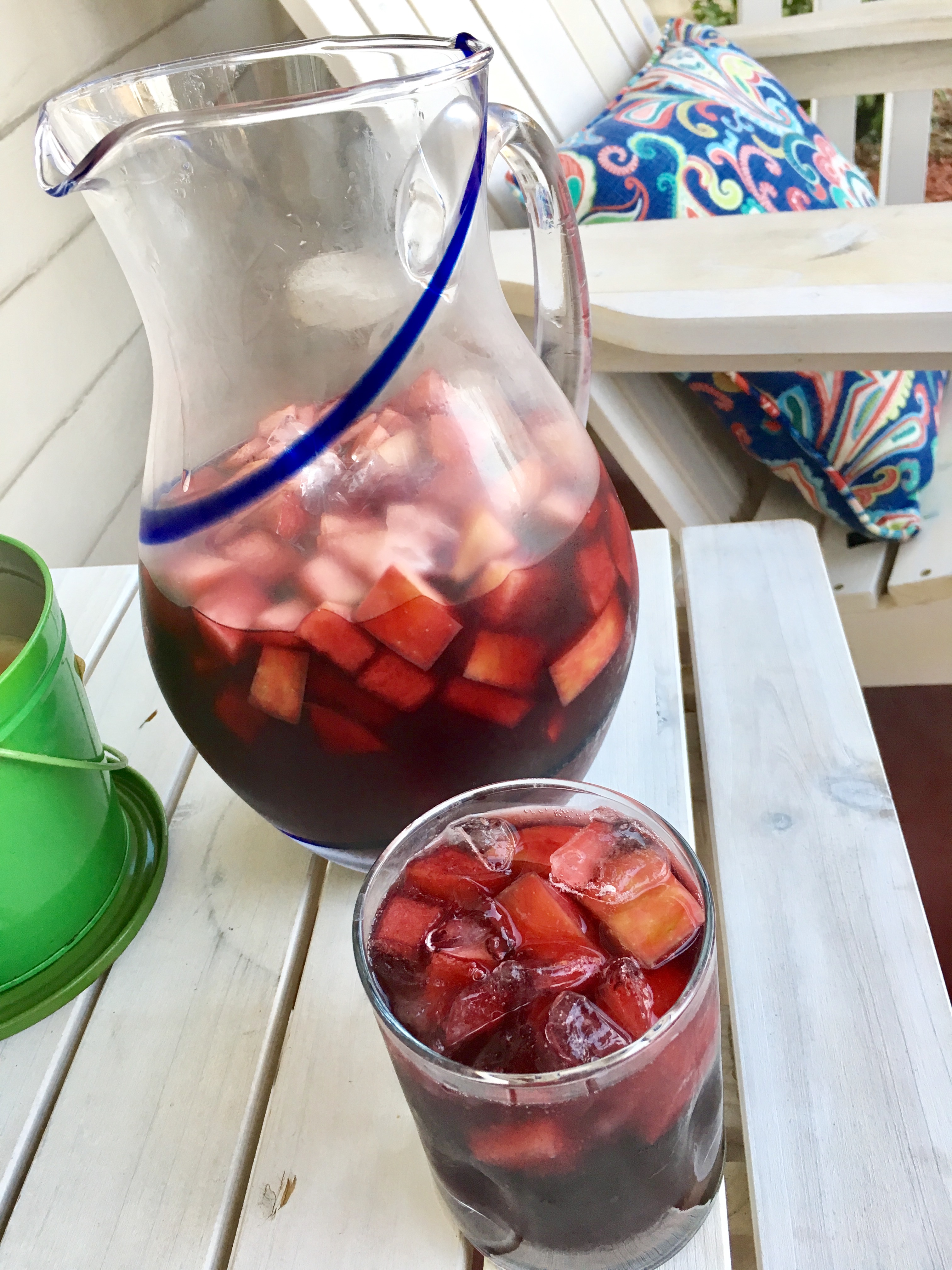 Vegas and I were NOT going to have a Halloween party.  Then we had some wine, were talking with friends, no one had weekend plans… and all of the sudden we were having 15 people over.  Typical.
I do love throwing a party.  It's a great excuse to make the things you've ogled on Pinterest, or the treats you don't trust yourself alone with keep in the house.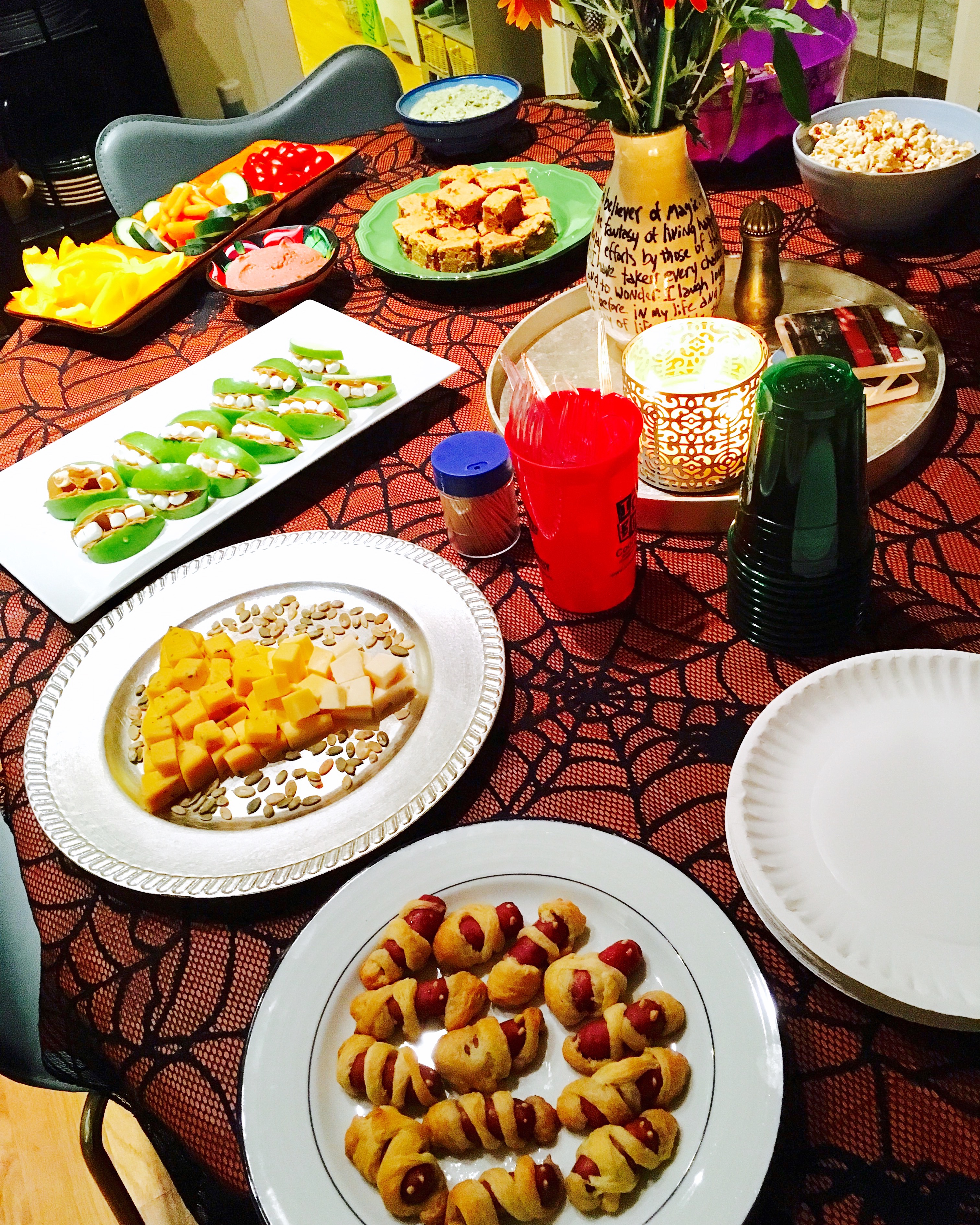 We had veggies, guacamole, salsa, chips and "blood" (beet) hummus.  The hummus was super easy – for once I didn't complicate things!  I just bought plain hummus and blended it with 3 beets.
I also gave in to temptation and purchased a bag of Pumpkin Spice Boom Chick Pop.  Totally worth it.  We all agreed it's practically crack.  File under Do Not Open Bag Alone.
Here's a close up one of the Pinterest items I finally tried:
Of course, that wasn't the only "corny" (see what I did there?  HA!) Halloween project I had to try.  These next two were the most popular items on the table!
The "Mummies" in a Blanket were gone in minutes.  They was really simple to make.  Just cut thin strips of crescent dinner rolls and wrap them around cocktail hot dogs like mummy cloths.  Bake them for 10-12 mins at 350, let them cool, and dot their mustard eyes on with toothpicks.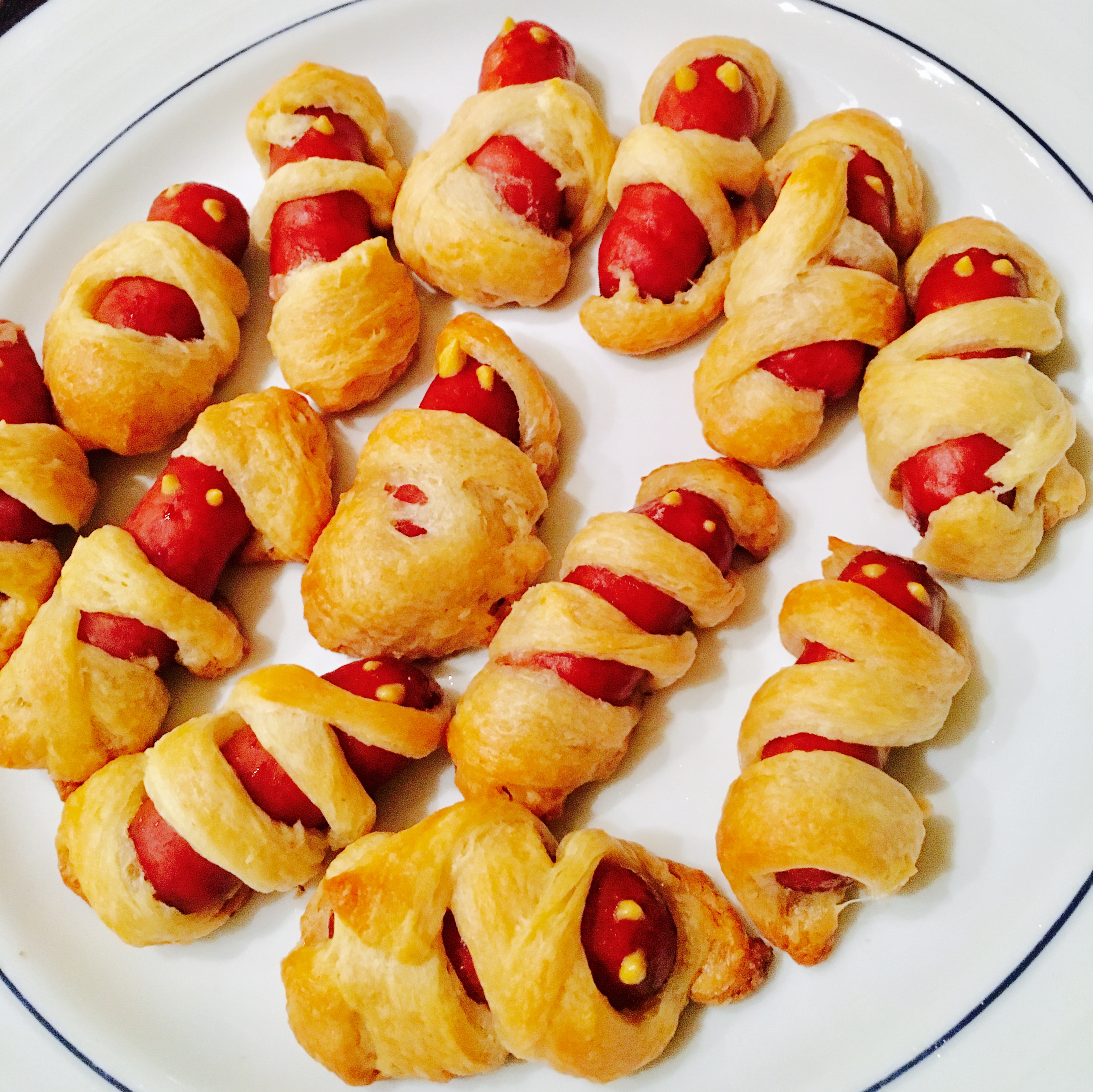 Next up were the mouths.  Apples, peanut butter, and marshmallows.  Couldn't be easier!
I guess kids of all ages love that classic apple and peanut butter combo.  I ran to the kitchen to make 3 more plates after this one was gone!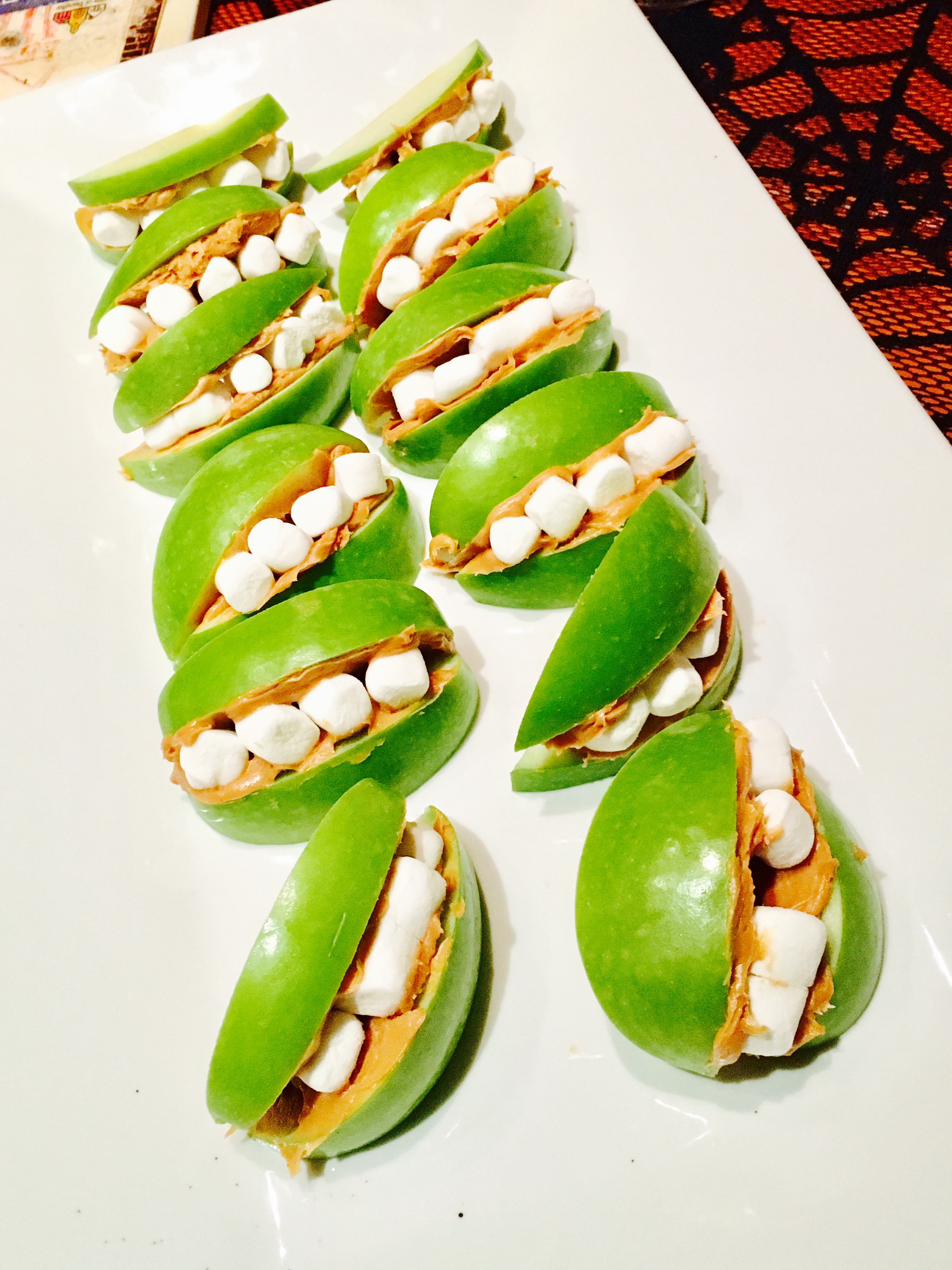 Of course I had to make my favorite Halloween dessert – Peanut Butter Pumpkin Oreo Blondies.
This is my third year with this recipe and it never gets old.  Chunks of Pumpkin Spice Oreos, chocolate chips, and peanut butter baked into a blondie.  This is another one you don't want to be let alone with.
Of course, costumes were required.  We had Stitch, Risky Business, a Storm Trooper, Batman, Captain America… and some others I can't remembers.
Target was the big hit this year.  4 of us were wearing their PJs as costumes.  I was the leopard.  I was sold when I saw it came with mittens.  The downside is that it is SO hot here I couldn't keep them on.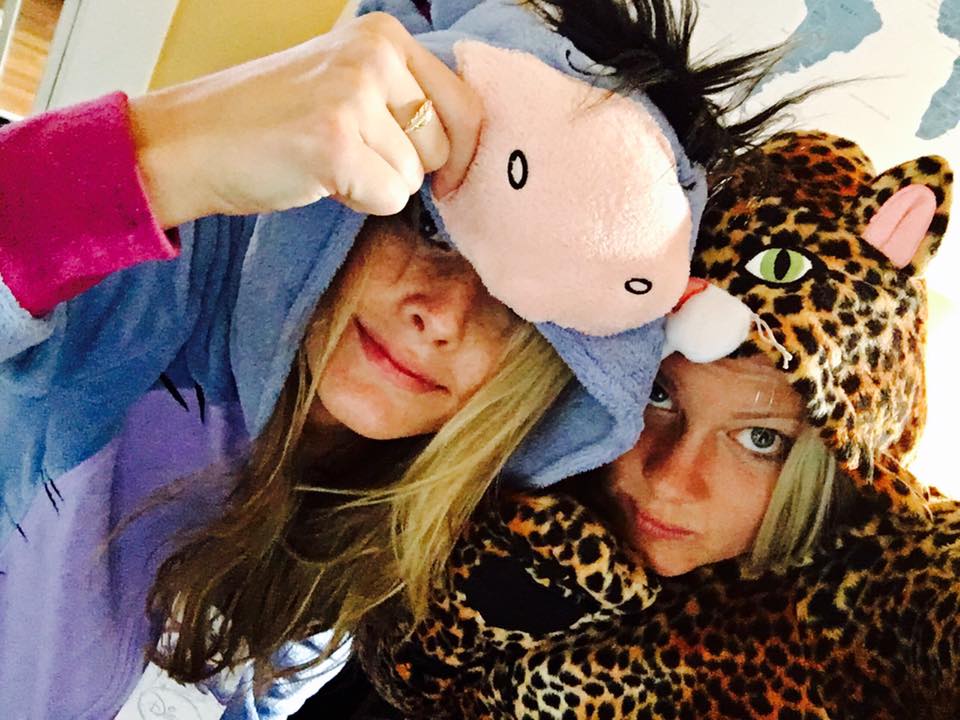 After watching both the Cubs and FSU lose, someone decided we should just play our own games.
I really don't know how this happened, but a folding table was set up in the front yard and flip cup was played until the wee hours of the morning.  I'm still not sure how the cops weren't called…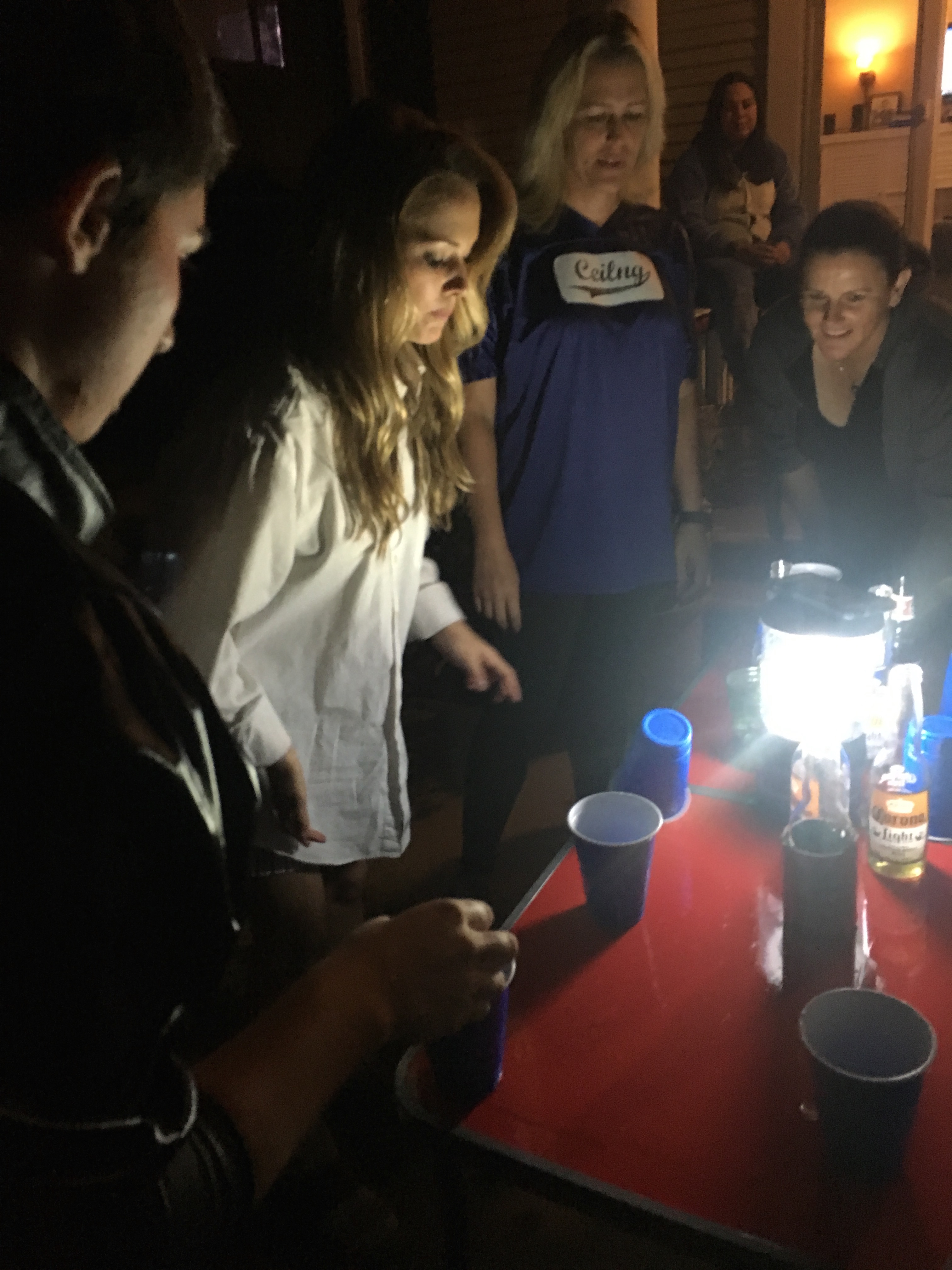 See?  Halloween is WAY more fun as an adult! 😉
Happy Halloween!
***
I went to bed at 3 am and slept until 1 pm for the first time in years!
Have you ever played flip cup?  I'm terrible at it!
Did dress up for Halloween?