There's not much better than ice cream on a sunny, fall afternoon.
Or after a brutal workout.
It's been a week of treat 'yo self.  But how often does the Big Gay Ice Cream Truck head down South from NYC?  I enjoyed a cone on Monday and a cup on Tuesday.
Monday night I stopped to pick up a Salty Pimp after a bitch of a challenging workout with my trainer.  He only looks sweet and innocent.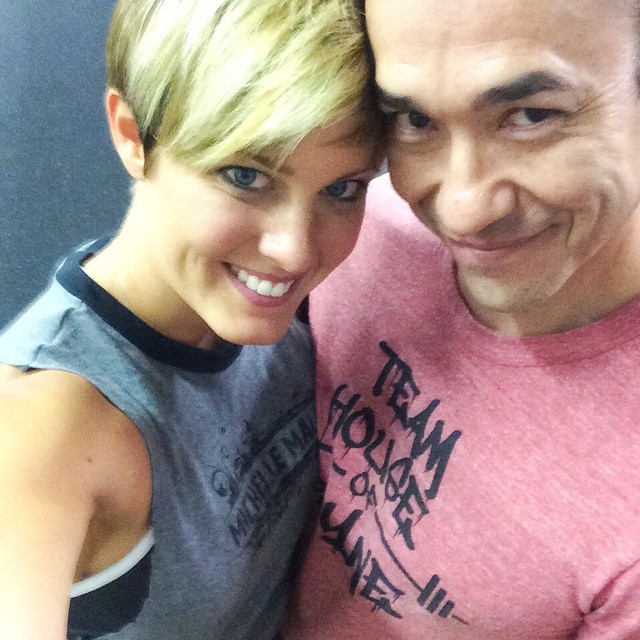 The Salty Pimp was a soft serve cone injected with dulce de leche, sprinkled with sea salt, and dipped in chocolate.
We had a moment.  Don't judge.
Round two was the next day with my fellow competitor and wine country partner-in-crime, Lisa.
We went for the Pecan Gobbler – a cup of vanilla soft serve with toasted salty pecans, bourbon butterscotch (good glory hallelujah, they don't skimp on the bourbon), and whip it good cream.  We whipped that real good.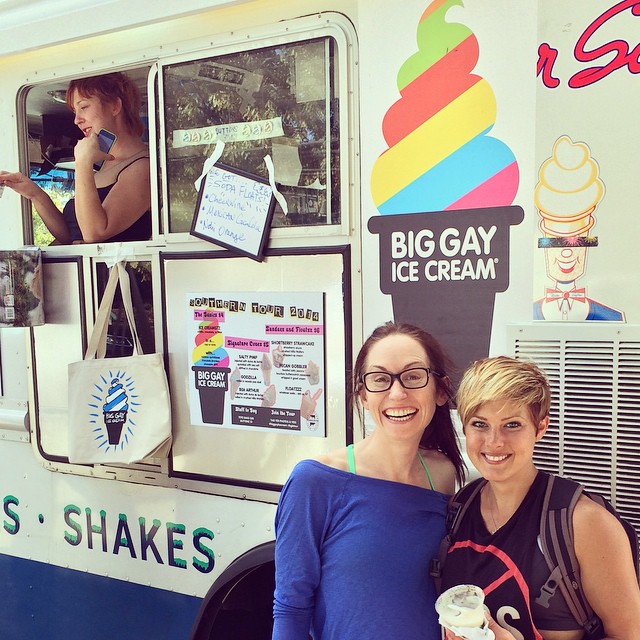 ________________________________________________________________________________________
This WIAW was a little lighter than usual on the food, despite the ice cream.  I've just not been feeling myself this week for some reason.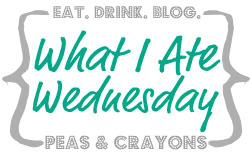 Read on for my eats, and then check out Jenn's blog for everyone else's delicious creations!
________________________________________________________________________________________
Breakfast:
My morning cocktail and the usual Green Matcha Sludge were a great pre-workout with a muffin (will post this recipe soon).
Mid-Morning Snack:
Post-workout I had my favorite chocolate beet protein smoothie topped with oats.
Lunch:
Tuna with carrots, tossed in mustard and salsa.  I didn't exactly do well with the food prep since I came back fro Vegas late Sunday.  Those salt & vinegar Quest chips saved the day!
Mid-Afternoon Snack:
The afore mentioned Pecan Gobbler.
Dinner:
I'm totally addicted to Garnish & Gather.  And nut just because they used my recipe for a meal a few weeks ago.  This order was cider-brined pork chops with spiced apple butter over local andoullie sausage, turnip, sweet potato, and delicata squash hash.  After a week of traveling, it was especially nice to have all the ingredients portioned and ready.
All I had to do was spend 30 mins cooking it!  And pour the wine – I opened a Verdejo from Lava Vine in Calistoga.
If you're in Atlanta and want to try them out, use code "sprint" on their website for 20% off next week. I just put in for the fish tacos. 🙂
Dessert:
It's getting chilly outside… time to bring back the protein mugcake!  It exploded a little when I added marshmallows. I kind of liked it.
***
I'm pretty happy with the way the day turned out despite the total lack of planning!
Have you ever been to the Big Gay Ice Cream Truck?  They're in Birmingham today!
Would you have ordered the Salty Pimp or the Pecan Gobbler?  Both?