It's Weekend Recap Monday!
Saturday I got to see the now 1 week old Jackson – how cute is he?!
Mommy, Daddy and baby are all doing well.  They are all so cute together – I can't believe the girl I used to run around the softball field with now has a baby.  Totally surreal.  
Of course, I couldn't drop by empty-handed.
I brought the new parents some of the treats I made to take to a friend's beach volleyball party.
These baller-friends built a sand volleyball court right in their own backyard.  It stays there year-round.  Coolest.  Idea. Ever.
We braved the heat and played for hours.  I was impressed at the skill level of my friends!  After a few rounds (and a minor injury), I decided to play it safe and spectate.
My thumb is a hard-core shade of purple today.
The Chipotle Corn Hummus made an appearance at the party.  
Heat + charred, sweet corn + hummus = Mmmmm.
---
Oh… did you want to know about that treat?
I put the Edge Brownie Pan mom gave me a few years ago to a whole new use.
S'more Brownies.  Complete with graham cracker crust and toasted marshmallows.
If you have been reading my blog for a while, you know I like to sneak "secret" ingredients into foods.  (I swear by these brownies).
Betcha can't guess the secret in S'more Brownies…
Rather than adding the called-for water and oil, I added a can of Diet Coke.  You can stop there, but I added an egg to achieve a fudge-ier brownie that would be a bit more reminiscent of melted s'more chocolate.
The chocolate chips in the batter give it added texture and make this even more sinful fantastic.
This may be one of the best desserts I've ever made.  (And I make a lot of desserts.)  They're your childhood s'mores on crack made better.
I can never make these again.  
For at least a week.
---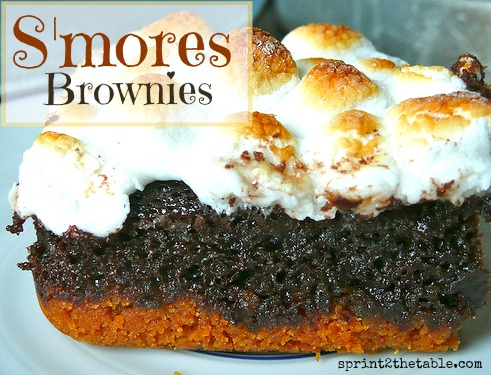 S'mores Brownies
Crust:
1.5 C crushed graham crackers
1/4 C + 2 T Earth Balance (or butter)
Brownie:
1 box brownie mix
1 egg
1 Diet Coke
1/4 C chocolate chips (mine came in the brownie mix)
Marshmallows
Preheat oven to 350 and grease brownie pan (I used the edge brownie pan).
Mix together melted Earth Balance (or butter) with crushed graham crackers.  Press on to bottom of brownie pan.  Bake for 8-10 mins.
*Here's where I stopped and froze mine overnight.  #1 I didn't have time to make it all at one and #2 sometimes freezing a crumb-y crust help it to crisp up/not be too greasy.*
Mix together brownie batter (except marshmallows).  Add the soda in fourths to be sure batter doesn't get too runny.
Pour batter into the brownie pan on top of the crust.
Bake at 325 for 35-40 mins, until batter is set.
Set over to broil and top the brownie with just enough of the marshmallows to cover (they will expand as they warm).  Place in oven for 30-45 secs, until marshmallows are browned.  Watch them closely!!!
Let cool COMPLETELY before cutting.
***
I love how desserts can be re-thought and made even better than the original.
What is your favorite dessert re-make?
Do you re-create them on your own or try them in restaurants more often?