Sunny weekends seem shorter.
I never want them to end!  
Before diving head first into a crazy week, here are the top 5 highlights that I remembered to take a picture of:
1. Serenbe Cooking Demo
While at my team's retreat we were treated to a cooking demo by the founder of Serenbe, Marie Nygren.  Serenbe ("be serene" spelled backwards) is a small sustainable community just outside of Atlanta.  It reminds me of Seaside (where The Truman Show was filmed), but without the ocean.
Marie led us though a short cooking demo in her home.  She prepared collard greens two ways, kale, and cabbage.  It was all delicious… and her house was GORGEOUS!
2. *Almost* Justin Timberlake Sighting
Justin Timberlake is in Atlanta shooting "Trouble With the Curve," with Clint Eastwood and Amy Adams.  Below is the camera crew.  No Justin… but I swear I saw Jessica Biel walking down the street the other day.
3. Softball Sunday
My team won!!!  The second game.  
Our problem is that we aren't morning people.  We don't wake up until half way through the first game.
My groin woke up too early thanks to play at first base.  I did a full split and caught the ball for the out.  And pulled my groin.  Ouch.
4. Powdered Hummus?
On my weekly trip to Whole Paycheck Foods I came across hummus powder in the bulk bins.  The instructions say all you need to do is add is water and olive oil.
Does this sound awesome or weird?
I haven't tried it yet, but will report back soon!  They also had a powdered black bean dip.
5. Green Thumb
I've mentioned before that I have killed every plant I have owned.  I even killed mint.  Yesterday I helped my mom plant flowers.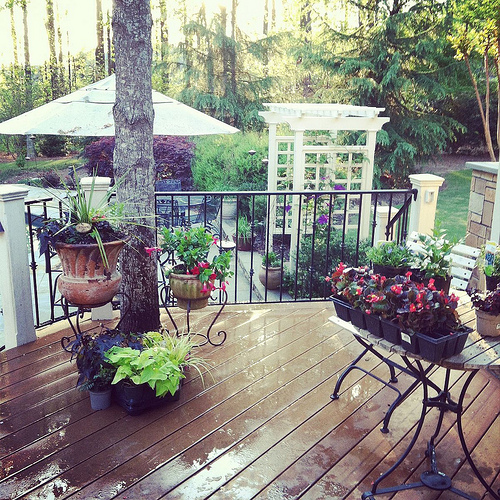 They are so pretty, right?!  I hope my black thumb doesn't affect them.
________________________________________________________________________________________
I miiiiight be allowed to try running again tomorrow.  I go back to the doc and he's going to give me the green light.  Or not.  I'm a little nervous since by the end of softball today it was a little sore from running bases, but nothing like before.
This week was a little light on workout intensity… and the clean eating… but I'm not going to kick myself too hard over it.  Sometimes you just need to take it easy.
Workout Recap (3/26 – 4/1):
Monday – This BodyRock, stationary bike, 100 push-ups
Tuesday – This workout by Lori, 100 push-ups, 20 mins of P90X Cardio… then quit in favor of playing tennis. 🙂
Wednesday – P90X Tris/Chest, Ab Ripper X

Thursday – This Pinned Workout (3x), 100 push-ups

Friday – Rest

Saturday – This BodyRock, Back/Bis, 100 push-ups
Sunday –  Softball 2x, P90X Plyo, 100 push-ups
***
I totally forgot it was April Fool's yesterday.  We should have the whole month to mess with people!
Did you play any April Fool's Pranks?
Have you seen powdered hummus before? Is it good?