McDonald's is cleaning up their meat.
Jamie Oliver influenced McD's to stop using beef treated with ammonia hydroxide – the stuff Oliver referred to as "pink slime" on his show Food Revolution.
Mmmmm… makes you want a bowl of beefy chili, right?
Or maybe a meaty VEGAN bowl of chili?
One of my favorite things to do when I'm bored is wander around Whole Paycheck Foods.  This can be a dangerous activity for my wallet, but it's my guilty pleasure. 🙂  This week I happened upon TVP that was discounted by $1.  Sold.
I've seen it used on a few blogs, but never tried it for myself.  It was really easy – you just boil (read: microwave) 1 cup of water, stir the TVP in, and let it sit for 5 mins.  Instant protein crumbles.
TVP is the perfect addition for vegan chili.  It replaced the usual ground beef without losing the hearty feel and added protein.  The addition of liquid smoke in this also lends to the traditional chili taste.  Discovery of the year, no doubt.
With a little cilantro, lime, and nutritional yeast.  Meaty vegan chili perfection.
If only I'd had a grilled cheese to go along with it…
---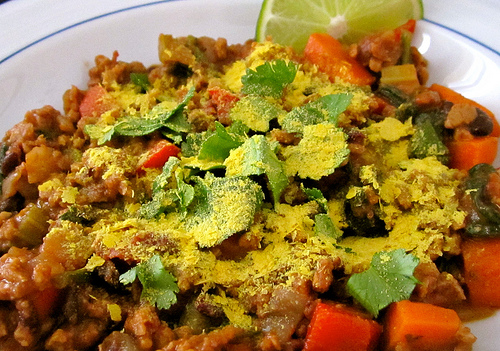 Beefy TVP Chili
2 tsp olive oil
1 medium red onion, diced
4 cloves garlic, minced
2-3 celery stalks, chopped
2 carrots, chopped
1 red pepper, chopped
1 C San Marzano tomatoes (or any tomato-substance)
1-2 dried habanero
1 can beans
1 C TVP
6-7 drops liquid smoke
2 tsp ground cumin
1 tsp ground oregano
1 tsp cocoa powder
1/2 tsp ground cinnamon
pinch of ground cloves
2 T apple cider vinegar
4 T cilantro, rough chopped
2 C spinach
Re-hydrate TVP by soaking in 1 C of boiling water.  Set aside.
Heat oil in large pot.  Sauté onion until turning translucent (5-6 mins).  Add garlic and sauté another 1-2 mins, until fragrant.  Add next 7 ingredients, stirring to combine.  Mix in spices and vinegar, adjusting to taste.
Simmer for 30-45 mins, stirring occasionally.  This allows the flavors to combine and vegetables to soften.
Mix in the spinach and cilantro.  Cover pot and simmer ~10 mins, until spinach is wilted.  Garnish with lime, cilantro, and nutritional yeast.
Makes 8 cups.
Note: Depending on the tomato substance you use, you may need to add liquid as the chili cooks.  I added 1/2 C before I mixed in my spinach.
***
Discovering new (to me) products is so exciting.  #dork
Does anyone else wander the grocery store as entertainment?
Have you cooked with TVP before?  Please share other ideas for using it!