I view food as a source of entertainment.
What do you expect from a person who goes to Whole Foods when she's bored?
Sometimes food prep gets a bit mundane.  When you're packing up 3-4 meals a day to take to work, there are only so many options.  I wonder if we could get an oven in the office…
This past Sunday marked 6 years since my dad died.  As per tradition, my sister and I spent the day with mom at the house we grew up in.  We grilled out and had a great time eating (my mom has a similar Whole Foods problem – soooo much delicious food!).  It was fun to reminisce and enjoy the gorgeous pool day.  And I got to cook with my mom, which I love!
It was also a good opportunity to food prep in a different way.  I stopped by the farmer's market on the way to the house and loaded up on chicken, fish, and veggies.  I live in a condo, which means we can't have grills.  Mom, on the other hand, has a gas grill AND a Big Green Egg.  It's been the perfect way to add more variety to my prep!
This week I've been especially loving the BBQ chicken I made.  It was a really quick marinade, and it packed a punch!  I used smoked paprika and my healthy homemade BBQ sauce (I keep a batch on hand all summer) to heat it up.  They were a great compliment to the tangy mustard.
You could use your favorite store brought BBQ sauce if you don't have any homemade.  If you're grill-less like I usually am, this would be fine on a grill pan or baked in the oven.
________________________________________________________________________________________
This WIAW I wanted to eat each meal consecutively.  Between leg day and the excitement of grilled food I was entertained alllll day!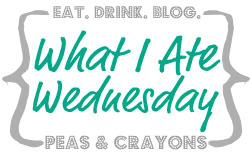 Read on for my eats, and then check out Jenn's blog for everyone else's delicious creations!
________________________________________________________________________________________
Breakfast:
My morning cocktail, as always.
I'v been trying out gelatin in the morning and evenings lately.  According to these ladies, it's great for digestion and the skin. This morning I added it to my TVP oats with almond milk, cinnamon, and Stevia, then topped it with strawberries and round 2 of a protein muffin experiment.  It made for a voluminous breakfast!
Mid-Morning Snack:
After seeing the paleo sushi Rebecca link up on last week's #strangebutgood post, I had it in my head to make salmon roll with my coconut paleo wraps.  There was no way in hell that can happen due to over-stuffing, so I settled for a regular wrap with local cabbage and carnival cauliflower "rice."  Mustard and some seriously strong wasabi paste on the side.
Typical work day meal…
Lunch:
Grilled Swordfish with the best heirloom tomato of the season and a rogue strawberry.  I love how sweet produce is right now!  It's like candy.  Ok, not exactly… but it's good!
Mid-Afternoon Snack:
BBQ Chicken with a TON of grilled veggies.  The "sprinkles" on top are some leftover cauliflower rice from my over-stuffed sushi wrap.
If you guys had seen the amount of veggies we had on the grill… whoa.  We even grilled half a calabeza squash.  It took 3 rounds to cook it all!
Dinner:
I don't know if you would really call this dinner, but I got back from the gym late and all I could think of was an ice cold smoothie.  It was HOT today!  I made a version of my Mocha Beet Protein Smoothie Bowl, but minus the coffee and plus some kale.  I added a crumbled muffin from the freezer to the top for my post-workout carbs.  It's not pretty, but it hit the spot!
Dessert:
After my cold smoothie I prepped a cold dessert – fro yo!  It was peanut butter–chocolate–marshmallow swirl deliciousness.
I mixed goat milk yogurt, peanut flour, gelatin, stevia, and almond milk in a bowl, then swirled in carob powder and trashy Walden Farms sugar-free marshmallow fluff (don't judge).  Then I froze it for about an hour.  THEN I topped that with a 1/3 a baked peanut butter Quest bar and 1/3 a baked brownie Quest bar.  Good.  Night.
________________________________________________________________________________________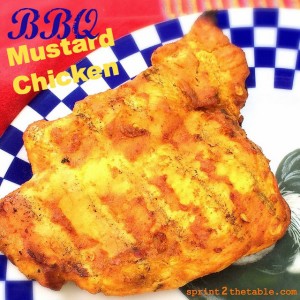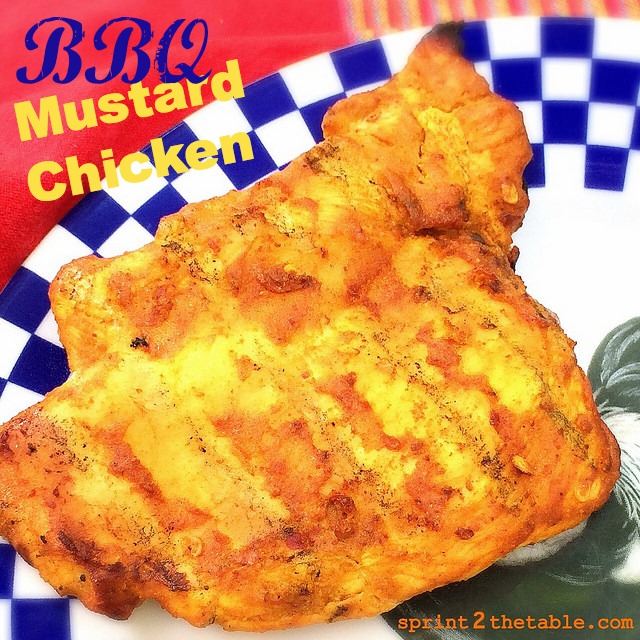 BBQ Mustard Chicken
4 chicken breasts, lightly beaten (~4 oz each)

Juice of 1 lemon

1 T stone ground mustard
2 T

BBQ sauce

1 tsp avocado oil (or olive)

1 tsp smoked paprika

1/2 tsp turmeric
1/2 tsp red pepper flakes

3 drops lemon liquid stevia (or other sweetener)
Lightly beat your chicken breasts to tenderize.  Place in a baggie.  
In a small bowl combine the marinade ingredients.  Add to baggie and smoosh (technical term) around so the chicken is well-coated.  Seal baggies and marinate in the fridge for at least 30 minutes (the longer the marinate time, the fuller the flavor).
Heat a grill or a grill pan to medium-high and grill chicken, turning regularly.  They are done when they're a light brown, or have reached 170 degrees.*
Transfer to a plate and allow to cool slightly before slicing.
*Note: I ever-so-slightly undercook my chicken when prepping for the week.  This way it doesn't dry out; reheating it in the microwave will cook it that last bit.
***
Don't forget to check in with the #MoveHappy week 2 challenge! I'm hobbling happy after leg day.
Do you ever get in a food rut?
What is your favorite thing to grill?  I love grilled fruit!