Variety is the spice of life.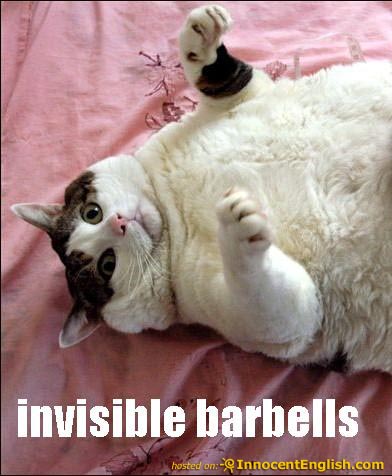 I've mentioned before that my workouts change in the winter – less running, more indoor activities.  Thankfully I have found some friends to work out with to help shake things up.  This weekend was spin class, today was a circuit workout… both were things I never would have done without a friend.  Friends = variety.
Another benefit of a workout buddy is that you can't get lazy.  I almost ditched the post-circuit cardio, but didn't want to look like a wuss in front of my friend.  It's so true what they say – you never regret doing a workout.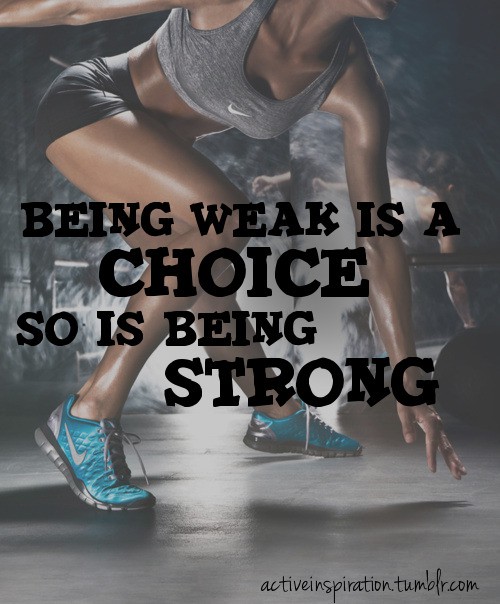 Here are a few ideas if you're looking to shake things up too:
Of course, we all want to work off the cookies… but truth be told I'm legit on a sweets overload (sorry – it's about to get colder now that hell has frozen over).  I've been craving straight up VEGGIES.  This is where it's nice to have blog friends.  There are SO many great ideas for winter veggies floating around the interwebs.
Great idea #1:
Curried Carrot Patties by  Irina @ Nutty Crunch
Of course I made a couple ingredient modifications:
Used 4 HUGE carrots rather than small to medium (go big or go home!)
Subbed Herbamare for salt
Increased curry powder to 1/2 tsp
Added 1/4 tsp red pepper flakes
Turned a slice of Ezekial bread into small toasted bread bits rather than "crumbs"
I also prepared mine a bit differently because I didn't fully read the directions due to my genius creativity.  Rather than coating the patties with some of the chia egg and dipping into bread crumbs, I mixed the whole shebang together in one bowl.  The power of chia eggs must be fierce, because the carrot-heavy patties miraculously held together!
My result looks totally different from Irina's, but they were delicious!  Even more so with a big glob of this on top:
Great idea #2:
Basil Walnut Pesto.
Using walnuts rather than pine nuts has a few benefits: it's cheaper, has better nutritional content, and you don't have to worry about palate-destroying conditions caused by Chinese exports.
While I do love walnuts, what made this pesto possibly the best I've made yet was the bit of sun-dried tomato.  You can barely detect the flavor, but it adds depth and a pleasant sweetness to the spread.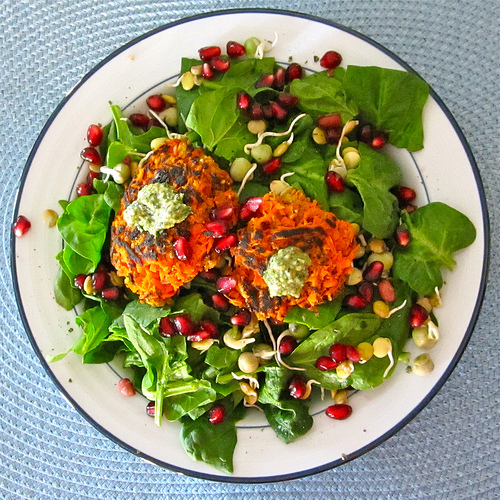 I enjoyed the pesto many ways, but it was particularly good atop the carrot patties over a bed of spinach, bean sprouts, and pomegranate seeds.
Festive and healthy.  Just what I needed to ready myself for more Christmas cookies.
______________________________________________________________________________________
Walnut Pesto
1.5 C packed basil
1/2 C olive oil
1/3 C toasted walnuts
1/4 C yellow onion
1/4 C grated pecorino
1/4 C grated Parmesan
2 T sun-dried tomatoes, re-hydrated and chopped
2 T reserved water from sun-dried tomato re-hydration
2 T freshly-squeezed lemon juice
2 cloves garlic
S+P, to taste
Place all ingredients except olive oil in processor and begin to blend.  Gradually add olive oil, blending until finely chopped.
Store refrigerated for up to one week or much longer in the freezer.
Makes ~1.5 cups.
***
Baking season and I are developing a love-hate relationship.
Are you a victim of sugar-overload yet?
Do you prefer to workout alone or with a partner/trainer?  A little of both?