WIAW is on the move again this week!
Because I haven't had enough  moving…
Here's the deal.  What I Ate Wednesday has been jumping around to give mamma Jenn a break.  She's entrusted me this week with hosting duties (which may be a sign she's taken up a crack habit… is rehab where she's disappeared to?!). 
Since I'm sooooo known for sugar coating things, I'm going to come out and say that the link up got a bit out of control and Jenny from the block was suffering from exhaustion. WIAW was meant to just be a day of eats.  Don't be linking shit from 5 weeks ago, everything you ate for the past 3 weeks, or some unrelated giveaway you're trying to get more traffic for.  Follow the rules and don't be greedy.  In short, don't be a dick.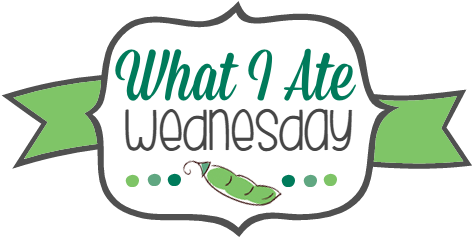 If you have no idea what I'm talking about, don't worry.  Check out this post for more info on what it's all about.
That said, on to my WIAW.  Be sure to link up below, check out Jenn's blog and show the create some love, and scroll down to all the links below to check out everyone else's titillating treats!
---
Breakfast:
Vegas and I started out with our morning cocktail.  I had my morning sludge.
Then it was banana pancake time.  These banana-walnut protein pancakes might be among the fluffiest I've ever made.  It's between these and the cauliflower.  I think Vegas was actually surprised these we so good.  She's a good sport, but still a little leery of my protein creations.  #sorryimnotsorry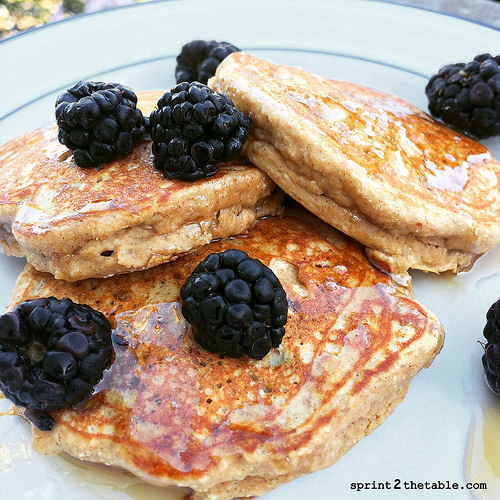 Banana Walnut Protein Pancakes
1 scoop vanilla rice protein powder (I use Growing Naturals)
2 T coconut flour

1/2 tsp cinnamon
1/2 tsp baking powder
1 banana, mashed

2 egg whites

1 T cashew milk

1/4 tsp almond

 extract

2 T walnuts
In large bowl, mix together dry ingredients.  Stir in mashed banana and wet ingredients, then let mixture stand ~5 mins to thicken.
Grease a medium skillet over medium heat.  Scoop out pancake batter, cooking ~ 4 mins* on each side.
Plate and top as desired.  I used SF syrup and blackberries.
*I find the the secret to coconut flour-based pancakes is to keep the heat relatively low and be patient.
Post-Workout Snack:
Vegas and I snuck away from work to hit the gym mid-morning.  We have to go at off hours to avoid the cluster fuck phobia.  I'm "meh" about the gym I found in San Diego – it's small and gets really crowded – but it's walking distance so whatever.
Post-workout it was smoothie bowl time.  This one was Chocolate-Banana-Blackberry.
1 scoop of chocolate protein powder
1/2 banana
Handful of blackberries
1/2 tsp cinnamon
1 tsp glutamine
1/8 tsp guar gum (to thicken)
Ice + water 
Lunch:
Leftovers, reimagined.  I took the kelp noodles in peanut sauce I made last night and added salmon and scrambled egg to make quick stir fry.  The recipe is coming Friday for the #strangebutgood link up!
Dinner:
Sprouted grain tortillas filled with greens, roasted cauliflower and tomatoes in BBQ sauce, and rotisserie chicken tossed in more BBQ sauce.  Topped with Greek yogurt mixed with salsa and nutritional yeast.  Semi-homemade… holla at Whole Paycheck Foods!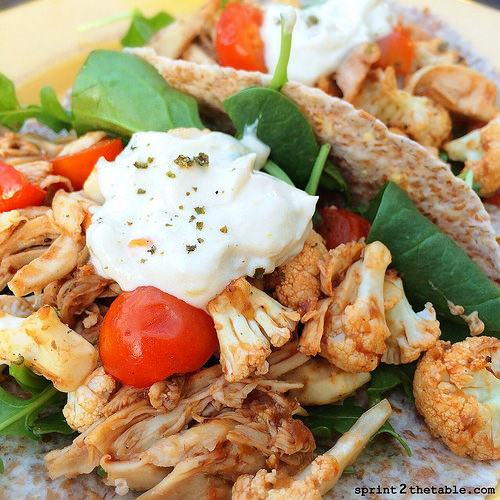 Followed by unpictured kombucha and dark chocolate.
---
You're up!  Play nice…


***
Don't be a dick should be a general life rule…no?
Are you loving smoothies more now that warm weather is back?  San Diego demands them!
Do you repurpose leftovers or eat them as-is more often?