Cover me in syrup.
'Cause I'm going to roll in Heather's pancakes.
You know when you meet someone and feel like you've known them forever?  That's how I feel about Heather.  Maybe that means I'm too comfortable…
When she came to visit recently, I decided to take advantage of the situation and ask for a favor – a guest blog while I'm skiing with other Heather.  Yes, I shamelessly made my guest cook, and then asked for a guest post during a holiday week.  Worst hostess ever.
Lucky for all of us she wasn't offended and agreed to write this post.  Banana S'mores Protein Pancakes.  Holy mother of deliciousness.  Thank you, my friend.
---
Hey hey Sprint 2 the Table Fans!
Heather here from Kiss My Broccoli subbing in for Laura today while she's frolicking in the snowy wonderland of Colorado with Heather.  Not gonna lie, I'm definitely a little jealous…of the chance to hang with my namesake…NOT of the snow!  They can keep that stuff all to themselves!  (Editor's Note: Snow for skiing is acceptable snow! :))
When Laura asked me if I would be willing to write a guest post for her, I agreed without hesitation.  I mean, c'mon, I owe her more than a plate of snickerdoodle pancakes for the amazing time she showed Allie and me during our visit to Atlanta last weekend.
Speaking of pancakes…my blog may hint at my love of broccoli, but since I started blogging almost two years ago (wow, where does the time go?), I've discovered that I am downright passionate about pancakes.  Almost every Sunday, you'll find a new recipe on my blog with a variety of flavor combinations and ingredients, sometimes even gluten-free or vegan varieties, but my all-time favorite?
PROTEIN PANCAKES!
I've been reading Laura's blog for a while now, and one of the things I love most about her recipes (besides her amazing creativity and use of spices) is the high protein content in all of them.  Even if you're not training for a figure competition, it's still important to be sure you're getting enough protein in your diet.  Besides building and repairing muscle tissue post workout, including more protein in your meals can help you feel more satisfied throughout the day… thus curbing those "snacky" cravings we sometimes get.
Cottage cheese, peanut flour, edamame, chicken, and fish are some of my favorite sources of protein.  While natural sources are the best to look to, I love mixing it up a bit with protein powders as well.
But no need to get boring… I can NEVER understand those people who just throw some powder in a glass of water and call it done… especially when you can whip up a batch of these babies in all of about 20 minutes.
---
Banana S'mores Protein Pancakes
1/8 cup maple syrup
1 tablespoon unsweetened cocoa powder
1 modified flax egg (1/2 tablespoon ground flax + 1 1/2 tablespoons warm water)
1/3 cup whole wheat pastry flour
1 scoop vanilla protein powder
1/2 teaspoon baking powder
1/2 teaspoon ground cinnamon
1 teaspoon vanilla extract
1/3 cup unsweetened vanilla almond milk
1 tablespoon semi-sweet chocolate chips
1 graham cracker sheet, crushed and more chocolate chips for garnish (optional) 
To make chocolate syrup, combine syrup and cocoa powder, whisk until smooth.
Heat a non-stick skillet over medium heat and coat with cooking spray.
Prepare flax egg and allow to set.
Combine flour, protein powder, baking powder, and cinnamon in a medium-sized bowl.
In a separate bowl, combine flax egg, vanilla, and milk.
Add wet ingredients to dry ingredients and stir until all the flour is incorporated.
Fold in chocolate chips.
Spoon batter onto greased skillet (makes 3 small-medium pancakes) and allow to cook for approximately 4-5 minutes per side.
Transfer to a plate, layer with banana slices, and top with chocolate syrup.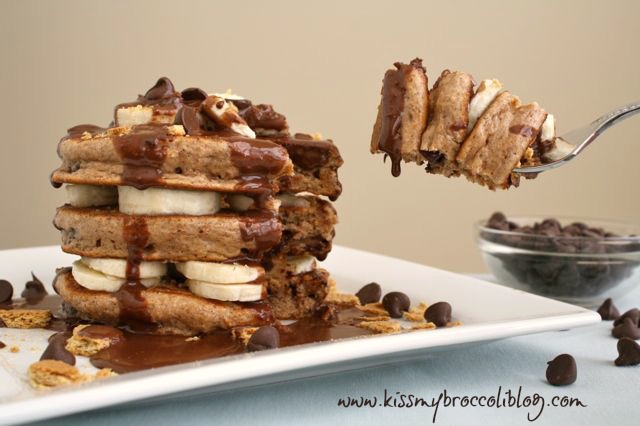 The perfect post-workout breakfast… or heck, ANY breakfast… I mean, it IS chocolate, right? 😉
And if you don't want to add the protein powder, they're just as tasty… just be sure to cut the liquid down to compensate!  (Editor's Note: What if I don't have liquid?  Kidding!!!)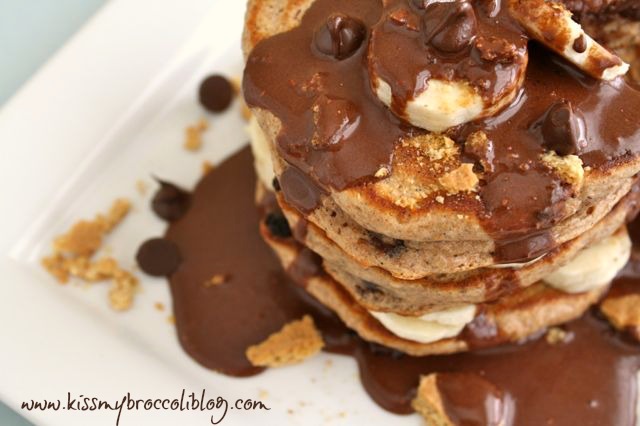 But whatever you do, don't skimp on the chocolate!  Thanks to everyone for reading! I hope you'll stop by my blog at Kiss My Broccoli and say hello…Sunday's may be for pancakes, but I DO make other tasty things as well! 😉
And thank you so much Laura for having me!
***
I think I need to make these for breakfast while we're in Vail!  Like right now.  Ski fuel!
Do you use protein powder? What is your favorite brand?  
What is your favorite natural source of protein?