Elvis had it right.
Except for the whole dying on the toilet thing…
The King was known for banana and peanut butter sandwiches.  And music, of course.  That classic combo has been one of my favorites for years.  My mom used to make those sandwiches for us… with mayonnaise.  #strangebutgood from an early age!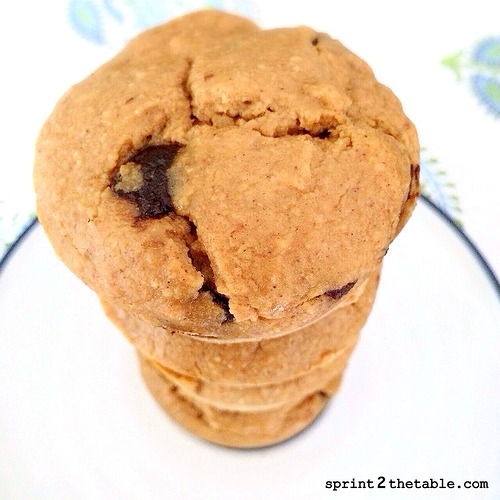 I left the mayo out of these muffins, but added chocolate.  They also contain protein.  Probably not strange to many of you, but my co-worker called me a "nut bag."
(She calls me this In an affectionate way – she's my tater tot-eating work wife.  Sometimes I steal a tot, but she never steals my food.  I win!)
Anyway, eat these.  The bananas, Greek yogurt, and nut butter give these a rich but not-too-sweet taste and a velvet-like texture.
Once you pop, you can't stop.
---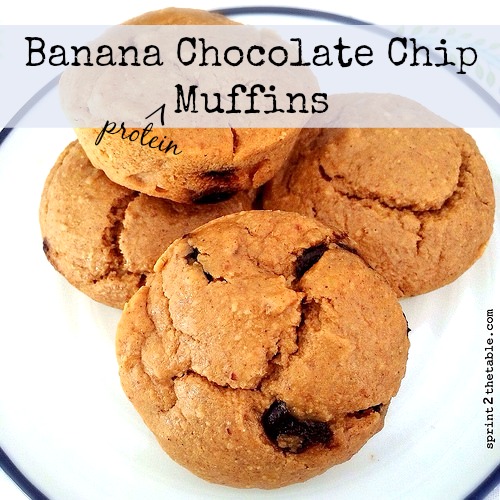 Banana Chocolate Chip Protein Muffins
1 large ripe banana, mashed
2 T Xylitol (or other sweetener)
1/4 C plain Greek yogurt
2 egg whites (6 T)
3 T unsweetened almond milk
1/4 C nut butter (I used

Onnit Cashew Walnut Butter

)
1 tsp vanilla extract
1 T melted coconut oil
1/4 C flour (I used spelt)
2 scoops (62g) vanilla protein powder (I used

Growing Naturals Rice Protein

)
1/2 tsp ground cinnamon
1 tsp baking powder
1/4 C chocolate (or carob) chips 
In a large bowl, add banana, sugar, yogurt, egg whites, milk, nut butter, vanilla, and coconut oil in a bowl and whisk together until combined.
In a medium bowl, whisk together the dry ingredients in a separate bowl.
Add the dry to wet ingredients and stir together until just combined.
Fold in chocolate chips.
Pour batter into greased muffin tins.  Bake at 350 for 20-25 minutes, or until toothpick come out clean.
Makes 10 muffins.
Approximate Nutritionals (per muffin): 131 calories, 5.8g fat, 38.6g sodium, 12.2g carbohydrates, 2.2g fiber, 2.9g sugar, 8.6g protein
---
How have you enjoyed making co-workers, friends, or family stare with strange but good creations this week? The link up rules can be found here or by clicking on "Strange But Good" in the menu bar above. In short, I want to see what concoctions have earned you weird looks from co-workers, family and friends! Post your Strange But Good creations, grab the logo below for your blog, and link up here.
Remember to use #strangebutgood in any Tweets and Instagrams of your creations. 🙂


***
Now I have "Love Me Tender" stuck in my head.
Are you a banana and peanut butter fan?
What's your favorite Elvis song?