Have you guys been watching Extreme Makover Weight Loss Edition on ABC?
I'm shamelessly addicted.  Watching these people lose massive amounts of weight in a year… I can't imagine how hard it must be – at 400 lbs – to get started and get it done.
Last night's contestant, Dana, lost 203 lbs in a year with a torn ACL.  Interestingly, he was already trying to lose by taking water aerobics.  Chris Powell (the trainer) told him that weight-less exercise wasn't going to cut it and started him on a program that used his body weight to work out.
Timely encouragement/reminder that there others dealing with things much bigger than I am.  Why?  Because I think have jacked up (technical term) my Achilles tendon.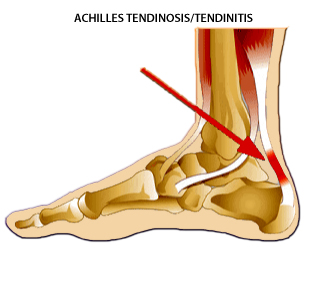 It hurts.  Sharp pain walking down stairs. *wine* *whine*
I'm not sure what happened.  I felt fine running Saturday's ACS 5K race, and then as I was walking down the stairs to my car a few hours later I noticed it was sore… and it has gotten progressively worse since.  Playing ball Sunday probably didn't help.
In hopes of catching it at the beginning I visited the chiropractor on my way home from work tonight.  It didn't help. I was instructed to take it easy, ice it, and massage the area.  My calf even aches.  Bollocks.
Maybe if I take the week off of running (and walking down stair cases) it will be better by the weekend?!
Tonight's workout was an easy 45 mins of shoulders and P90X Ab Ripper X.  I hate being limited.
________________________________________________________________________________
Good thing dinner was not limited.  It was quite tasty!
Yesterday I was craving pizza something fierce.  The opportunity to sate that craving didn't present itself, so tonight was declared Monday Socca-Pizza Night!
It was late when I got home to eat… pics are going to leave something (i.e. light) to be desired.
My Pizza:
Socca base (I used herbs de provence this time)
Morels
Cherry tomatoes
Onions
Nutritional Yeast
Balsamic asparagus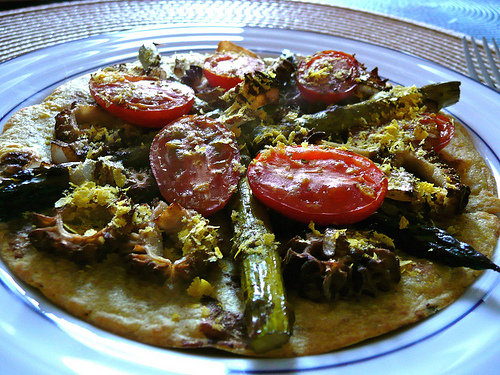 The real stand-out here was that balsamic asparagus.  It is the easiest thing you'll ever make; however, the balsamic reduction coating it will give it a decadent taste.  I ate the extra pieces standing up over the stove.
________________________________________________________________________________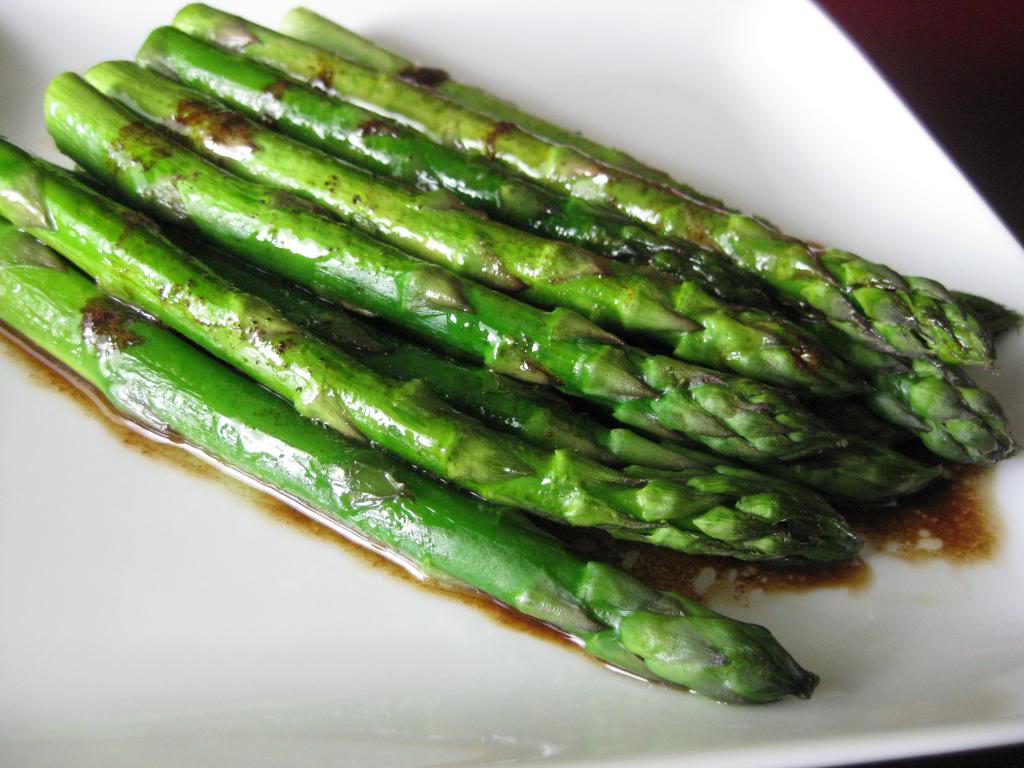 Balsamic Asparagus
1/2 bunch asparagus, hard bottom snapped off
1 tsp good-quality balsamic vinegar
1/4 C yellow onion, diced
Juice from 1 lemon wedge
Freshly ground pepper, to taste
Heat medium skillet over medium heat.  Add in asparagus, onion, and balsamic vinegar, tossing to combine.  Allow to sauté for 4-5 mins, stirring occasionally.  
When the asparagus just beings to soften, remove from heat and top with lemon juice and pepper.
Serves 2.
***
Have you ever injured your Achilles?
Have you been forced to slow down for an injury?
Any advice is much appreciated!!