Good thing I got my butt to the gym today.
'cause I do love cupcakes.
Baby Sis let me tag along to her gym today where I tried out Body Pump for the first time.  It was really good!  I thought I was sooooo tough and started with more weight than I should have, but I quickly rectified that situation.
Part of me is scared I will be a whole new level of sore tomorrow, but the other part of me really likes feeling a workout. 🙂
Truth be told, I still like kickboxing better.  Something about hitting a bag is so satisfying.
__________________________________________________________________________________
So… what is it that had me chasing Baby Sis out of my batter?
Cupcakes.
Gingerbread cupcakes filled with raisin-infused rum ganche and topped with cinnamon icing.  Heaven.
You know you've reached a new high when your mom says:
"This is the best thing you've ever made."
Details after the jump…
I've literally been thinking about this recipe since I made Irish Car Bomb Cupcakes last New Years Eve.
But that's another post…
On the the gingerbread.
Once your muffins are baked, let them cool completely before carving out the center.  If you have one of these, your life will be easier.
(Thanks for the early present, Madi!).
Centers can also be removed with apple corers, grapefruit spoons, fingers, and knives.
Next, get your fancy icing bag standard zip-loc baggie.  Fill it with the ganache, then cut the very tip of the corner off to fill the cakes.
Fill the cutouts carefully just to the top of the cupcake.
Let that cool/solidify in the fridge for 30 mins (or 10 in the freezer if you're impatient like I am).
Meanwhile, make your cinnamon icing.
Then – using the afore mentioned classy baggie method – ice the cupcakes.
Note to self: Get a hair cut!
Icing cakes isn't one of my many skills…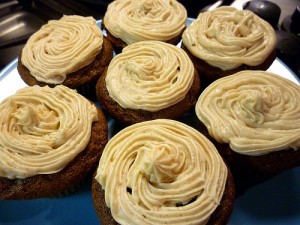 But I don't think Santa will mind. 🙂
_________________________________________________________________________________
Gingerbread Rum-Ganche Cupcakes with Cinnamon Icing
The Cupcake (based on Peanut Butter & Julie's recipe)

3/4 C Brown sugar (packed)
1 1/2 C Whole wheat flour
1/2 C Crystallized ginger (chopped)
Preheat the oven to 350F.  Line a 12-cup cupcake tin with paper liners. 
Using the paddle attachment on your electric mixer, beat the oil with the brown sugar and molasses until well combined.  Add the eggs one at a time, mixing after each addition.  Scraping down the sides of the bowl as needed.  Beat in the buttermilk.
In a medium bowl, whisk together the flour, baking soda, ginger, cinnamon, cloves, nutmeg, and salt. 
Add the dry ingredients to the wet, beating just until combined.  Fold in the crystallized ginger.
Pout batter into the cupcake liners, filling each about 3/4 full.  Bake about 15 mins.  Let the cupcakes cool completely.
Meanwhile…
The Ganache

8 oz Semi-sweet chocolate
4 tsp Dark rum (I used the raisin-infused rum left over from this recipe)

Roughly chop the chocolate and place in a heatproof bowl.  Bring the cream to a simmer.
Pour hot cream over the chocolate. Let it sit until chocolate appears melty (about 30 secs), then stir until smooth.  If chocolate isn't  totally melted, pop it in the microwave for a few seconds. 
Add the butter and rum and stir until combined.
Let that cool to room temp while the make…

The Icing

1 stick Butter, room temp

Using a mixer, beat butter until smooth. 
Add the confectioners' sugar, milk, vanilla, and cinnamon.  Mix until blended and creamy; adding more confectioners' sugar 1 T at a time as needed.
Assembly
Carefully remove center of cupcakes.  A cupcake corer, apple corer, or sharp knife will work.  I find it easier to do this while the cakes are still in the tin. 

(What you do with the scraps is your business.

)



Fill center of cupcakes to brim with ganache and allow to cool/solidify a bit in the fridge (~30 mins) or freezer (~10 mins)
Ice cupcakes
Stuff your face.
***
These are pretty fabulous… and I tend to agree with Mom.  They may just be the best thing I've ever made.

What's the best thing you've ever made?
Merry Christmas Eve!!!