Last night I returned to Mom's house for a post-cleanse baking binge.
Ok, ok… it didn't start out about food.  I was staying with her becasue I had to take her to the hospital today for a procedure… which is where I'm writing this from.  (Everything went perfectly – just have to stay for precaution.)
Anyway, I walked in the door last night and was ordered to find a use for 5 bananas that were about to go bad.
I take BAKING orders well. 🙂
What is the best resource for spur-of-the-moment banana-based recipes?
Food blogs. (Duh.)
It was a tough choice, but I settled on the following from two of my fav food bloggers.
Pumpkin Pie Banana Chunk Oatmeal Cookies from Oh She Glows

I followed Angela's cookie recipe almost exactly, but here it is with a couple edits:
1 egg
1 C regular oats
1 C whole wheat flour
1/2 tsp baking soda
1/2 tsp baking powder
2 T chopped walnuts
1/2 tsp sea salt
1 tsp cinnamon
2 T cacao nibs

1 tsp vanilla extract
1/4 C pure maple syrup
1/4 C agave syrup

1 small ripe banana, chopped
3/4 C canned pumpkin
Preheat the oven to 375F.
Mix dry ingredients in a medium bowl and set aside. Mix wet ingredients in a small bowl.  Pour wet into dry ingredients, stirring well.  Place batter onto parchment-lined pan in 2 T sized scoops.  Bake for 15 mins.

Makes 15 cookies.
Verdict: I would totally make these again.  Mine appear to be "fluffier" than hers (maybe because she used rice crisps originally?).  These are like little muffin balls of goodness.
_____________________________________________________________________________________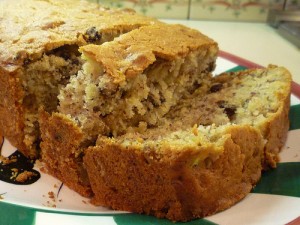 Roasted Banana-Rum Raisin Breakfast Bread
3/4 C golden raisins
1/2 C dark rum
2 ripe bananas, unpeeled
2 C cake flour
2 tsp baking powder
1/2 tsp baking soda
1/4 tsp salt
6 T unsalted butter, softened
2/3 C sugar
2 large eggs
1/2 C unsweetened coconut milk
1 tsp pure vanilla extract
1/2 C toasted walnut halves
Preheat the oven to 325F.
In a small saucepan, combine the raisins and rum.  Bring to a boil over medium heat, and let stand for 1 hour. Strain the plumped raisins and set aside.  Find creative use for remaining liquid.
Place the bananas on a cookie sheet (yes, in the peel).  Bake in the oven for 12 mins, or until the skins are black and they have just started to seep.  Remove from the oven , set aside, and let cool.
Sift the flour, baking powder, baking soda, and salt into a mixing bowl.  Set aside.  In the bowl of an electric mixer fitted with a paddle attachment, cream the butter and sugar on medium speed for about 3 minutes.  Turn the machine to low and add 1 egg.  Mix until completely incorporated and then add the second egg.  Mix again until completely incorporated.
Meanwhile, squeeze the flesh of the bananas out of the skins and into a small mixing bowl.  Add the coconut milk and vanilla and mash together.  Add half of the banana mixture to the electric mixer bowl and blend thoroughly on low speed.  Add half of the flour mixture and mix until combined.  Add the remaining banana mixture, blend thoroughly, and add the remaining flour mixture; mix just enough to thoroughly blend the ingredients.  Fold the walnuts and reserved raisins into the batter and pour it into a lightly greased 9 x 5-in loaf pan.
Bake in the oven for 1 hour, or until a toothpick inserted in the center comes out clean.  Let cool, slice, and serve warm.  Alternately, sprinkle with the powdered sugar and glaze briefly under a preheated broiler. (I didn't try the glaze, but I will be when we get home tomorrow!)

Makes 1 loaf.
Verdict: Wow.  I was about to eat the coconut/banana mixture alone.  The only changes I made were the nut choice (she used pumpkin seeds) and, consequently, the name (she said pumpkin instead of rum raisin… I think rum adds a certain something).
Go make this bread.  Now.
Why are you still reading this???
____________________________________________________________________________________

In other news, being stuck in a hospital make me super productive at work.  And my butt is numb. 🙂
Hospital food is gross, but I was smart and brought overnight oats for breakfast, the 5th banana, flax crackers, and a cookie to get me through most of the day.
Time for Mamma's walk!