There's so much to do in San Diego – it's overwhelming.
I know… tough problems.
The food here is unreal and we've been steadily working our way through my (ever growing) "restaurants to try" list.  However, there's a ton of other things to do that Vegas and I have been neglecting.  This weekend we decided it would be playtime!  I think both of our stomachs breathed a sigh of relief.
Friday I finally manned up for something I've wanted to do since joining the gym in San Diego – I took my first Spin class in years.  It wasn't half bad!  That room was like a sauna though.  I think I lost 5 lbs in water weight alone!
Vegas and I have wanted to do more cooking together.  When my landlady asked me to make a chocolate cake for her dad's birthday party, Vegas and I decided it was the perfect first project.
I used Smitten Kitchen's Chocolate Stout Cake recipe.  I'd made it once before and it delicious – perfectly moist and not teeth-achingly rich.  I followed the recipe to the letter, except I reduced the coffee in the ganache to 1/2 tsp (I found it to be a bit overpowering previously).  As my landlady's hubby said, "It's the perfect adult cake."
Apparently this is a crazy El Niño year, meaning San Diego is uncharacteristically hot and humid.  It feels like I'm back in Atlanta.  All this to say, we had salads for dinner.  (Followed by a teensy "tester" muffin of that cake.)
My salad was a rainbow of cucumber, rainbow carrots, red bell peppers, avocado, hemp seeds, and tempeh topped with sriracha.  For the tempeh, I just sliced it, slathered it with a mix of hummus and lemon juice, and baked it at 350 for 15 mins.
I should have taken a "Hers and Hers" pic of our dinners.  Vegas had a salad, but she won't eat tempeh (or sriracha).  Instead she had a baked potato and chicken.
Saturday morning we needed some serious breakfast fuel for our activity of the day.  So I went a little experimental.  Savory waffles topped with guac, cherry tomatoes, and #yolkporn.
This strange-but-goodness will be on the blog Friday!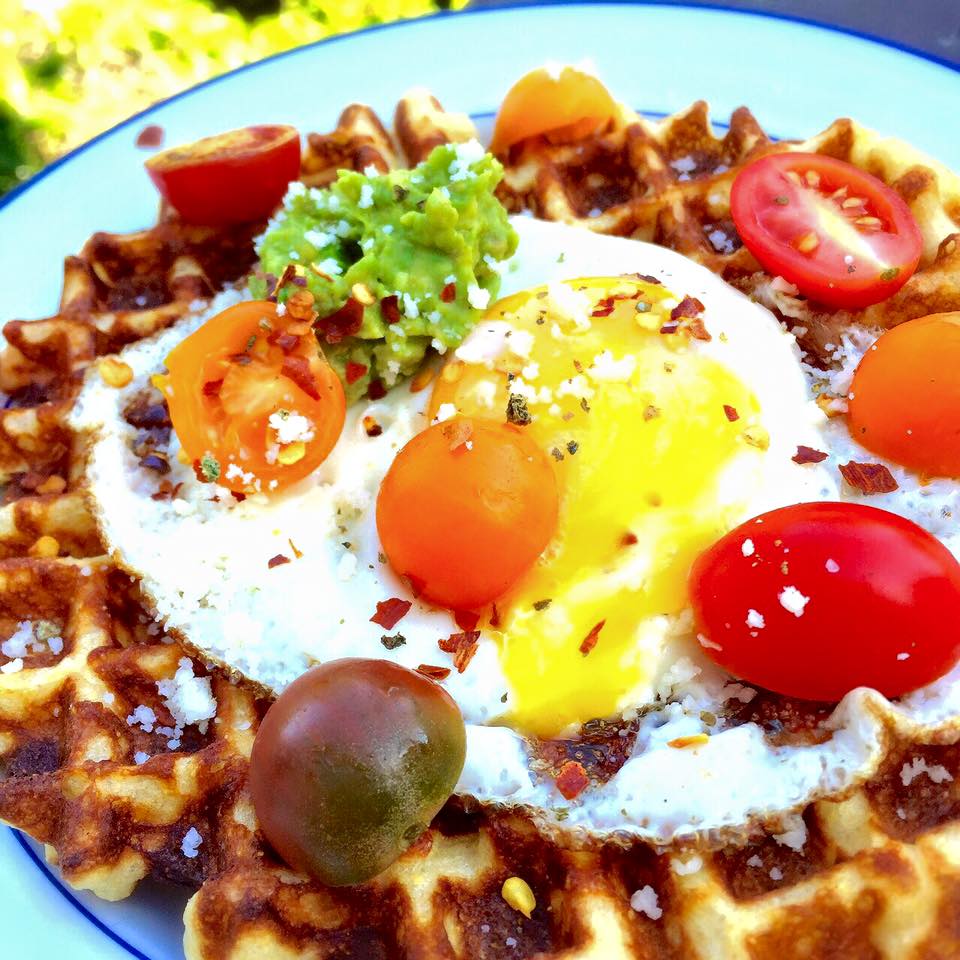 All that fuel was for a new adventure – a beach bike ride!  We intended to start doing this months ago.  Doh.
You really can't beat a ride with a view like this:
Obviously, we couldn't do anything half way.  For our first outing we rode 17.5 miles!  Holy soreness.
We stopped half way at the site of the birthplace of the modern triathlon for a pic.  Yes, there is actually a plaque dedicated to it.  Vegas has done a few tris.  She told me I should consider it.  One day I'll learn "never say never," but HELLLLL NO.  I hate to swim.  Good thing we moved to the beach…
After the day's biking adventure, we decided to have a movie night.  We watched The Family with Michelle Pfeiffer.  It was ok… maybe not the best idea to watch a mob movie before bed, but whatever.
It was still hot as hell – did I mention we live in a 1929 house that doesn't have A/C?  That demands homemade Greek Froyo for dessert.  It's so easy!
Mix 1/2 C Greek yogurt with half a scoop of protein powder and add any favorite mix-ins.
Then stir in enough liquid to thin (I use unsweetened vanilla almond milk).
Placed bowl in the freezer for about half an hour.
Top as desired and devour!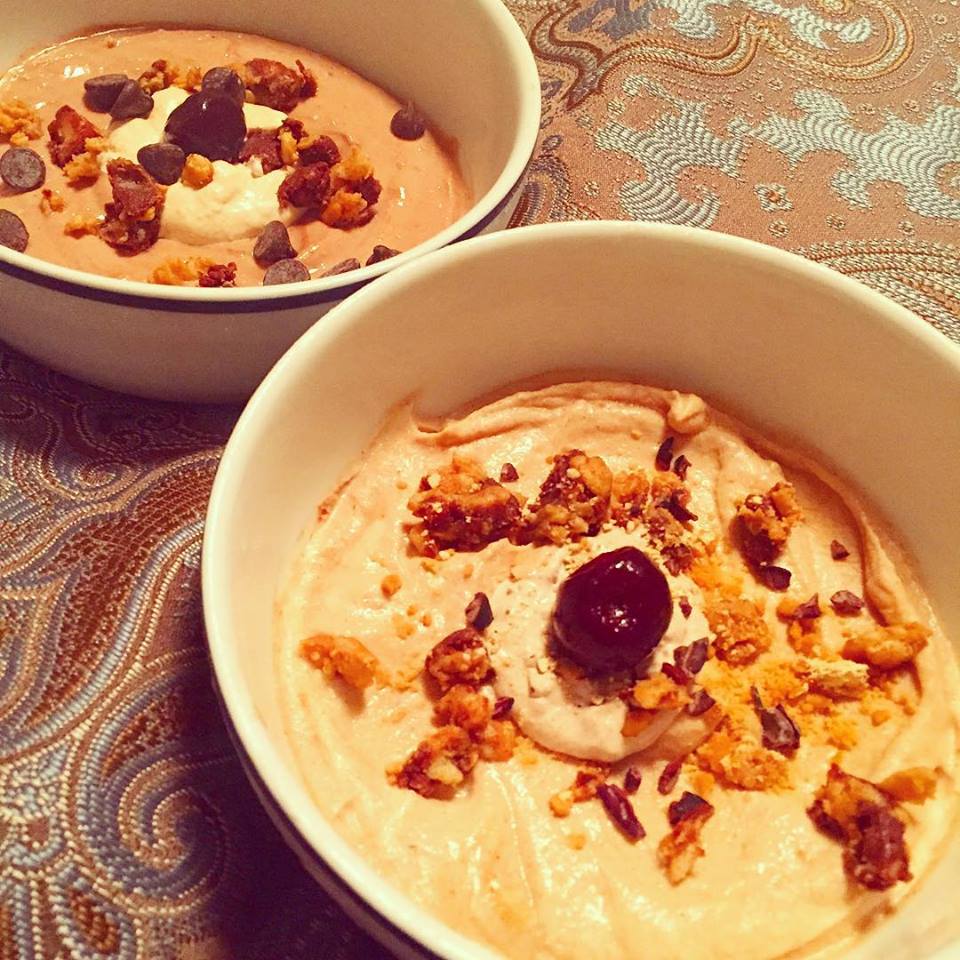 Vegas wanted chocolate and I wanted peanut butter, so she got BSN Chocolate Cake Batter
 and I had About Time Night Time Recovery Peanut Butter
.   I like to add a tablespoon of coconut flour for texture and 1/2 tsp of cinnamon because yum.  Our toppings were TruWhip mixed with peanut flour and cocoa, a crumbled bar from the freezer, and a cherry on top.
We happily gobbled it down with the movies.  Vegas looked surprised as she admitted that she really did like it.
You'd think we would lay low the next day… but no.  We walked 2 miles to the Hillcrest Farmer's Market for the week's veggies.  We always get Thai Coconut Pancakes to snack on at the end – they're so light and fluffy!  I think all that's in them is crack rice flour, coconut milk, and sugar.
We walked back home and got ready to head to the beach!  This should be relaxing – and it was once we got there.  We went to the Black's Beach, which requires a relatively short but super steep hike to get to.
Did I mention it's the nude beach?  Yup.  The one I went to a couple weeks ago.  Vegas needed to experience it for herself.  I think she agreed with my observations.  I could make jokes about the phallic rock structure we were laying next to… but I'll just leave this here.
Back home after Vegas finished cursing at me for the steep hike back up we cooked an awesome together dinner from out farmer's market finds.
Fresh pasta topped with a roasted red pepper sauce (a la Vegas) and grilled chicken.  I marinated the chicken in oregano, thyme, and balsamic for half an hour before cooking.  I have no idea what Vegas did for the sauce but it was fabulous.  The side salads were made with fresh veggies from the market too.  We love all the delicious local food to be found here!
***
It was a marvelously active weekend!  Over 50,000 steps in 3 days… *yawn*
Do you ever make separate meals for you and your significant other or kids?
Cycling: Do you prefer spin, road, or trail biking?  Or no biking…