This Greek Feta Psiti is easy to prepare and is a perfect appetizer or meze.  This simple, delicious cheese dip is sure to impress at any gathering!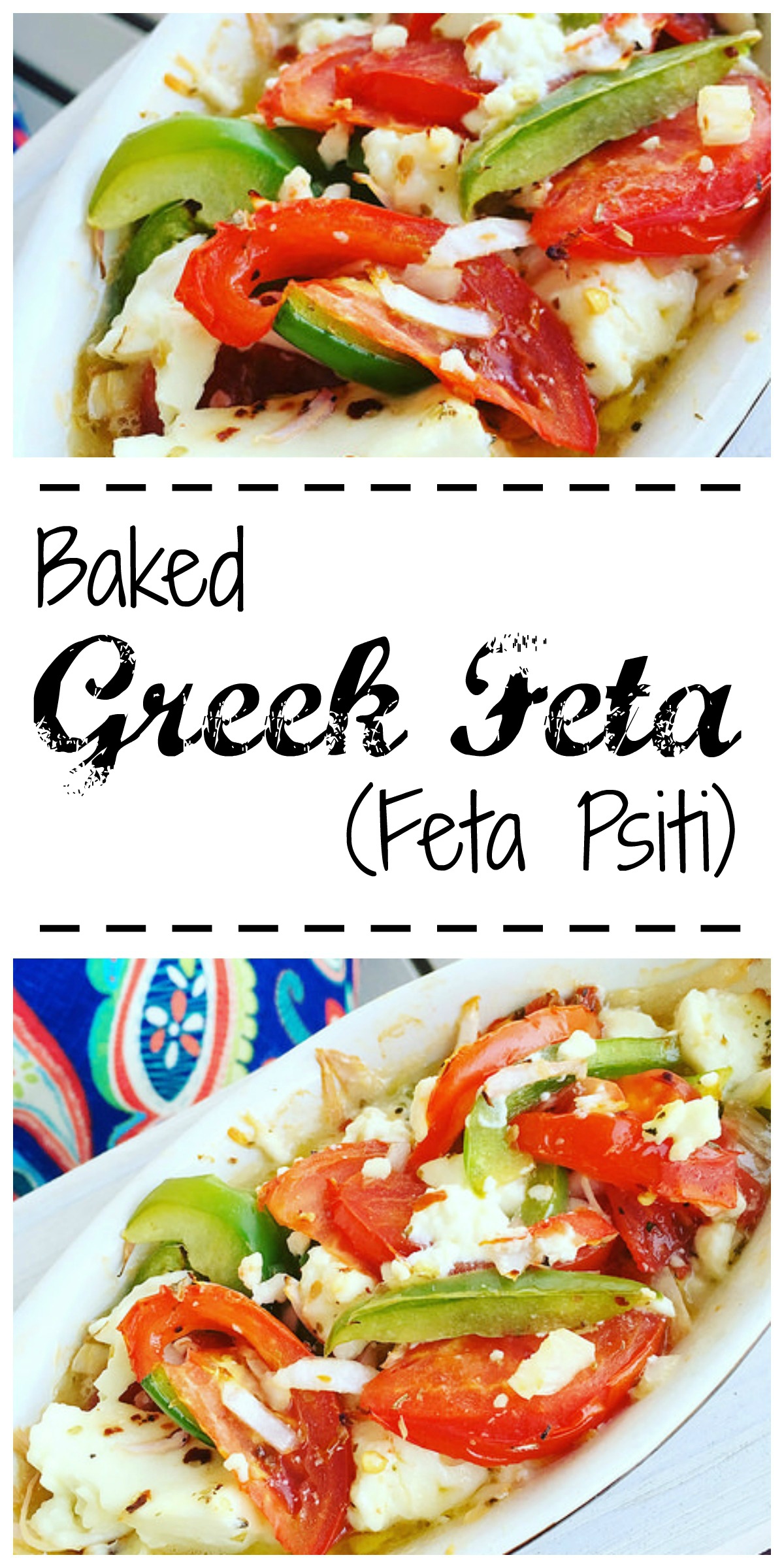 I like all cheeses – even the stinky ones.  There's just something particularly good about Greek Feta though.  Especially when it's baked.
Feta is one of the most perfect cheeses.  It's everything – soft, creamy, crumbly, salty…
Vegas and I first came across this dish on our honeymoon in Greece.   We were in Delphi at a place called Taverna Vakchos, and we had no idea idea what to expect when we ordered it.
One bite and we both started grinning.  It was incredible!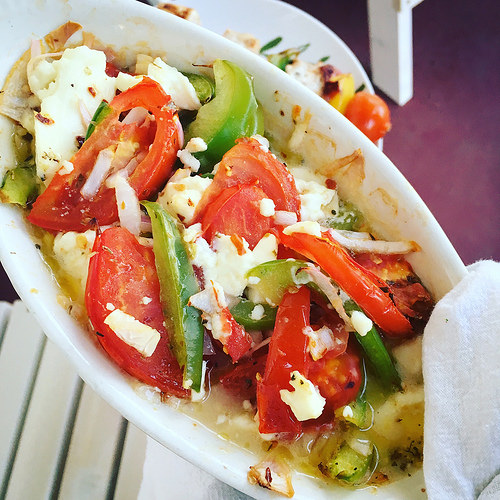 I'm a little embarrassed it took up this long to recreate it at home.  Now that we've started making it, we can't stop.  It was on our table twice just last week!
Adding the tomatoes, bell peppers, and onion gives the dish an additional punch of flavor and lends a crunch to the texture.  The salty feta base is perfect with the fresh veggies.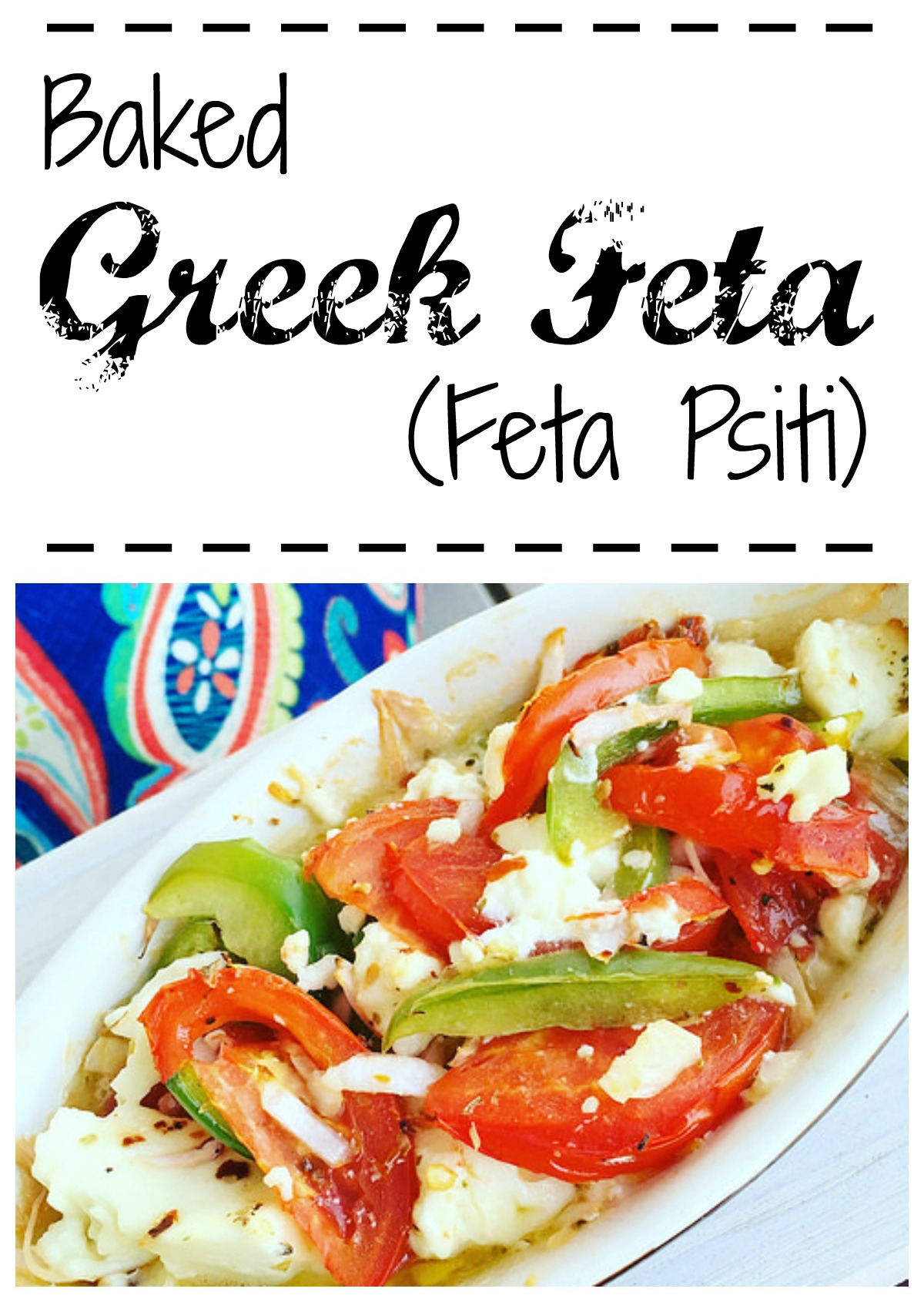 If you're cooking outdoors, this can also be done very easily on a grill – just cover the dish with foil and place it on the grill with the lid closed for 15 minutes.
We did it this way while grilling out for Memorial Day and it worked like a charm!
---
Baked Greek Feta (Feta Psiti)
VARIES
adjust servings
This Greek Feta Psiti is easy to prepare and is a perfect appetizer or meze.
Ingredients
1

slice of good-quality Greek feta cheese – amount simply depends upon number of people you want to serve

Tomato

Red onion

Green bell pepper

Drizzle of olive oil

Dried red chili flakes

Dried oregano

Pita, for serving
Instructions
Preheat oven to 300 degrees
Thinly slice the tomato, onion, and bell pepper. The amount you'll need will depend on your desired serving size; I used half an onion, one small tomato, and one small green bell pepper for 4 ounces of feta.
Place feta in a small baking dish. Drizzle lightly with olive oil and sprinkle with chili flakes and oregano. Place veggies on top.
Bake in the oven until feta is soft about 15-20 mins. If you top browns too quickly, cover lightly with aluminum foil.
Grill option: you can also cover your dish with foil and place it on a grill for 15 minutes. We did it this way while
Serve hot with slices of pita.
***
I'm so excited for the next trip – Italy in the fall!  Vegas has never been… she's going to be in food heaven.
Have you ever had baked feta?
What is your favorite vacation destination?