Bake sales are the best.
Homemade baked goods are the most "worth it" treat.
Amanda @ Run to the Finish has teamed up with Women's Health and will be running and fundraising for the FEED Project, which seeks to feed hungry US kids.  Their RUN 10 FEED 10 program is really cool – you run a 10K and 10 children in your community are fed with the proceeds.  (Amanda has a discount code you may use here.)

But you don't HAVE to run!  You can opt to just eat. 🙂  Amanda is hosting an online blogger bake sale where 100% of the donations will towards feeding these kids.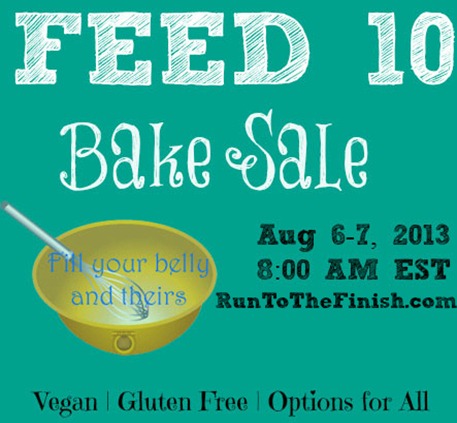 Bidding began yesterday (I'm behind – sorry!), and bids will be accepted until August 7th 9AM EST.  Winners will be contacted and asked to donate the specific amount via CrowdRise.
Hurry over and bid on your auction deliciousness here.  There are tons be homemade items from bloggers (and products from several sponsors) available for bidding.  A batch of my vegan, no-sugar added Chewy Granola Cookies are up for grabs… you might even get a little something extra. 😉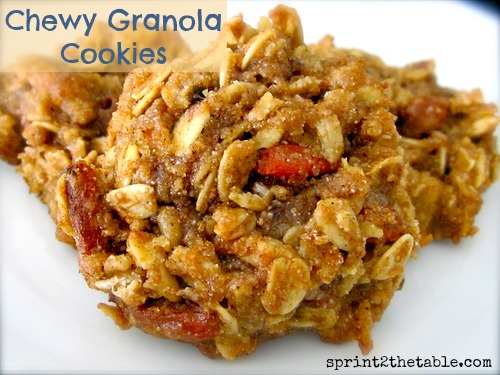 ________________________________________________________________________________________
These WIAW meals were half eaten at work and half on the road.  I didn't do the most elaborate job of planning, as I am enjoying my final week of "freedom" before I start competition prep in earnest!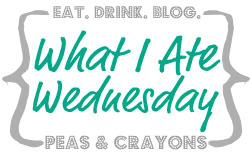 Read on for my traveling food, and then check out Jenn's link up for everyone else's delicious days.
________________________________________________________________________________________
Breakfast:
My morning cocktail (apple cider vinegar, water, Glutamine, and Fitmixer Aminos) happened, as usual.  I swear this is the biggest addiction in my life.
I had an early morning meeting, so I made sure my breakfast was ready to grab a go.  Overnight oats in a cottage cheese container!  Almost as good as a PB jar… 
This raspberry and maple-laced concoction was really good!  And easy to eat from my lap on the way to work.
Raspberry-Maple Overnight Oats
1/4 C cottage cheese

1/4 C oatmeal
1/2 scoop vanilla protein powder
1 tsp chia seeds
1/2 tsp maple extract
1/2 tsp cinnamon
1/4 tsp ginger
1/2 C almond milk
Mid-Morning Snack:
Like I mentioned last week, I have been into the Trader Joe's Balsamic Chicken.  It's one of the few packaged things I buy, but when I'm traveling a lot this is a great (low sodium) item to keep on hand.
Eaten with veggies I pre-roasted on Sunday with some marinara sauce and nutritional yeast.

Lunch:
I was running out of my office to get my stuff ready for the airport (and squeeze in a workout… shhhh!), so this almost didn't even get pictured.  A mix of no salt deli turkey, celery, hummus, and cayenne.
It was so quick I called it the lazy girl's turkey salad. 😉
Afternoon Snack:
I have become obsessed with post-workout Chocolate + Beet Protein Smoothie Bowls.  I used this recipe again, but added spinach and topped it with muesli and kabocha squash.
No exaggeration, I could eat this every meal.
Dinner:
Dinner was eaten in Florida.  I hopped a plane, ate some unpictured pretzels, and went right to dinner with my co-worker.  We hit up Columbia, a famous Cuban spot and Florida's oldest restaurant.  It was delicious!
We started with giant warm, crusty loaves of Cuban bread and the 1905 Salad.  The bread was amazing… the salad… I'd say it's basically a Chef's salad with no egg and a ton of dressing.  I also enjoyed a margarita – one of the best I've ever had!
My main was massive.  The server highly recommended the Camarones Rellenos "Jesse Gonzalez."
I thought shrimp would be light-ish… I learned that it's not when it's stuffed with lump crab and a generous helping of butter.  Did I mention it was served with rice, beans, and roasted veggies?  And that my co-worker ordered sides of yucca and fried plantains?
Call me happy and roll me home.
Dessert:
You know I'm full when I can't even imagine eating dessert.  Hell froze over.
***
Tomorrow I fly back home and Thursday I drive to South Carolina.  Despite the craziness all I can think about is 1) When do I get to go to the farmer's market to get "my" food and 2) How am I going to fit a workout in Thursday and Friday?
Have you checked out the bake sale?  What item is catching your eye? 

Does the combo of beets and chocolate sound #strangebutgood to you?  I thought it was normal until I told my co-worker about it…