I'm not a huge coffee drinker.
Morning energy is key though.
Since having my morning cocktail everyday, I've simply not craved coffee.  Combine that with my mental block  for some reason I think coffee takes far too much effort to make (yet I will spend time making breakfasts like this… no logic, I know), and I rarely make coffee.
Anyway, I decided to make coffee on Monday morning (I was still dragging from the post-Blend excitement!).  when I do prepare coffee, I always make extra to have during the week.  With my leftover coffee, I make things like Tiramisu parfaits and pancakes!
This pancake creation hit all the high points when it come to breakfast: it is possible to have your bacon, eggs, and coffee all in one bite!
It may be a little strange.  It definitely is a lot good!  We all know how I like my waffles at Waffle House.  That may not be the healthiest way to eat breakfast, but this creation is one you can feel good about.
Fluffy, protein-rich cakes made silky with coconut flour.  These were laced with mocha coffee goodness and filled with blueberries that burst in your mouth.  Their syrup is a delicious egg yolk that pops with flavorful bite of bacon sprinkles.  Breakfast porn at its best!
---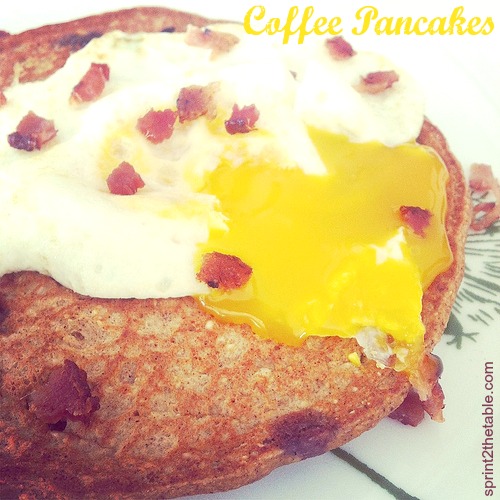 Coffee Pancakes
2 T raw oatmeal
1 T coconut flour
1/2 scoop (10g) protein powder
1/2 tsp cinnamon
1/4 tsp no-salt baking powder
2 T egg whites
1/4 cup brewed coffee (I used a mocha flavor)
1/4 tsp maple extract
6-8 drops vanilla liquid stevia
Optional: blueberries, runny egg, bacon sprinkles
In a small bowl, stir together dry ingredients.  Add wet ingredients and stir to combine.
Heat pan over med-high, spoon batter onto pan, and cook until done (~3-4 mins each side).  Add blueberries half way through, if using.
While your pancakes are cooking, prepare your toppings.  I amped up the #strangebutgood with a runny egg and bacon "sprinkles."  The egg rocks because the yolk becomes your pancake syrup!
---
How have you enjoyed making co-workers, friends, or family stare with strange but good creations this week?
The link up rules can be found here or by clicking on "Strange But Good" in the menu bar above. In short, I want to see what concoctions have earned you weird looks from co-workers, family and friends!
Post your Strange But Good creations, grab the logo below for your blog, and link up here.
Remember to use #strangebutgood in any Tweets and Instagrams of your creations. 🙂



***
I am look forward to an amazing long, relaxing weekend with friends... and my new CAT!!! Lucy is picture shy as she acclimates, but stay tuned...
What are you looking forward to this long weekend?
What's your favorite way to enjoy yolk porn? 😉