How much bacon is too much?
Bacon coffee?  Add some protein powder and you could drink your hot breakfast!  Of course, then you would need to brush your teeth again.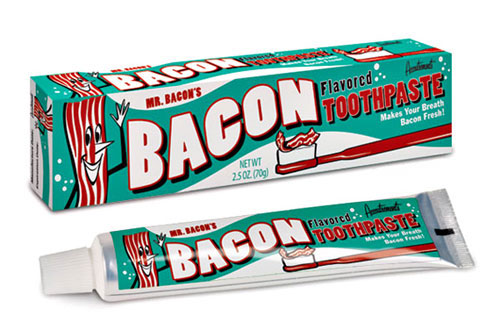 Seattle's Best Coffee hosted its Red Cup Showdown for the best coffee creations.  The winner created a  "How to Win a Guy with One Sip" drink that combined coffee with "caramelized bacon and subtle hints of pumpkin pie spice."  Click here for the full story.
Not filling enough?  Have a Bloody Mary.
More than a Bloody, its hangover heaven.  This beast is adorned with 
pepperoncinis
,
jalapenos
,
tater tots
,
steak
, a slice of
toast
, and a hard-boiled
egg
. you get all of that for $16… including a 6oz of pepper vodka and a
Beef Straw
to drink from.
This monstrosity can be found right around the corner from my building at The Nook.  No, I have not ever tried it.
---
Jenn is saving us from bacon mania with another heath-conscious  What I Ate Wednesday theme: "Fall Into Good Habits."
I really love this idea because this time of year I have a tendency to slack a little.  The weather is cooler, the beer football is aplenty, and those first-of-the-year resolutions seem far away.
Fall doesn't have to be like that!  This year I'm going to be inspired by Jenn to make fall a time for refocusing on my goals so that I don't feel the need to desperately make resolutions for 2013.  My plan is for 2013 to be a continuation of good habits and a time for reaping the benefits of hard work.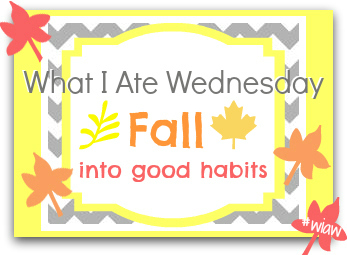 Speaking of good habits, this WIAW was a successful day of protein-filled clean-eating in preparation for figure competition.  Check it out and then click here to visit Jenn @ Peas and Crayons to see how everyone else is making their fall about good habits!
---
Meal 1:
As usual, I enjoyed my morning cocktail with the added 1 tsp of glutamine.
Fall  was in the air this morning – it was gray and rainy.  I actually got chill bumps when I stepped out on the deck!
Obviously, this means it's time for pumpkin!  I took  my Tiramisu parfait idea, but created a special pumpkin cream filling to make a Pumpkin Tiramisu Parfait.
I added a few extra spices to make it more pie-like.  The creaminess of the pumpkin and yogurt mixture was like a legit pie filling.  Paired with layers of mocha-flavored oats… I actually prefer this to pie crust.  I can't decide which version I like better, but you should be your own judge ASAP.
Recipe at bottom. 
Meal 2:
No, this isn't yogurt.  This is the container left from my breakfast.  I was making my mid-morning snack while eat breakfast, so I just recycled the container.
What was in the container was no salt added cottage cheese, cinnamon, allspice, nutmeg, stevia, Sun Butter, and chopped up apple.  Cottage Cheese Apple Pie.  *swoon*
Meal 3:
I had good intentions of branching out more, but last week's tequila-lime marinated tilapia was too good not to do again.
Eaten out of tupperware conference room-style with a side of Chipotle BBQ Beanitos (thank you Blend Retreat for introducing me to these) and raw zucchini sticks.
Meal 4:
Tuna salad is a great way to pack in protein without adding carbs or fat.  This isn't your mom's tuna – I mixed mine with Greek yogurt to add moisture (ewwww… moist) and even more protein.
Then I went crazy with my spice cabinet.  Paprika, tarragon, garlic, turmeric, and fresh lemon juice all went into the mix, along with fresh red pepper, broccoli, cucumber, and a little bit of pickle.  Adding all the veggies makes this tune truly a salad.
Meal 5:
On my Instagram last night I promised to post the toppings for this grab-everything-in-the-veggie-drawer Mexican Tilapia Pizza.  I had something completely different planned, but when I got back from the gym all I wanted was more of that Tequila-Lime Tilapia… this time with a tortilla.
I crisped a low carb tortilla in a pan and topped it with a mash of black beans and chipotle sauce, spinach, parsnip rice, sautéed portobellos and red pepper, heirloom cherry tomatoes, cilantro, and goat cheese.
Yep – cheese.  That was forbidden but because I need to gain more weight, I get an extra "cheat each day.  You better believe I'm using it well!
Meal 6:
I couldn't go all day without the incredible, edible egg!  You guys know how I love my Carrot Cake Batter … and my PB & Jeggs creations are a favorite addiction.  Last night I decided to try for a marriage of the two: PB & Caggs.
This was made just like the Jeggs, but with grated carrot.  In my peanut sauce I used a full teaspoon of cinnamon, some fresh nutmeg, vanilla stevia, and a bit of brown sugar extract (ordered online).
I've done this in a spicy-savory way before too… it's hard to say which is better.  I guess it depends on your mood!
Meal 7:
The blog world is abuzz with the onset of Starbucks' seasonal pumpkin beverages, but I'm hosting my own pumpkin fest over here.  Thank you, Vitamix, for completing my life.
Pumpkin Pie Casein Protein Ice Cream
1 scoop GNC vanilla casein protein powder
1/4 C pumpkin puree
Handful spinach (optional)
1/3 C vanilla unsweetened almond milk
1/2 in piece fresh ginger
1 tsp cinnamon
1/2 tsp almond extract
1/8 tsp freshly grated nutmeg
1/8 tsp allspice
1/8 tsp guar gum
Ice, to taste
 Topped with Kashi Cinnamon cereal, cinnamon, and peanut flour fluff (peanut flour and almond milk).
---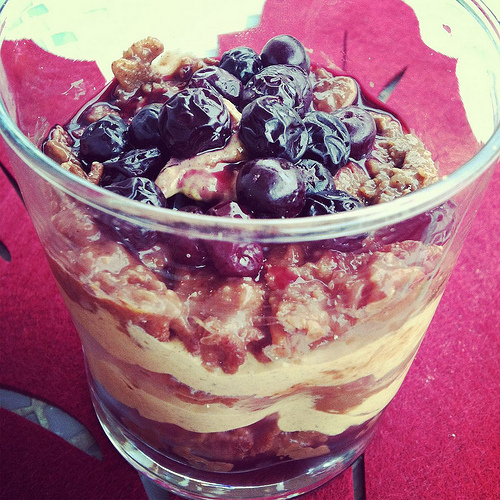 Pumpkin Tiramisu Parfait
For the Oats:
1/3 C rolled oats (use gluten-free to make GF)
2 tsp cocoa powder
1/2 tsp cinnamon
1/2 C water
1/2 tsp vanilla extract
1/4 tsp almond extract
1/4 cup strong brewed, cooled coffee
8 drops liquid stevia (adjust to desired sweetness) 
For the Cream:
1.5 oz plain Greek yogurt (use soy or almond yogurt to make dairy-free/vegan)
1/4 C pumpkin puree
1/2 scoop vanilla protein powder
1/4 tsp cinnamon
1/8 tsp nutmeg
1/8 tsp ginger
5-6 drops vanilla stevia 
For the Oats:
Combine the oats, cocoa powder, cinnamon, extracts, and water in a bowl and microwave for 2-3 minutes, or until the liquid is (mostly) absorbed.
Add coffee and stevia. Stir to combine.
Cover and place in the fridge overnight (or at least 2 hours). 
In a small bowl, combine yogurt, pumpkin, stevia, protein powder, and spices.
Stir until well combined.
This can be done the night before, or at time of serving. 
Place a spoonful of the oats in a cup, followed by a spoonful of the yogurt mixture.
Repeat until you're out of each.
Optional: Top with fruit of your choosing. I chose melted blueberries (cherries microwaved with a few drops of lemon stevia for ~20 secs). 
***
Protein count for the day: 190.2g from good, clean eats!  That's record!!!
Bacon.  Is it really the ultimate flavor? I know even my vegan friends dig tempeh bacon and bacon Torani syrup.
What good habits are you going to "fall" into?