Patience is a virtue.  
That's what I keep trying to tell myself.
Monday I was cleared by my surgeon to begin light exercise.  Good thing because I had already scheduled an appointment with my trainer for that night.  😉
Going back to working out after surgery (or any long break) is humbling.  I started with a leg extension weight 100 lbs lighter than I did 3 weeks ago.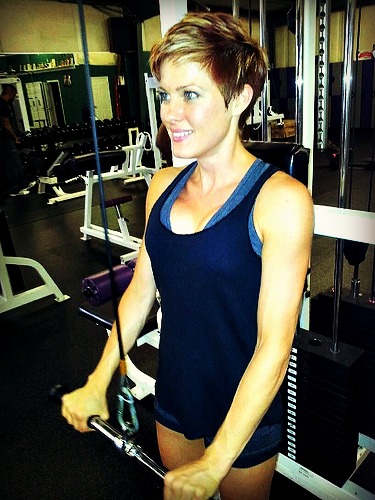 We did a lot of lower body – mostly body weight stuff – and then 2 isolated bicep and 2 isolated tricep exercises.  It was really light, but I realized I'd have to go slow… especially when the twins got hot and swelled up.  It was crazy!
I'm going to do something similar on my own today.  Being careful.  It's really hard knowing what I could do before, and seeing how much I lost in my arms in such a short time.  BUT it's not forever.  I got there before, and I can do it again.  *deep breaths*
________________________________________________________________________________________
This WIAW was fun for me because I was actually hungry from working out!  It's a totally different feeling than regular hunger, one I didn't fully appreciate before!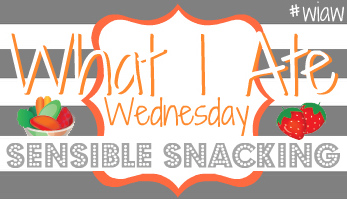 Read on for my eats, and then check out Jenn's link up for everyone else's delicious days.
________________________________________________________________________________________
Breakfast:
My morning cocktail (apple cider vinegar, water, Glutamine, and Fitmixer Aminos) was of course the start to my day.
For my meal I wanted something sweet… but I also wanted a runny egg.  Remembering my favorite Waffle House meal, I decided to try something similar (but much healthier) at home – french toast topped with a runny egg!  I also added some warmed blueberries and toasted coconut.
Who needs syrup when you have #yolkporn?
Mid-Morning Snack:
No Salt deli turkey and an orange.  I ate these with my fingers while I bottled my latest batch of kombucha.  I was trying to get out the door for my first run post-surgery… ain't nobody got time for silverware!
I was running to get my race number for Thursday's Peachtree Road Race.  It's the world's largest 10K and I was cleared by the doctor to run/walk it since it's actually going to be cool outside thanks to the deluge of rain we're getting.  The expo is only 2.5 miles from my place, so it was an easy jog, followed by a long break to browse the expo and buy new shoes before 2.5 miles back (shoes in hand).
Lunch:
It was NOT cool yesterday.  Boob sweat is a whole new thing… whoa.
By the time I got back all I wanted for lunch was a smoothie bowl.  Big, green, and topped with muesli, this hit the spot while I sat on the couch icing the twins.  Almost remembered the pic too late!
In my bowl:
Protein powder

Spinach
Zucchini
Butterscotch extract
Banana extract
Stevia
Ice + Water
Mid-Afternoon Snack:
Does anyone else have to think before they type kabocha vs. kombucha?  Kabocha is what I had for snack.  I have pre-roasted it in cubes, but I like to do a second roast to re-heat and crisp it up.  Before the 2nd roast I tossed it in cocoa powder, cinnamon, ginger, and cayenne (my favorite flavor combo).
The sauce is my go-to: peanut flour, unsweetened almond milk, cinnamon, a couple drops of vanilla liquid stevia, and a splash of almond extract.
Note: I order my peanut flour from iHerb – I like it better than PB2 because it is less processed and doesn't have the added sugar and sodium.  Use my discount code – USO924 – for $5-10 off your order!
Dinner:
This is what happens when I get bored.  I made a dinner requiring more thought than usual.  People comment that sometimes my meals seem elaborate or strange… but they typically don't take very long and I prepare certain foods similarly.  Last night I tried something new-ish and inspired by a treat in the mail from Skinny Noodles (soy-free shirataki):

The item I couldn't wait to try was the rice.  I dislike rice… but non-rice?  That I can get on board with!  I never said I was normal.  The "rice" is really more like Israeli couscous… but that's a plus in my book.
Tip when using shirataki: make sure you rinse it really, really well and follow the instructions to heat it in the microwave to get rid of the funk (it smells fishy when you open the package).
What I came up with was a herbed rice with veggies, which I topped with salmon.  It was really, really good.  One of those meals you make for yourself and then get a little sad there's no one else there to taste it!
There's not real recipe – I didn't measure anything – but here are the ingredients:
Cardamom Salmon
Salmon

Cardamom (just a little)
Cayenne
Black pepper
Lemon
Rice Vinegar
Red onion
Garlic
1 drop orange liquid stevia
Fresh rosemary
Baked at 450 for 12 mins
Fresh curry leaves
Shirataki Rice
Red onion
Garlic
Fresh rosemary
Lemon juice
Red pepper
Zucchini
Cayenne
Ground ginger
Black pepper
Ginger
1 serving "rice" (added after veggies sautéed)
2 tsp nutritional yeast (added at end to thicken)
Dessert:
This is one of my all-time favorites to end the day – Carrot Cake Protein Batter.  I feel like it's been forever since I've had one of these.  After surgery I couldn't use the grater for the carrots, so making my favorite batter wasn't possible!
I was starving so I loaded up on the toppings: muesli, walnuts, and cacao nibs.  There was also a unpictured scoop of PB. 😉
***
Thank you all so much for the supportive comments on my Instagram and Facebook posts about being able to get back in the gym.  The encouragement means a lot as I (patiently) work my way back.
Don't forget – one more day to enter the Designer Whey Sustained Energy giveaway!
Have you ever made something so good you were sad not to share it?  What was it?
Are you a victim of the kabocha craze? I propose we rename it Crack Squash.