A smart blogger would have posted a "What I Ate on Vacation" today.
I got too excited and posted my favorites on Monday.
There are a few things I didn't yet share from Napa (besides the wine – that post is coming!).
The thing that earned me the strangest look from Lisa was probably my extreme excitement over seeing GT's Classic in the CalMart (not to be confused with Wal-Mart).  The Classic is the version GT's was forced to quit selling at many major markets due to the alcohol content.  This is silly.  Kombucha is fermented tea… but there's not even enough booze for a buzz!  I chose the Gingerberry and didn't get drunk in the least.
This next item DID pack a punch.  A Maple Bacon Manhattan from JoLe.  It was bacon-infused rye, Carpano Antica, and maple syrup… with a side of candied bacon.
I was only going to have a taste… but holy yum.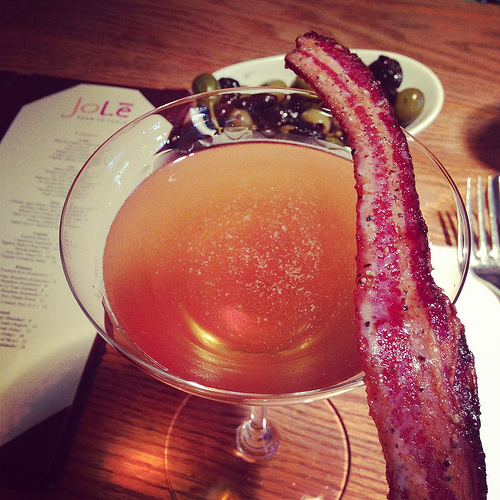 Lunch somehow was missed in my Monday food post.  Our driver in Napa recommended that we try a new concept called R+D Kitchen.  It's owned by Hillstone, which makes it a chain (I'm morally opposed to eating at chains)… but we bit the bullet and tried it out.  So very glad we did!
As with Houston's, the food and service were top-notch.  We shared toasts to start – one with hummus and one with goat cheese and figs.  The hummus was very good – heavy on the tahini, which is ideal in my book!
For my meal I ordered a omelette with spinach and goat cheese.  It may look funny, but the omelette was fantastic.  It was done french-style.  It's difficult to find a good one, but they executed it flawlessly!
It also came with roasted tomatoes and a side salad.  Those tomatoes made the meal!
I know this is getting long… but one more!!!  Remember the "scenic" walk to dinner I took my friends on?  I think this view at Sol Bar was worth it:
Most of the meal was too dark to take pics of and we were in such a night place I felt wrong using a flash (*gasp* I do have some shame).  The entire meal was mind-blowingly delcious, and our server couldn't have been more fabulous.
I did get one decent shot of my birthday dessert.  Chocolate Decadence with Ortiz Farms raspberries, soft cream, and cocoa nib dentelle. Words cannot describe.  It's the last (30th) birthday cake I'll have, I swear.
________________________________________________________________________________________
This day of WIAW eats was fun for me!  Monday morning I woke up to find that my fridge and freezer were not working.  After a brief panic, I managed to get a handyman out and have the thing fixed for less than $150.  It was also the perfect excuse to clean out my food stash and restock!  Restocking is the best – the farmer's market didn't know what hit it!  I was SO excited that I got home and did my food prep right then.  Snapper, cod, gazpacho, roasted kabocha, and bison burgers.  At 9pm.  🙂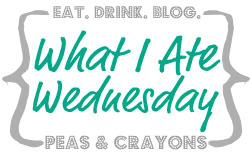 Read on for my fresh fridge eats, and then check out Jenn's link up for everyone else's delicious days.
________________________________________________________________________________________
Breakfast:
My morning cocktail (apple cider vinegar, water, Glutamine, and Fitmixer Aminos) is still going strong.  I am now so addicted that I brough the Fitmixer to Napa and purchased a bottle of ACV from the market there.
Something lit a fire under my butt, because I woke up in the mood to run sprints.  I can't explain it.  Anyway, after the humid 30 minute run I couldn't think of anything but a smoothie bowl.  Cold and now chewing required.  Does anyone else have a hard time chewing foods after workout?
In my smoothie:
Vanilla protein powder

Wheatgrass

Spinach
Cinnamon
Fresh ginger
Lemon liquid Stevia
Cardamom
Toppings: plum and raw oats
Lunch:
I was so excited for this meal that I didn't bother with my usual mid-morning snack.  During my Monday night food prep I roasted snapper with cilantro, fresh ginger, lime juice, pepper, and cherry tomatoes.  That was eaten for lunch along side a cup of gazpacho and a bag of veggie Pirate's Booty.
Afternoon Snack:
Despite having had a hearty lunch, I was still unnaturally excited for my afternoon snack.  Bison burgers!  I've been craving them for a long time.  This burger was so easy – I just mixed each patty with steak sauce and added red pepper flakes before cooking them in a pan.
I don't use pre-made sauces often, but I did find this Robbie's Naturals brand a Whole Foods that I love.  It's low-sodium, low-sugar steak sauce.  (I also dig their BBQ sauce.)
The side salad was also delish – red spinach, zucchini, asparagus (it's been long enough to bring it back), shiitake mushrooms, thyme, lemon juice, and black pepper.
Dinner:
I'd been thinking of this all day long.  Sea Bass.  I think it's passed swordfish as my favorite fish.  I ran home from my workout, coated it in thyme, rosemary, garlic, black pepper, and lemon juice before putting it in the oven for 12 mins (400 degrees on convection roast).
This gave me time to prep my salad: red spinach (nothing like spinach – it has a thick stem and is a little spicy), cherry tomatoes, and Persian cucumber.
Obviously I needed carbs after leg day, but I saved it for a little dessert…
Kabocha squash!  I roasted it as instructed in Friday's #strangebutgood post and topped it with Peanut Butter Cannoli.
Dessert:
Nothing wrong with two desserts!  I almost had more roasted squash but decided to aim for variety.  And #strangebutgood-ness.
Shredded carrot, no salt cottage cheese, cinnamon, stevia, ginger, and vanilla topped with chocolate protein fluff made from vanilla protein powder, cocoa, beet powder, and stevia. Topped with massive blackberries and cacao nibs.  Just trust me.  It's good.
***
Sorry for the picture-heavy post.  This was a lot… but I'm so excited about ALL the foods!  #lovemyinnerfatkid
Are there restaurants so nice you won't take pictures?
If you could try anything in this post, what would it be?  I don't think anything was terribly odd…