Competition diets aren't realistic. long-term
Disclosure: The following post is sponsored by Fitfluential LLC on behalf of Sizzlefish.
Eating like I have been leading up to my competition was a short-lived reality… again, it isn't how you should eat forever.  This week I'm thrilled that food is back to being fun again this week.  I haven't had time for a proper grocery store run, but I've had some help!
Sizzlefish provided me with a Sizzlefish sampler of their Omega-3 Protein Mix.  It included Coho salmon, Atlantic salmon, sablefish, rainbow trout, catfish, Atlantic cod, haddock, and catfish.
Did you know that studies have shown that a diet high in fish, particularly fish high in Omega 3 fatty acids, enhances athletic performance and health?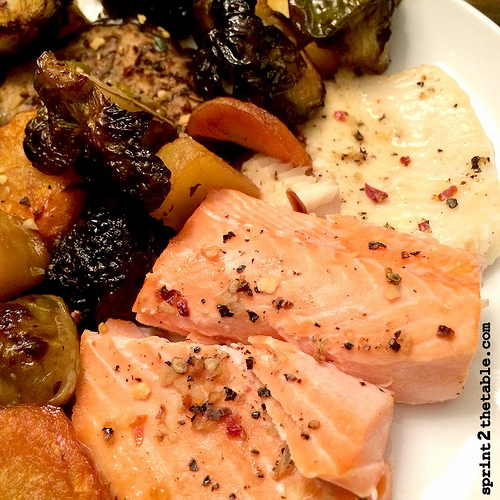 My fish were frozen at the peak of quality, pre-portioned, and shipped on dry ice to have on-hand when I was back to "normal" food.  After cutting fat, I couldn't bust into this fast enough!
I came home late from a crazy work day, it was the perfect thing to quickly cook up.  I was surprised by how fresh the frozen fish was!  Check out my dinner below for more.
Side note: wouldn't this make a an awesome holiday gift?!  Mamma may be received a Christmas shipment from Sizzlefish… 
________________________________________________________________________________________
Since I haven't done a full re-stock yet, this isn't quite a normal WIAW, but it's much improved from last week!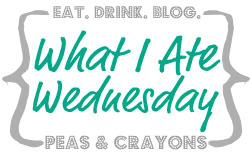 Read on for my eats, and then check out Jenn's blog for everyone else delicious creations!
________________________________________________________________________________________
Breakfast:
My healthiest addiction began my day – Aminos and ACV morning cocktail. 

Breakfast is not long turkey or chicken – hooray!  I traveled all the way from Colorado with this almost-empty jar of Justin's almond butter in order to make overnight oats in a jar.  Can you believe Heather's hubby was going to throw it away?!  All that nutty deliciousness hiding at the bottom of a mixture of oats, Greek yogurt, and goji berries laced with cinnamon and ginger.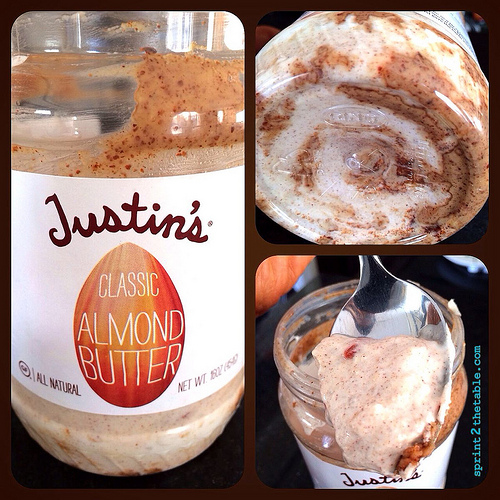 Mid-Morning Snack:
Lisa, my competition buddy and co-worker, surprised me with homemade cocoa cookie bites.  I asked if they were "healthy" and she said they are all-organic.  Works for me! 😉
See the black dot on my pinky?  That's where I slammed a weight on my hand 3 weeks ago!  Blood blisters are the gift that keeps on giving.
Lunch:
A quick trip to Whole Foods the night before resulted in a lunch of smoked rotisserie chicken mixed with shallots, paprika, nutritional yeast, ACV, and pepper over a slice of sesame Ezekial bread, mustard, and spinach.
This was the first time I'd seen smoked chicken at Whole Food – it is the best rotisserie I've ever gotten there!
Mid-Afternoon Snack:
Think Thin was nice enough to send me a little treat a few weeks back.  I hadn't gotten to dive into the box yet, but it has come in handy this week!  I really enjoyed the Caramel Fudge flavor as a mid-afternoon pick-me-up.  With the rest of the cookies from earlier… 
Dinner:
Dinner was when I enjoyed my Sizzlefish.  I got home really late, but was still able to have a good dinner!  I couldn't decide whether I wanted salmon or trout, so I had both.  Life is short, why choose?
I had put them in the fridge the night before to haw, so when I got home I tossed them under the broiler with lemon juice and pepper for about 7 mins along with roasted veggies I'd picked up from Whole Foods.
Dessert:
I feel really lame… but I wasn't hungry for dessert after eating dinner at 10pm.  Instead, I had another holiday kombucha and called it a night.
***
I am so very excited to buy all of the foods at the international market this weekend!  Grocery shopping should be an Olympic sport.  I'd medal.
Have you ever had frozen seafood?  What is your favorite?

Have you started thinking about holiday shopping yet?  Would you gift food?  I couldn't believe it when I realized Thanksgiving is next week!