Warm weather is finally here to stay!  I complained all winter about the frigid temps… subsequently swearing not to complain about heat.  So I won't.  (Someone please remind me of this in July.)
Unfortunately along with the heat has come some crazy storms.  No matter, I need to do a few treadmill runs to test my new kicks by Newton.
Cool, huh?
Apparently these are also magic shoes – they supposedly help you to land midsole (thus alleviating some impact, reducing injury, and improving efficiency), and return energy back to you. From their website:
"When your midfoot/forefoot LANDS on the ground, the technology's four external actuator lugs are pressed into hollow chambers inside the shoe's midsole via an elastic membrane (ACTION). This movement absorbs shock.  As you LEVER inside the shoe, the lugs release their stored energy and propel you forward through a burst of energetic return (REACTION) from the Action/Reaction Technology™."
I love new "toys."  Happy 24:10 to me.
I'll report back when I've formed an opinion. 🙂
---
In the spirit of warmth, I made the season's first cold soup.
There's nothing more refreshing than a fresh avocado.
Except when you blend it with mango and call it soup.
Mangoes, like avocados, can be frustrating to buy.  It seems like they are either hard as rocks or well past their prime.  The time is NOW to find some good ones!
Purchase them a bit on the firm side and let them finish ripening at home for a day or two.  If you need to stall the process, simply stick them in the fridge.  Works like a charm to extend the life of your fruit another couple of days.
When they are just right, use them for this delicious soup.  It's crisp, refreshing, and has just a teensy kick from the jalapeno.  It is a great summer appetizer, or compliment to a quesadilla, grilled chicken, taco salad, or all of the above!
Best of all, it's all natural, loaded with good fats, and will "fill you up without weighing you down" for dinner.
---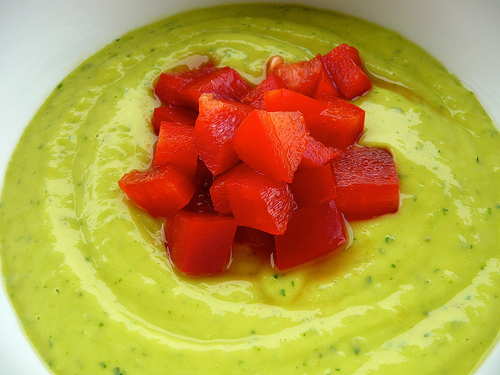 Avocado-Mango Soup
1 medium avocado
1 champagne mango
1 jalapeno, seeded
Juice from 1 small lime
1/2 C unsweetened coconut milk (I used So Delicious)
6 T fresh cilantro
1 T EVOO
1 tsp cumin
1/2 tsp coriander
1/4 tsp cinnamon
S+P, to taste
Combine all ingredients in blender (a Magic Bullet works perfectly!) and blend until smooth.  Taste and adjust spices as needed.
Spoon into 2 bowls, garnish as desired, and enjoy!
Potential garnish: red pepper (pictured), salsa, toasted walnuts/almonds/etc, tomatoes, pineapple, coconut shreds, cotija… anything else you typically like with your Mexican food.
***
I'm curious about Vibrams…
Have you tried any "specialty" shoes?
Do you treat yourself with new gear after a run?