Apparently Armageddon occurred in Atlanta last night!  My flight from Detroit was supposed to land by 8p.
We didn't get in until 11p due to rain and tornadoes in the Atlanta-area!  Which meant I didn't get home until after midnight.  And I missed dinner.  Did I mention that I left the house at 5:15a to catch the flight TO Detroit?
Free movies, a glass of wine, and extra pretzels couldn't even improve my mood after all that.

The free movie I selected on the plane was Eat Pray Love.  Thank god it was free.
I read the book a few months ago.  Loved the Eat part (surprise, surprise), took a month to finish Pray, and was underwhelmed by Love.
Skip the movie (sorry, Julia Robers).  Read Eat.  Don't feel guilty for slugging through Pray.  Finish up with Love just because you can't read only half of a book.
______________________________________________________________________________________________________________________
After a night like that, I needed a good breakfast.
Banana Oatmeal with Peanut Butter and Blueberries. I even made the oatmeal on the stove top for a change.  Normally I am either A) too lazy or B) in too big a rush.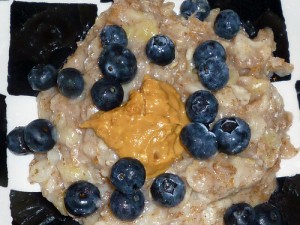 In my oatmeal:
1/3 C Water
1/3 C Almond Milk
1/3 C Oatmeal
Shake of salt
1/2 Banana (thinly sliced)
1 T Crunchy peanut butter

1/4 C Blueberries
1/8 tsp Cinnamon
Place water, milk, oats, and salt in pot over medium heat until bubbling.  Add bananas, let heat until softened, and stir bananas until blended.  Cook until desired level of creaminess/softness.
Transfer to bowl and stir in toppings of choice.  Devour.
***
Being that it is December 1st, I'm in the mood to bake.  As if I am ever not in the mood to bake… 🙂
I'm thinking something ginger-y and boozy.  What kind of boozy flavor do you think goes best with ginger-y baked goods???