I will not get sick. I will not get sick.  I will not get sick.
Clicking my heels together 3 times…
I woke up Tuesday with a scratchy throat and stuffy nose.  I spent all day feeling like I was about to cough… you know, that tickle in the back of your throat?
Time to attack.  My solution (I hope):
Juice Plus – These are my 'vitamins."  It's awesome because the pills are made from fresh fruits and veggies.  They juice them and then dry it into a powder, so you're really getting a whole food-based pill vs. a vitamin (no, they don't give me kickbacks… but they should!)
Bragg's Apple Cider Vinegar (ACV) – You guys know I love this stuff.  In addition energy and digestive benefits, it is alkalizing.  this is important because when you're sick your PH balance is off
Water – LOTS of water helps flush out the germs
Luden's Wild Cherry Throat Drops  – I'm pretty sure these don't do anything… but they taste good and have a comforting factor since my mom used to keep them on hand when we were kids #sorryimnotsorry
Zinc – Some studies have found that Zinc reduce the length and severity of a cold… some found that it does nothing.  I'm covering all my bases
Vitamin C – Also questionable, but it potentially can shorten the length of a cold.  Again, covering my bases
Bourbon – KIDDING.  I'm not drinking away my symptoms… but I have a friend whose grandmother says to take a tablespoon of bourbon and a tablespoon of honey every hour until you feel better or pass out.  In reality, I'm infusing this bourbon for a special Christmas cocktail… TBA
_______________________________________________________________________________________
Today I don't necessarily have holiday recipes to share… but I have recipes creations!  I'm exercising my Kitchen Workout (have you joined?), especially now that I'm feeling the ick.  Lots of  clean eats to heal and ward off sick germs.  During cold and flu season, I think this still fits with Jenn's What I Ate Wednesday theme this month: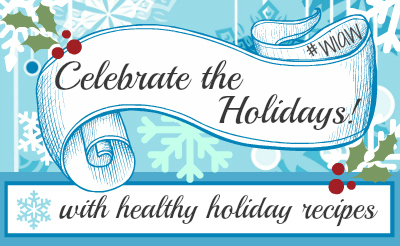 Below is my day of healing eats.  Check it out, and then be sure to head over to Jenn @ Peas and Crayons and see what everyone else is cooking up the week before the fat man come creeping down your chimney!
_______________________________________________________________________________________
Meal 1:
This was my first ACV of the day: my morning cocktail (mix of Apple Cider Vinegar, Glutamine, and Fitmixer Aminos).
For breakfast I was inspired to repeat the cauliflower "grits" I shared Monday.  Carol suggested I add nutritional yeast to make cheese grits!  I followed the same recipe, but added a tablespoon of nutritional yeast and some cayenne (to help clear out my nose).
Served with a toasted P28 protein bagel and a runny egg, cooked in a bit of truffle oil.
Meal 2:
Goji berries have tons of antioxidants   I re-hydrated some to plop into a bowl of cottage cheese (yes, I am aware that diary isn't good for congestion, but it's what I wanted… and it's about to expire).  With all the add-ins this tasted like a bowl of pie!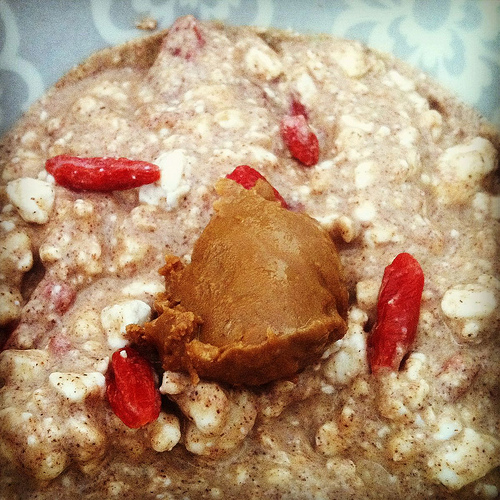 Goji Cottage Cheese Pie
1/2 C no-salt cottage cheese
1 T vanilla protein powder
1 T goji berries (re-hydrated in water)
1 tsp cinnamon
1/2 tsp vanilla
1-2 drops english toffee flavor concentrate
3-4 drops vanilla stevia
Blob of Sunbutter
Mix together in a small bowl, adding milk/water as needed.
Meal 3:
The worst part about feeling under the weather is not wanting to eat.  I LOVE to eat.  Just not right now.
But I forged on.  I used to love making pizza crust out of Kamut flour, and decided that would be a nice comfort food.  Until I ruined the crust by letting it stick in the pan.  Kamut toasts it is!
Served with a warm salad.  The dressing was a mix of ACV (heal me, vinegar!) and red pepper hummus.  My toppings were swordfish and sautéed red peppers, baby bellas, and onion.  I very lightly sautéed my spinach at the end.
Did you know that cooked spinach increases absorption of its calcium and iron?
Meal 4:
If you follow me on Instagram, you saw I got a little package in the mail after arriving home from the gym:
My Bulu Box this month contained C-Spray!!!  Perfect timing.  I don't know if it works yet, but it was pretty tasty.
After my spray, I made a random post-workout meal.  Tuna burger from Whole Foods with sriracha, cucumber with fresh ground pepper, and a sweet potato topped with peanut butter.
I always eat the skin of my sweet potatoes for the fiber.  Plus I like it.  Is that odd?  I thought everyone did until someone at work commented…  Is this a Strange But Good?
Meal 5:
I wanted black bean soup.  I wanted cabbage.  I wanted brussels sprouts.  I had no patience.  This could only end in a stir fry.  It was a hodge podge… and it was pretty tasty!
Mexican Trash-Fry
Brussels, chopped
Red Cabbage, rough chopped
Shallots, diced
Garlic, minced
Tempeh
Black beans, no salt added
Apple Cider Vinegar
Cumin
Cayenne
Coriander
Cilantro
Start sauteing the brussels first, as they will take the longest.  I didn't measure, I just tasted and added.  It's be best kind of cooking.
Meal 6:
More C-Spray, followed by eggs.  PB & Ceggs, topped with muesli.  Except I didn't make them vegan – I used real eggs.  and I used caramel extract rather than maple.  Yum.
Meal 7:
I managed to take a break from the 150 Calorie Chocolate Microwave Protein Cake.  I had to finish that cottage cheese!
It was a random mix, but one of my favorites:
Cottage cheese
Cocoa powder
Chocolate protein powder (1/2 scoop)
Cinnamon
Cherries (melted in the microwave)
Cake of rice
Brought to you by the letter "C."
And yes, I ate out of the same bowl 3x today.  Anything to avoid dishes.
***
The protein count for the day: 165.0g.  A little low, but I'll get it back tomorrow when all my "cures" work.
Don't forget to join the Strange But Good link up this Friday!!! 🙂
Do you have a secret remedy for colds?
What are you making for the holidays?  My baking begins in earnest today!