Sodium is in everything.
Except peanut flour, thank god.
With less than 4 weeks to go until my figure competition, my diet has gotten more strict.  The latest adjustment it sodium.  I'm only allowed 500 mg a day.  No more bacon, sorry.
It turns out sodium is everywhere – even in thing that aren't processed   Egg whites, for instance.  My trainer said I don't have to cut egg whites until 2 weeks out, but if I eat them my sodium for the day will most certainly be over.  And the super expensive crab in my fridge?  Forget it.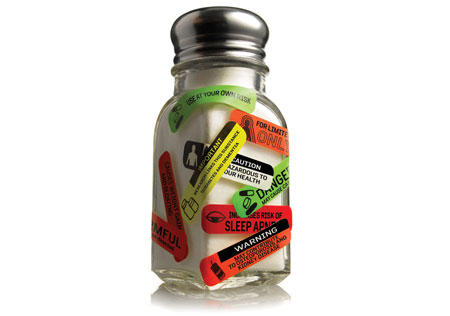 We've seen a lot in the media lately about sodium, and how much is added to our foods.  Too much sodium can lead to problems like high blood pressure, heart failure, osteoporosis (this one was news to me), kidney stones, dehydration, electrolyte imbalance, and hormonal imbalance.  You don't need to cut to the extent that I am, but The Institute of Medicine recommends limiting sodium intake to less than 2300 mg per day.
When I first started watching my intake, I was shocked to see how much was in items you'd never think to check.  Protein powder is a culprit – I had one egg protein that was about 500 mg!  Other unusual suspects: coffee drinks, bread, cereal, and pretty much every condiment known to man.
You don't have to have salt (or fats, or sugars…) to add flavor to foods!  Try some making your own blends for use on protein, veggies, and beans…
Italian: I make my own sodium-free tomato sauce with garlic, onion, basil, oregano and, parsley
Thai: For a spicy peanut sauce, try peanut flour mixed with rice vinegar, lime, sriracha, garlic, and cilantro (similar to what I did here in my: 

Chili Nutty Tofu

)
Mexican: This is an easy one – toss in some lime, cumin, cilantro, garlic, and cayenne like I did in this

Mexican "Rice" Bowl

Mediterranean: This is a staple-combo in my kitchen with its lemon peel, garlic, mint, oregano, dill, and onion
Indian: I rubbed a simple mix of lime, garlic, ginger, onion, curry, cumin, coriander, and garam masala on the salmon I used in Meal 2 below
_______________________________________________________________________________________
Another sodium-free item is pumpkin.  Perfect for this month's Halloween-themed  What I Ate Wednesday.  See if you can guess how much sodium I took in…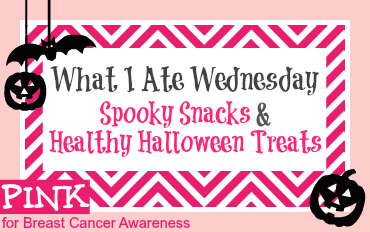 Check out my low-sodium, #strangebutgood (that's scary, right?) eats below, and then click here to head over to Jenn @ Peas and Crayons to get to see how everyone else is scaring up their food this month!
_______________________________________________________________________________________
Meal 1:
After my morning cocktail (mix of Apple Cider Vinegar, Glutamine, and Fitmixer Aminos), I enjoyed a protein mush.  Failing miserably with the sodium intake yesterday, I skipped the eggs for breakfast and went for sodium-free pumpkin.
Pumpkin Protein Mush
2 T oats
1/4 C pumpkin puree
1 scoop vanilla protein powder
1 T ground flax
1/2 tsp cinnamon
1/4 tsp butterscotch extract
5-6 drops stevia
Liquid, to mix
Topped with banana
Meal 2:
Forget #strangebutgood.  This was strange but amazing.  There are only 4 ingredients if you pre-cook the salmon!
I loved the savory curry against the sweet salmon and the citrus in the blood orange.  Bonus: blood orange is certainly a Halloween-appropriate food.
Curried Salmon and Blood Orange Salad
3 oz curried salmon (pre-cooked with the Indian spices mention in first part of this post)
1 blood orange, sectioned
1 T fresh basil
1 T roasted squash seeds (tossed in coconut oil, cinnamon, and cardamom before roasting)
Meal 3:
If tuna is the chicken of the sea, then swordfish is the steak of the sea.  This is hands-down my favorite seafood.  And it's fairly low in sodium.  Score.
Served with a Golden Dumpling squash, diced and roasted with thyme, Dora the Explorer edamame, and raw cauliflower.
Know what only has 1.7 mg of sodium?  Sugar-free York Peppermint Patties.
Meal 4:
I am still addicted to this Tequila-Lime Tilapia recipe.  Today I had it with a side of carrots.  Yes, I recycled the lion plate from lunch. 
Meal 5:
Last week I mentioned that I rarely chicken.  Even more rare that eating it… I COOKED it.  Raw chicken is one of the most disgusting things in the world to me.  In my low sodium quest, I pulled out a cooking binder I made years ago and prepared a modified (low sodium, low-fat) version of a marinade I used to love.  It turned out really well!  I still hate raw chicken.
I DO love pizza.  It seemed like everyone on Instagram last night was making pizza, so I jumped off that bridge too.  I was going to make a socca crust, but realized that Kamut flour has less sodium.  I mixed 1/4 C with just enough water to form a batter and cooked it like a pancake in a pan.
On My Pizza:
Chicken
Ricotta spread 
Red onion
Fennel
Zucchini
Arugula
The ricotta mixture was simply fat-free ricotta with fresh herbs, cayenne, and white balsamic.  I sautéed the veggies before topping the pizza and sticking it under broil for a few mins before inhaling the deliciousness.
Meal 6:
I ate meal 5 too late, so I didn't get to excited about Meal 6.  And I only had 75 mg left for the day.  And I wanted eggs.  I was whiny.
Then something awesome happened.  I remembered tofu.  Scrambled tofu, specifically.  Oh yes… we have VEGAN version of PB & Jeggs.  A carrot cake-inspired PB & Ceggs.
Just as glorious as the "real" thing.  The carrot cake-like spices make this veggie and protein-packed meal a dessert.
Recipe at bottom.
Meal 7:
If you guess I went over my sodium…. you'd be right.  I have to ask my trainer tomorrow, but I'm guessing protein trumps sodium so I went ahead and exceeded 500 mg to get another 20 of protein.
The most sodium-free way I could think of to do this was no salt cottage cheese and peanut flour.  Since I get a carb too I went for some pumpkin in the mix.  Flavorings included cinnamon (it's sick how much I love the stuff), nutmeg, cardamom, almond extract, vanilla stevia.  Topped with figs.  Nom.
________________________________________________________________________________________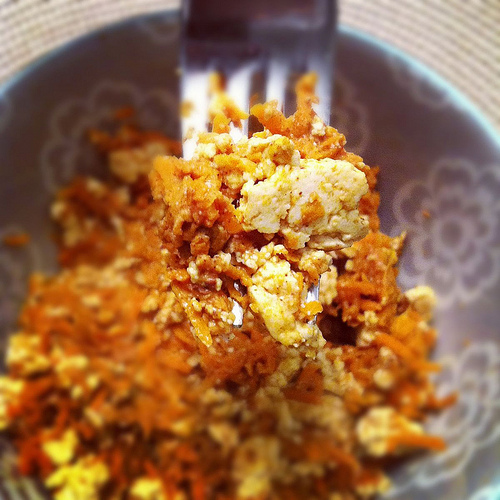 Vegan PB & Ceggs (Peanut Butter & Carrot "Eggs")
4 oz tofu, crumbled
2 T peanut flour
1/2 tsp cinnamon
1/4 tsp nutmeg
1/8 tsp allspice
1/4 tsp maple extract (can use vanilla)
5-6 drops liquid stevia
3 T water (or other liquid)
Place crumbled tofu in a greased (I used PAM) pan over medium-high heat.  
"Scramble" tofu until warmed through (~2-3 mins).  Meanwhile, mix together peanut flour, spices, extract, stevia, and water to form your peanut butter sauce (note: you could always use 2 T of your favorite nut butter here).
Add peanut butter and shredded carrot to the eggs.  Scramble together and allow to cooking ~1-2 mins more until hot.
Plate and enjoy!
Serves 1.
***
The protein count for the day: 169.4g.  The all-important sodium count: 576.5mg.
Quick shameless plug: in case you missed it, check out yesterday's post for a new technique you can use to bust through plateaus in your workout.  It's the first in a "Work It Out" series I'm doing!
Have you ever tracked your sodium intake?  Did it surprise you?
What is the best thing you've eaten so far this week?