Asian food is addicting.
Even without the MSG.
I am a sucker for Italian food.  And Mexican.  I could eat them every day.  Asian food… I don't crave it daily but when I want it, I need my fix NOW.
When I got Skinny Noodles' new kale shirataki noodles in the mail, I knew they called for a good Asian dish!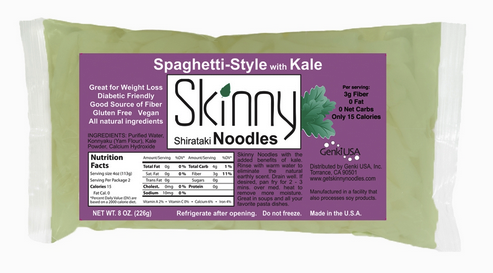 I've been using shirataki noodles for a few years in Peanut Butter Rice Pudding, Eggplant Noodle dishes, and Stir Fry with Spicy Peanut Sauce.
Some may think these noodles are strange (ahem… Vegas), but I think they're quite good!  I love them because they give you volume without a bajillion calories.  One serving is just 15 calories and 4 grams of carbs!  They're also gluten-free and vegan, if you're into that sort of thing.
They are an acquired taste – they're almost spongy in texture.  Don't expect a doughy pasta noodle!  Make sure you heat them to dry them out.  If you don't, they have an… interesting… scent.  Vegas took a bite and wasn't sure what to think.  Haha!
Because these noodles are so light, I load them up with veggies and protein.  It's a volume eater's dream bowl!
I loved the crunch from the red cabbage against the soft noodle texture.  The green onion and the dressing added a great flavor too!  Fish sauce is funky on it's own, but with a bit of sugar, garlic, and the acid from the lemon, it was the perfect compliment to the shrimp.
---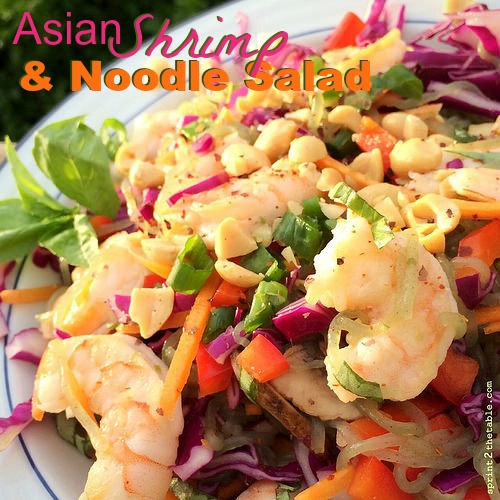 Asian Shrimp and Noodle Salad
1 8 oz Shirataki noodles package
1 C shredded red cabbage
1 shredded carrot
2 stalks of green onion, thinly sliced
1 red bell pepper, thinly sliced
1/2 sliced mushrooms
Basil
1/2 lb cooked shrimp
Chopped peanuts
Red pepper flakes
Salad Dressing
1 T fish sauce
1 T water
1 tsp light brown sugar
1 garlic clove, very finely minced
Juice of 1 small lemon
1/2 tsp sesame oil
Prepare noodles* according to package instructions.  If you are using shirataki noodles, cut them into shorter pieces with kitchen shears (they are really long!).
Prepare veggies and place in a large bowl.  Add noodles and shrimp to the bowl, tossing to combine.
In a small bowl, whisk together the dressing ingredients.  Pour the dressing over the salad and toss to evenly distribute.
Garnish with chopped peanuts, red pepper flakes, and more basil, if desired.
Makes 2 servings.
*Note: If you don't have/like shirataki noodles, you could use any type or noodle or even rice here.
---
How have you enjoyed making co-workers, friends, or family stare with strange but good creations this week? The link up rules can be found here or by clicking on "Strange But Good" in the menu bar above. In short, I want to see what concoctions have earned you weird looks from co-workers, family and friends! Post your Strange But Good creations, grab the logo below for your blog, and link up here.
Remember to use #strangebutgood in any Tweets and Instagrams of your creations. 🙂



***
Poor Vegas… that homemade Italian pasta girl will try anything I make. 😉
Do you crave Asian food?
Have you ever had shirataki noodles?