I'm large and in charge!
Vegas is out of town – watch out.
That's right.  I'm without supervision this week.  Not just because Vegas is gone though – I'm also hosting Jen's What I Ate Wednesday!
And I made myself bacon.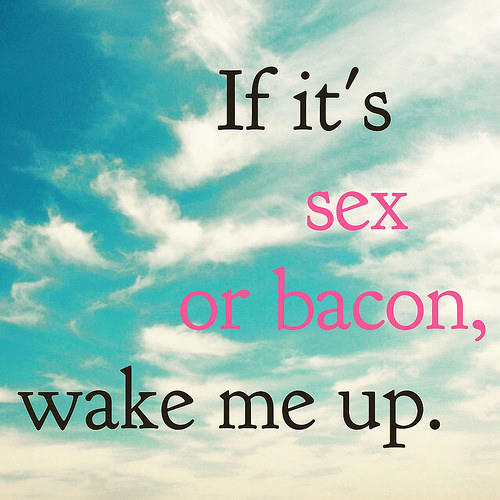 Admittedly, it was hard to get out of bed.  We just had the house cleaned.  It was so peaceful and quiet.
No one would know if I just laid here for hours…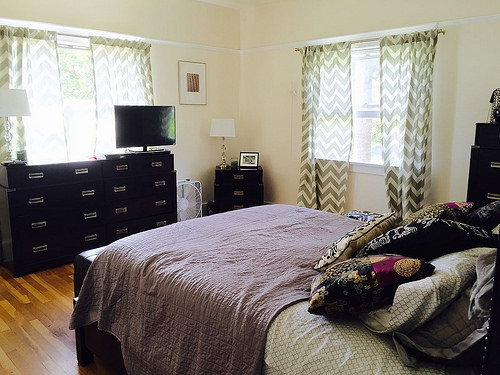 But it got a little lonely too.  I miss Vegas when she leaves!
So I took myself out for a iced tea and did some work on the patio of a local coffee shop.  That's blood orange iced tea.  So good!  I brought the S'mores Quest Protein Bar
 from home (the s'mores is in my top 5 flavors).
---
On to the WIAW deliciousness!  Be sure to check out all the links below and add your own day 'o eats.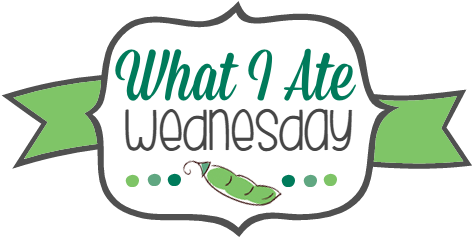 ---
Breakfast:
I had the usual morning cocktail and morning sludge.
Im still digging the new strawberry Growing Naturals protein.  I made another one of my Strawberry-Acai Protein Bowls.  This one used avocado rather than sweet potato to make it creamy.
Topped with peaches, strawberries, lychee, and Evoke Athlete Fuel Organic Muesli.
Snack:
In addition to the first Quest bar, I also had a Mint Chocolate Chunk Quest Bar.  This is the new flavor, and it's now in my top 5.
I'm not normally a mint fan, but this wasn't over-powering.  And holy chunks of cookie!  I just bought one to try, but I'll be buying more of these tomorrow.
Lunch:
Swordfish over a baby kale and lentil salad (extras from the dinner recipe below) with heirloom tomato. Topped with sautéed shallots and crimini mushrooms, them bacon sprinkles.  Finished with a drizzle of truffle balsamic reduction.
Dear sweet Jesus, I love food.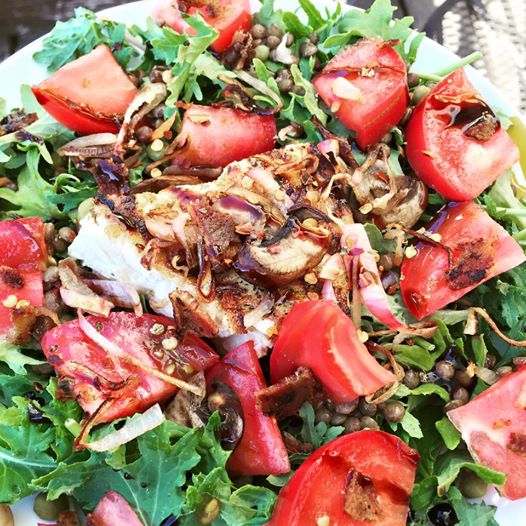 Dinner:
I've always loved Sizzlefish, but I haven't had it quite as often since I love by the ocean now.  This dish reminded me I need to eat it more – I love their flavored options.  I used the Korean BBQ Salmon here.
The base of this dish was an Asian-ish lentil salad with cabbage, carrots, and peas.  I loved the veggies in it for the crunch!  You could also do this with rice, but I like lentils better.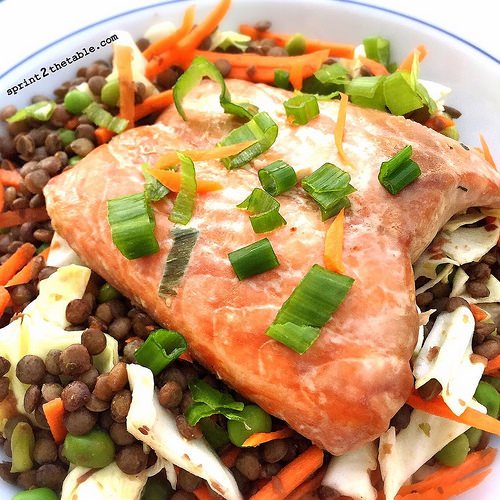 Asian Lentil Salad & Salmon
1 cup black lentils (or rice)
½ cup cooked peas
1 carrot, julienned
2 C shredded cabbage
Juice of 1 lemon
Juice of 1 lime
2 T rice vinegar
1 tsp Dijon mustard
1/2 tsp sesame oil
1/2 tsp garlic powder
4 pieces of cooked salmon*
1 chopped green onion, for garnish
Salt & pepper, to taste
Cook lentils according to package.  Transfer to a serving bowl and allow to cool slightly while you prepare the mix-ins.
Whisk together your lemon and lime juice,  rice vinegar, mustard, sesame oil, and garlic powder.  Taste and adjust seasoning as needed.
Add  chopped veggies to the lentils and toss to combine.  Pour in dressing and mix again.
Plate lentil salad, top with salmon, and garnish with green onions, salt and pepper.  I added red pepper flakes to mine as well.
Serves 4.
*I used Sizzlefish Korean BBQ Salmon, but you could use your favorite here.  A simple preparation with soy sauce, lemon, and pepper would be good here too.
---
***
I know you're all wondering… what are my other 3 favorite Quest flavors?  Well, I'll tell you: White Chocolate Raspberry, Cookie Dough, and *I think* Berry.  That last one rotates.  I love the Cookies 'n Cream too, but it gets a bit sweet.  These ate the important things I debate in my head…
What's your favorite Quest flavor?
What was the best thing you ate yesterday??