2012 doesn't mean I learned my lesson about making brown food.
It doesn't photograph well.  At all.
Given the indulgence that December brought, I've decided to clean up in January and go vegetarian.  This isn't a stretch for me – at home my diet is 99.9% plant-based.  It's the dining out that gets me.  Social life should slow down now that the holidays are over, making it easier to stay in and stick to being vegetarian (my wallet could use a little break too).
Naturally, I decided vegetarianism is the perfect time to try meatloaf.  Veggie-style.  I've bookmarked many lentil loaf recipes to try over the past year or so.  For some reason they've always intimidated me – maybe because I have never cared for meatloaf or ketchup.  My mom made it once when I was in elementary school and I threw up during that dinner.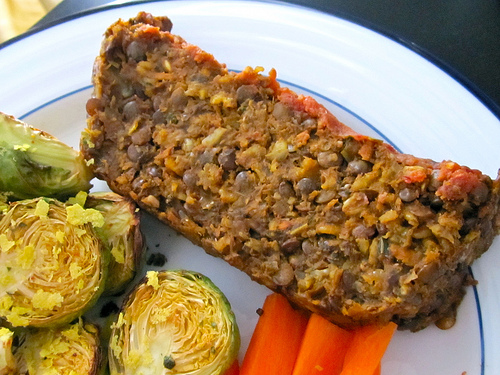 Ultimately I ended up taking the base from this loaf by Gena @ Choosing Raw and adding an Asian twist.  It's vegan and gluten-free (I used gluten-free oats).  Served with roasted brussel sprouts, nooch sprinkles, and carrots.
Shredding the sweet potato would be a pain if you don't have a shredder attachment for your food processor.  I have one and it was well-worth the effort.  The Asian flavors are especially satisfying in the cooler weather.  Don't skip the ginger or the walnuts.
This may be an odd description… but the crunch and nutty flavor from the walnuts in this loaf is almost exciting.  Next time I'd add use an additional 1/4 cup.
My favorite part about this is the glaze.  Since I don't like ketchup, there was so way I was going with the traditional meatloaf topping.  Instead I used garlic chili paste (like Sriracha with garlic added), miso, and tomato juice from the San Marzanos.  It was incredible.
This sauce could be used for so many things – tofu marinade, salad dressing, or to flavor soups.
Hands down the best thing I've made this year. 😉
Guaranteed not to make you hurl.
_________________________________________________________________________
Sweet Potato Asian Lentil Loaf
1 T coconut oil
1 C celery, chopped
1/2 yellow onion, chopped
1 serrano pepper, diced
2 garlic cloves, minced
1 in piece fresh ginger, minced
2 3/4 C vegetable broth (I used low sodium)
1 C French green lentils
1.5 C grated sweet potato (I used garnet)
1/2 C toasted walnuts, chopped
1/4 C blended San Marzano tomatoes (or tomato paste)
1/4 C cilantro, chopped
1 tsp Chinese 5-spice
1 T liquid aminos (can use tamari or soy sauce)
1 C rolled oats
S+P, to taste
Miso Glaze
1 T mellow white miso
1 T chili garlic sauce (or sriracha)
2 T tomato sauce
Heat coconut oil in a large pot, and sauté the onions and celery until soft and the onions are browning (~6-7 minutes).  Then add pepper, garlic, and ginger.  Sauté until fragrant (~3-4 mins).
Add lentils, veggie broth, and sweet potatoes.  Simmer, stirring occasionally, until broth has mostly absorbed and lentils are very tender (~30 mins).
Stir in walnuts, tomatoes, and spices.  Stir to combine and cook another ~2-3 mins.  Add oats and remove pot from heat. Salt and pepper to taste.
Allow lentils to cool a bit.  Place half of the mixture in food processor.  Process until mostly smooth.  Return mixture to pot and stir to combine with the non-blended portion.
For Glaze:  In small bowl combine all glaze ingredients.
Press mixture firmly into a loaf pan. Brush with miso glaze, if desired.
Bake at 350 for 45-50 mins, or until a knife finds it firm. If the top starts to brown, cover with foil midway through.
Serves 8-10.
Approximate Nutrition: 207 calories, 7.1g fat, 28.2g carbohydrates, 6.2g fiber, 3.2g sugar, 8.2g protein
***
I got the thumbs up on the texture of this loaf from a meatloaf-lover tonight! 
Are you purposefully detoxing/eating cleaner this month?
Have you tried for a vegetarian diet before?  Any tips?