Asian-Inspired Eggplant "Bacon" is a crispy, delicious crave-worthy recipe.  It's air quote "bacon," but it doesn't lack that same crack-like umami flavor we can't resist!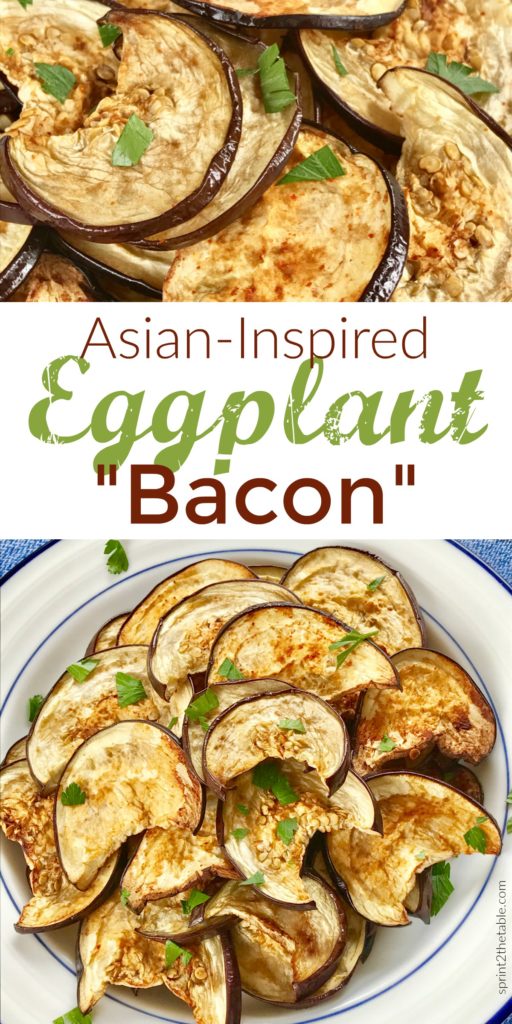 Let me be clear: I am a bacon lover.  This recipe is in no way a claim that anything could replace bacon in my piggy-loving heart.  However, this Asian-Inspired Eggplant "Bacon" pretty damn good.
Whatever you do, make sure to slice the eggplant thinly so that it will crisp up.  That's the key for anything "bacon" in my life.  You know when you order bacon at a restaurant and they bring it out a limp pile of greasy white ick?  Yeah… that's not okay.  I like my bacon and my "bacon" crisp!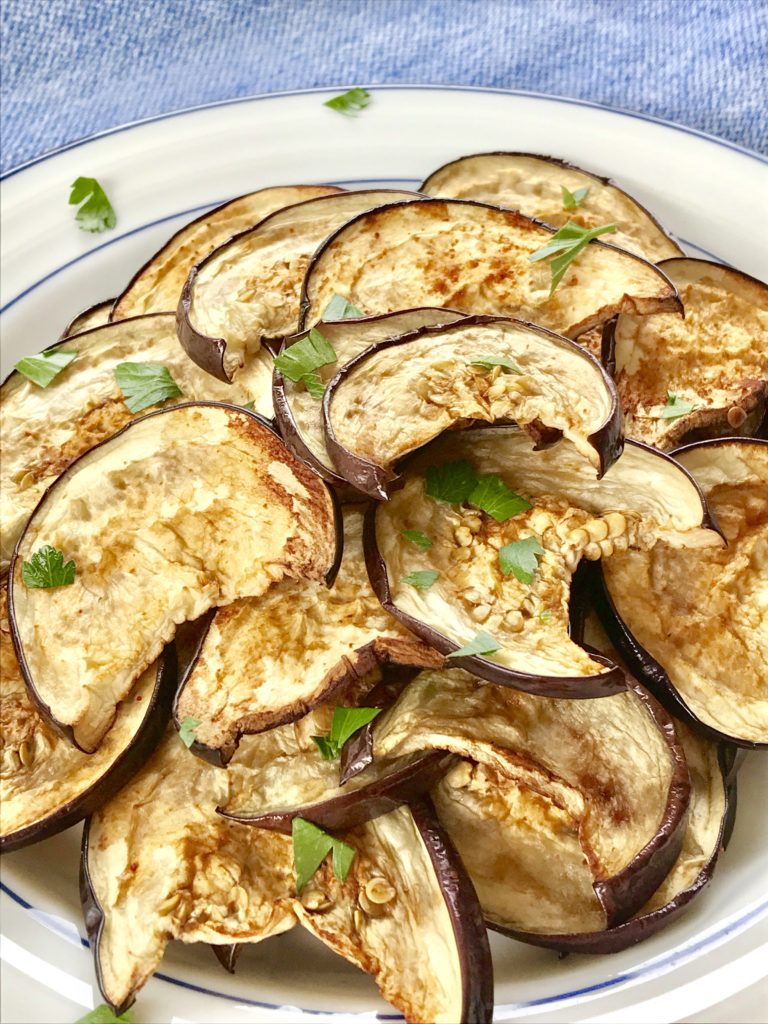 This bacon is an asian-inspired version that's flavored with soy sauce, liquid smoke, sesame oil, paprika, and a bit of garlic.  That combination of flavors brings to mind the salty, smoky, savory umami qualities that make pork bacon so very irresistible.
Use these "bacon" slices to top salads, create a BLT, or just as a delicious snack.  They're also good dipped in ranch… not that I would know. 😉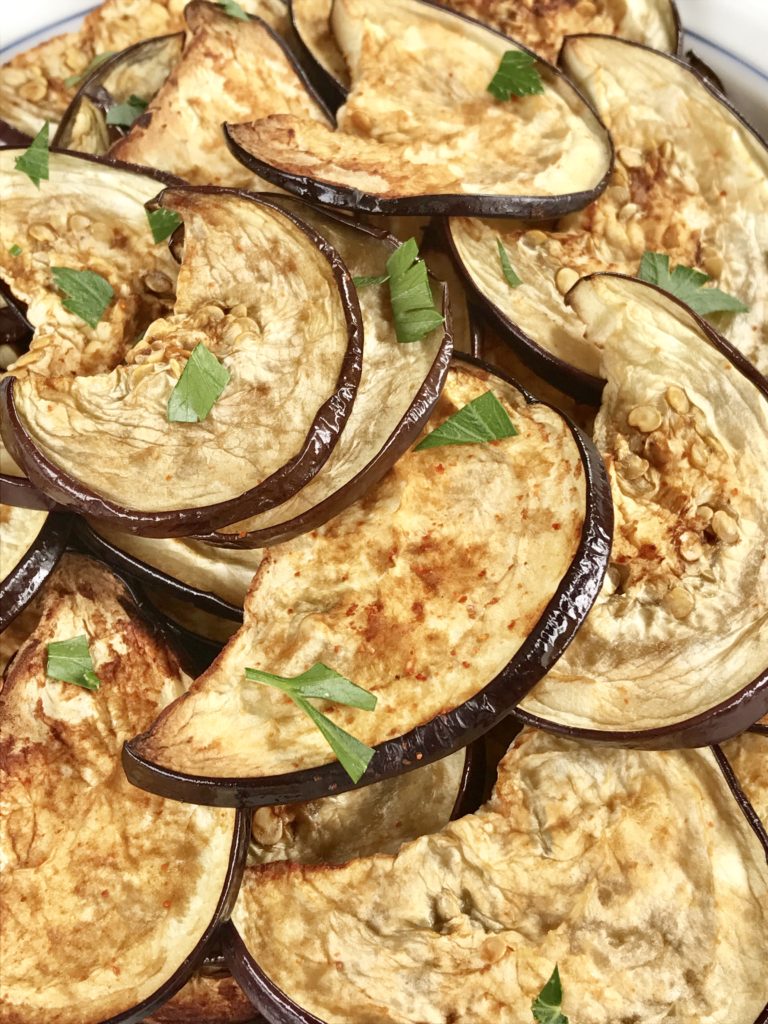 ---
Asian-Inspired Eggplant "Bacon"
Prep Time: 10 mins
Cook Time: 20-25 mins
Keywords: bake side snack gluten-free low-carb vegan vegetarian eggplant liquid smoke soy sauce
Ingredients (4-6 servings)
1 pound eggplant, cut into 1/8 inch thick strips
3 T soy sauce (or tamari if you're gluten free)
1/2 tsp liquid smoke
1/2 tsp sesame oil
1/2 tsp smoked paprika
1/8 tsp garlic powder
Instructions
Preheat oven to 250 F and line 2 baking sheets.
Make sauce by placing soy sauce, liquid smoke, sesame oil, paprika, and garlic in a small bowl and whisking to combine.
Use a brush to lightly coat both sides of eggplant slices with sauce. Arrange in a single layer on the lined baking sheets.
Bake for 20-25 minutes, flipping half way through. It's done when the eggplant is browned and appears slightly crispy. If not crisping up, put the oven on broil for a few seconds (literally – just seconds), watching closely. Remove from the oven and enjoy!
Note: If not eating right away, store in a sealed container in the fridge. To reheat, crispy them up in a skillet over medium heat.
---
I didn't forget WIAW!  Check out my day of eats below, and be sure to link up to Jenn's WIAW baby at the bottom!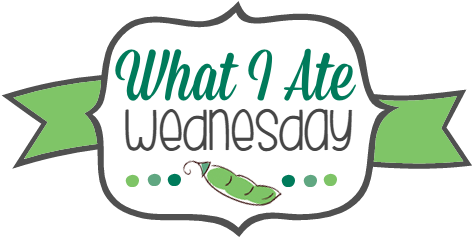 ---
Breakfast:
Coffee.  Morning cocktail.  Recipe photoshoot.  Eat.
Breakfast is so much more fun when I'm creating fancy-yet-easy recipes.  I scarfed this mystery pudding down approximately .00001 seconds after I finished taking pics.  It'll be on the blog next Friday!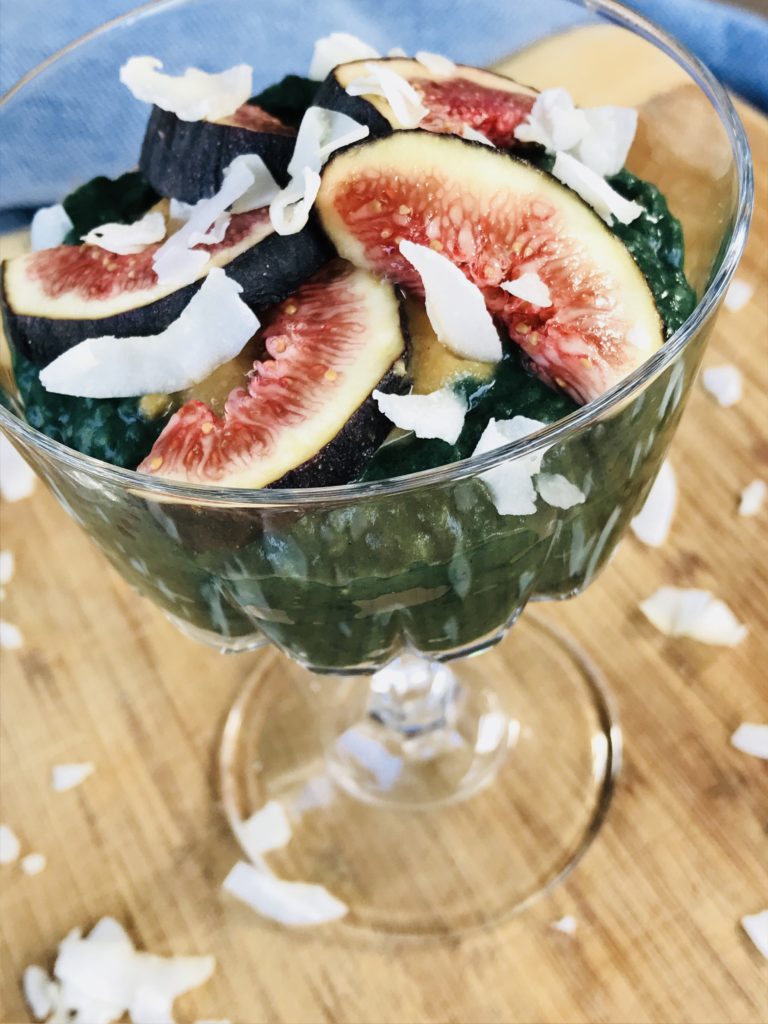 Lunch:
Then I was into the eggplant bacon.  I had it with a delicious veggie plate and an unpictured date before heading to the gym.
I washed it down with a lemon La Croix.  It's not my favorite flavor, but it's not bad.  Whole Foods was having a sale, which meant my favorite Tangerine was sold out.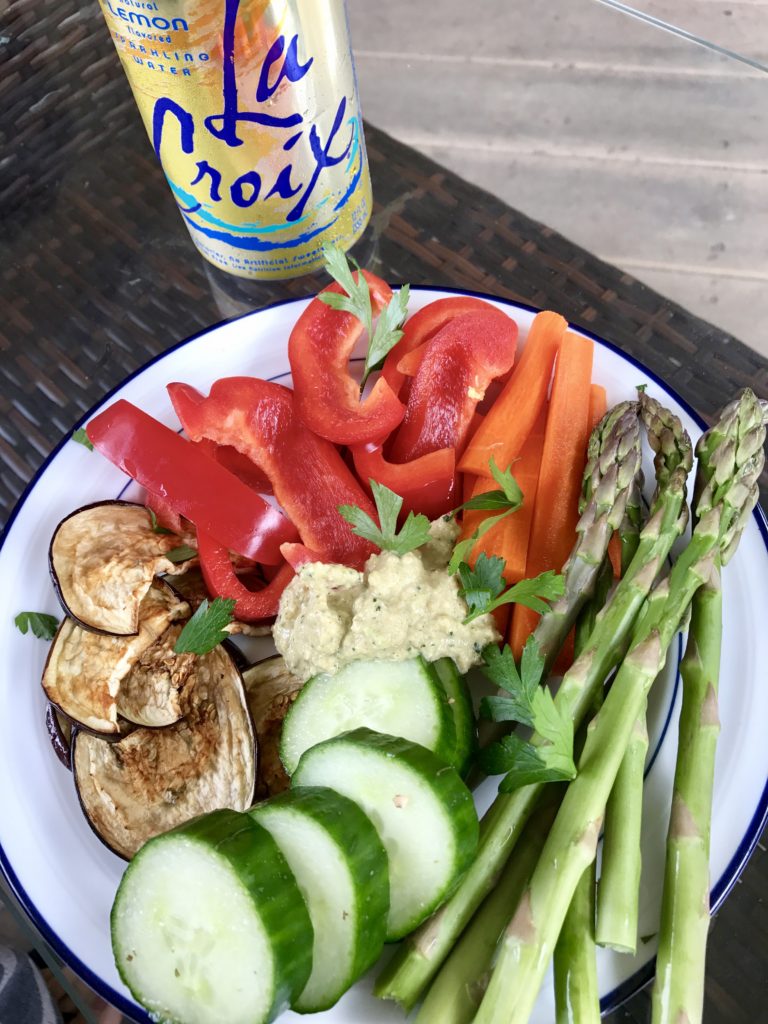 Snack:
Post-workout smoothie bowl.  As per usual.
Dinner:
This is another soon-to-be blog recipe.  I think… the pics were shadowy.  I'll never make it as a food photographer.  Le sigh.
There was a post-dinner snack of avocado pudding, but I was too into This is Us to take pics.  #sorryimnotsorry


***
I ate all of that eggplant bacon in 2 days.  Oops.
What's your favorite La Croix flavor?
Have you ever made a meatless "bacon"?