It's no secret that bicep day is my favorite.
My trainer says it because I'm a "dude."
When I needed to drag myself back to the gym after 2 weeks in Greece, the most appealing workout to me was my favorite – biceps and triceps.
This workout was just what I needed – challenging and focused on the muscles I wasn't able to work while I was away.  I think most of these moves are self-explanatory.  In case you aren't familiar with it, this is what an EZ bar looks like:
For each move, do 4 sets increasing your weight each time.  You should be able to get 12 reps on your first set, and 8-10 on the last set.
Note: If you find you've started too heavy, just turn the last set into a drop set.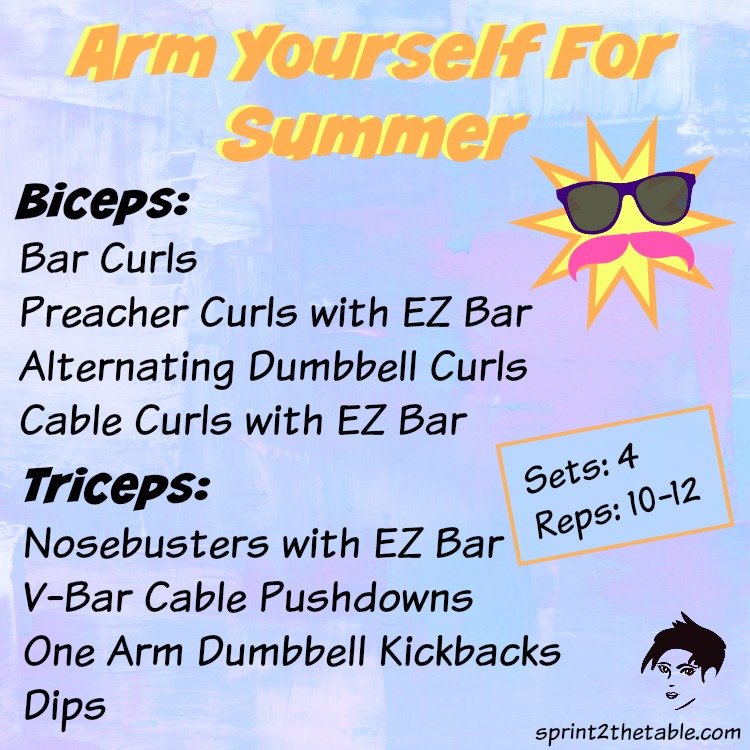 After that workout, I knew I was going to be sore!  The first thing I did was get home to refuel so my muscles could repair and build back up.  Your body is at it's peak for absorbing nutrients following a workout!  It's important to get on at least 20g of protein within 30-45 mins of a workout.
If you ever doubt the importance of protein, here's some proof.  The pic below is my progress over two years.  The major thing that changed when I started training for figure competitions was my protein intake.  I started tracking what I ate and realized I was only eating 60-70 grams on a good day.  I went from that to eating 1.75x my bodyweight in grams of protein and started to see some real changes!
I think some of those glute workouts helped too…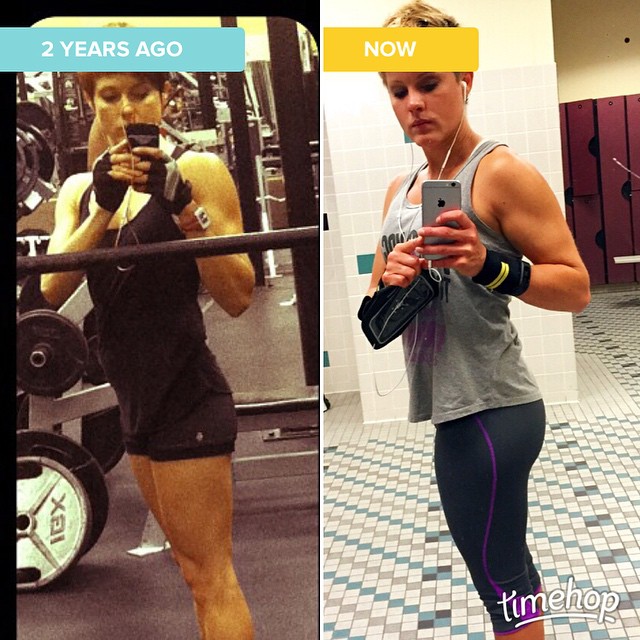 So how did I refuel after my first workout back?
The trouble was that I had a first day back from a long trip grocery situation (read: NO food in the house).  Thanks to this box of goodies from Premier Protein, I had plenty of protein on hand to make a meal out of:
The bars were quite good… but they were eaten on the plane to Greece.  Emergency snacks are a must on the airplane!  Packing 30g of protein and 25g carbs, they were the perfect filling snack.
The shakes are my favorite following a workout.  They provide:
30 grams of protein, including all of the essential amino acids
24 vitamins and minerals
An excellent source of calcium
160 calories
Minimal fat (3g) and sugar (1g)
Typically I'd make a shake, but with the cooler weather San Diego has been experiencing I wasn't feeling an icy treat.  I also missed American cereal.  It lead to something a bit strange but good!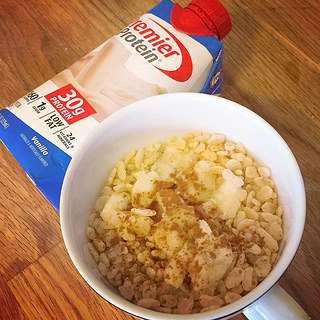 I poured my rice crispies in a bowl with a vanilla shake and topped it with banana and cinnamon for a delicious post-workout meal.  It was the perfect balance of carbs and protein!
With a proper refuel, I was still sore… but in a marvelous hurts-so-good way rather than the tragic crippling it could have been.
Disclaimer: I was provided these products to review from Premier Protein.  All opinions – as always – are my own.
***
If you're interested in starting your own weight training program, I'd love to help!  Click here for more info and to inquire.
What's your favorite body part to workout?
How do you refuel following a tough workout?