Stuffing has never excited me.
Who knows what possessed me to decide to make it for last Saturday's catering event!  Never say never – this stuffing was by far the crowd's (and my own) favorite at the party.
At the height of the party, I couldn't replenish these plates fast enough!
Sweet and savory always wins.  Apple with the chicken sausage and fresh herbs was the perfect combination.  The balance of flavors was impeccable.  The ciabatta bread gave the dish a rich chewiness, and the occasional walnut crunch was a pleasant surprise.  Next time I'd probably add even more walnuts!
As I was making this on Friday night I could barely keep myself from eating the whole pot!  A little "tester" bowl won't hurt…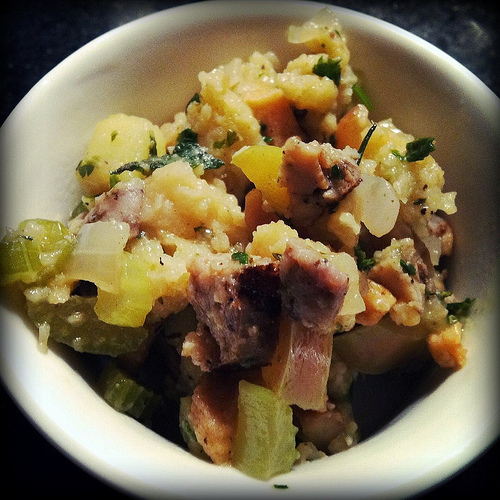 This made a TON of stuffing.  As in, I stuffed 210 fillo shells.
Halve the recipe for a smaller group.
I'd love to make it again for a holiday sit-down meal to be served as a side dish!
Recipe at the end.
---
I haven't forgotten Jenn's What I Ate Wednesday!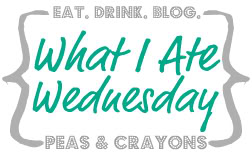 As this is getting lengthy (and this stuffing is 100x better than anything I ate today), my day of eats are lumped in collage form.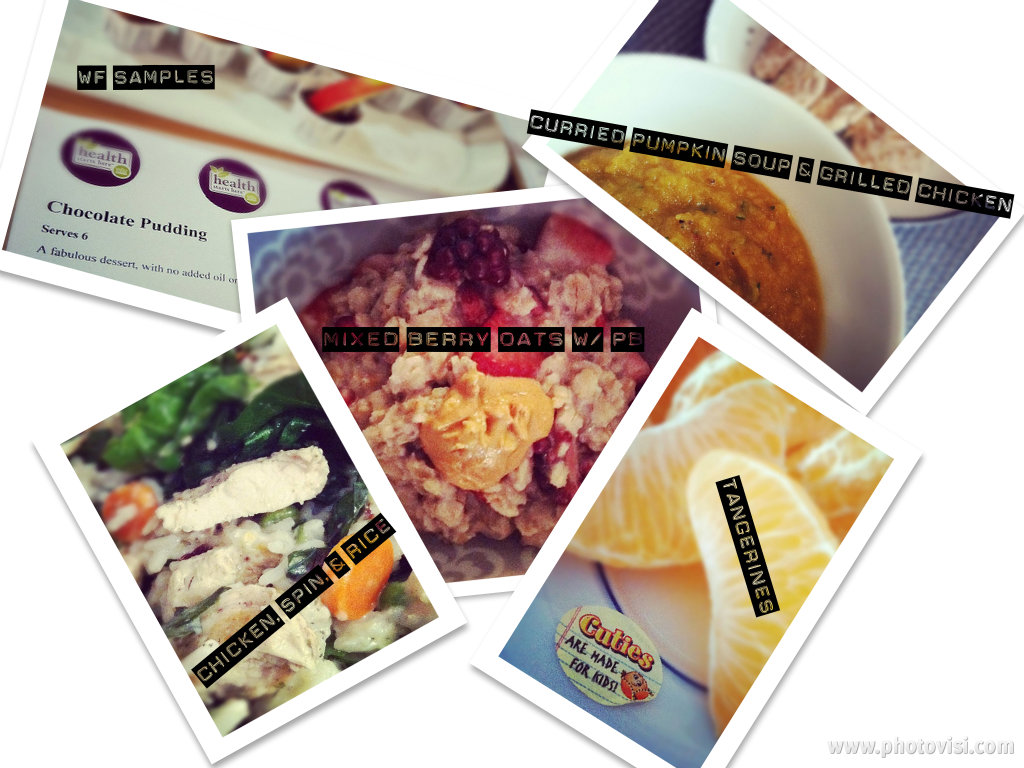 Don't forget to hop over to Peas & Crayons to see what everyone else has been indulging in this week!
---
Apple Sausage Chestnut Sage Stuffing
3 C bread cubes (I used 2-day old ciabatta bread)
6 T salted butter
1 large onion, chopped
3 C celery
1 C parsley, finely chopped
1 T + 2 tsp Herbs de Provence
1 tsp nutmeg
1/2 tsp black pepper
1 C roasted chestnuts, chopped
1/2 C walnuts, chopped
4-5 garlic cloves, minced or pressed
2 apples, chopped (I used red delicious)
1/2 C fresh sage, chopped
2 C vegetable broth
6 links chicken apple sausage
Fillo shells (optional)
Parmesan cheese, grated (optional)
Prepare sausage by sautéing in a skillet until outside becomes browned and temp reached 145 degrees.  Set aside.
Meanwhile, remove crusts from the bread and cut  into small cubes.
On stovetop, melt butter in a large pot over med-high heat.  Add the celery, onion, parsley, herbs de provence, nutmeg, and pepper.  Sauté until tender.
Add in black pepper, chestnuts, walnuts, garlic, apple and 1/4 C of the sage.  Sauté until tender.
Stir in vegetable broth.  Bring to a simmer for 2-3 mins for flavors to combine.
Gently fold in bread cubes.  Add these in gradually, adjusting amount depending on the dryness of your bread. You can always add more cubes or broth if it's too watery or dry.
Finally, fold in your sausage bits and the remaining sage.
If using fillo shells:
Allow mixture to cool before spooning 1-2 T of the stuffing into each shell.
Stuff the shells directly in the containers.  You can re-cover and box them for storage in the freezer.  (These are great to have on hand for impromptu parties, or as a make-ahead option!)
Pre-heat oven to 325.  Place stuffed fillos on baking sheet, sprinkle each with a bit of parm, and back from 15 mins.  Serve warm.
***
 If you haven't solidified your holiday meal plans yet, consider making this stuffing.  Trust me.  My only regret is that I didn't get better pics!
Do you like stuffing?
What's the best thing you've eaten so far this week?