It seems that every fast food joint has turned fall desserts into milkshakes. 
Skip the fast food sugar-bomb and make your own (much healthier) version!
Apple Pie is fantastic a la mode… it's only natural that is become part of the la mode.
Yes, my Apple Pie Shake is green.  If you haven't tried it yet, now is the time to toss an avocado in your smoothie.  It adds to the creamy-milkshake texture and you cannot taste it.  (Recipe at the bottom of post.)
Breakfast:
To begin my WIAW, I had a post-workout Apple Pie Shake.  Perfect beginning to a warm fall day.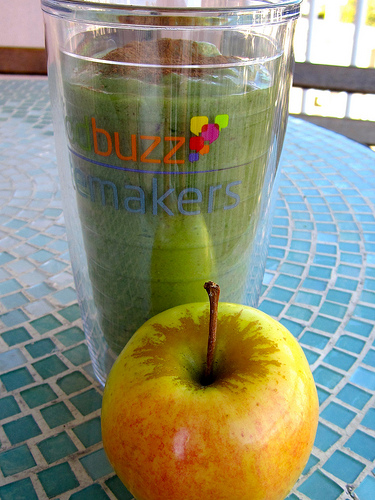 Words of shake-making advice:
Virtually anything can be

frozen

– including avocados and apples
Guar Gum is worth the expense – a little bit goes a long way and it makes the perfect shake texture
Don't skimp on vanilla and cinnamon
Guard your

apple

when taking pic from your balcony
I only turned my back for a second when I heard a big "SPLAT."  I looked around… where's my apple???  Hmmmm… glance down… apparently my apple grew legs and jumped off my balcony.  It's not that bad, apple!  
Odd craving for apple sauce…
Lunch:
Today's lunch was gourmet.  By gourmet, I mean multi-course.
First a salad of arugula and spinach with carrots, cucumber, and a hearty scoop of chipotle salsa.  I love salsa as dressing.
Followed by my leftover "pasta" (spaghetti squash from this dish) and a quick batch of this tahini sauce.
Dinner:
I didn't realize today was going to be a "make it again" day.  Typically I don't repeat recipes… there are so many new ideas floating around in my head!
After the tahini sauce repeat, I re-made this Wild Mushroom Soup for dinner.  It was one of my favorites last winter – someone remind me to re-make dishes more often!
I made is almost the same way; however I did use fresh parsley and roasted garlic and added lentils for bulk.
Snacks:
It was a fun snack day!  In addition to my "OMG, I cannot get sick" Emergen-C, I tried a new product: Primal Strips.
It's meatless vegan jerky made from seitan!
Observations:
11 grams of protein
Only 3 grams of sugar
Ingredient list I can pronounce
Texture was a little weird (chewy, which I suppose is jerky-esque), but I got over it half way through the "strip" 
Loved the teriyaki flavor
Verdict: I'd definitely buy it again and would love to try other flavors!
Not pictured: I made another Apple Pie Shake as a bedtime snack.  Like I said, it's a day of repeats.
 _____________________________________________________________________________________
Apple Pie Shake
1/2 large apple
1/4 large avocado
2 scoops vanilla protein powder
1 handful spinach (optional – but I swear you can't taste it!)
1 C unsweetened vanilla almond milk (or any milk-substance)
1/4 tsp cinnamon
1/8 tsp nutmeg
1/8 tsp ginger
7-8 drops NuNaturals Pure Liquid Vanilla Stevia
Shake of salt
Shake of Guar gum (optional, but helps create milkshake consistency)
Ice, to taste
Put it in a blender and blend until smooth!  Pour into tumbler and drink your pie.
I received the pictured Tervis tumbler as part of the FoodBuzz Tastemaker Program.  It didn't influence the fact that my shake was fantastic, but it did keep it nice and cold while I took a million pics of it. 🙂
***
Voting is now open on Facebook for Delta's Biscoff Bake-Off.  Pretty please vote for my Biscoff Cookie Dough Balls by clicking here and "liking" my entry.  You can vote 1x per day!!!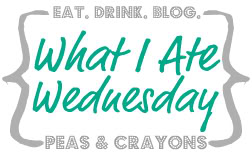 As always, check out Peas and Crayons to see the tastiness everyone else ate today!
What is your favorite dessert-gone-shake?
Do you have "go to" dishes you make regularly?